Veterans Day is this Monday, November 11th and it is a special day set aside nationally to honor all of those who served in the U.S. Armed Forces.
All local government, State and Federal offices and local banks will be closed on Monday in observance of the holiday.
Bulloch County will again hold a community wide celebration, sponsored by Joiner Anderson Funeral home at the Emma Kelly Theater.
Festivities begin at 9:30 with coffee and doughnuts served by the Archibald Bulloch Chapter of the DAR in the Averitt Center Exhibition Room.
Then at 10:30 in the Emma Kelly Theater, Jack Kindig and his Music Messengers will provide a thirty minute musical prelude.
The Bulloch County Sheriff's Honor Guard will post the colors.
At the 11th hour of the 11th day of the 11th month commemorating the armistice that ended World War I, the program will begin.
This year's keynote speaker is Statesboro Municipal Court Judge Keith Barber who will talk about his father, Maj. Harold L. Barber, U.S. Army, retired. Maj. Barber
Sheriff Noel Brown, Bobby Babot and Marvin Grimm are also slated to have briefer speaking parts in Monday's program. As is Martha Wells from the Archibald Bulloch Chapter of the Daughters of the American Revolution, or DAR.
Bob Marsh, a Navy veteran and now finance officer of American Legion Dexter Allen Post 90, is lead organizer and master of ceremonies.
Other sponsors include Chick-fil-A and Vandy's, which provide some free meals to veterans.
Memorial Crosses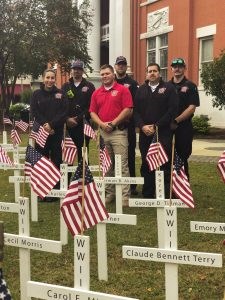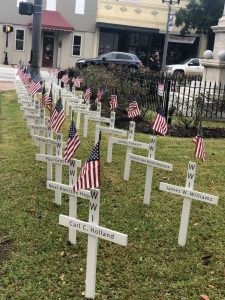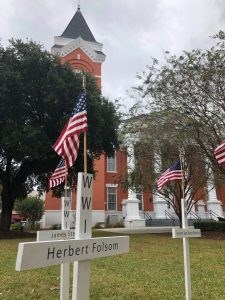 The Statesboro Fire Department installed the memorial crosses on the courthouse lawn on Friday and they will remain up through Veterans Day. Each soldier who died in the line of duty from WWI forward will have a memorial cross on display on the lawn. Thank a Statesboro Firefighter when you see them out in the community for leading the restoration of this monumental project honoring our bravest heroes.
Veterans Discounts
We have worked to compile a partial list of local businesses who are offering Veterans Day, special offers, discounts and deals for active duty and retired veterans on Veterans Day. To take advantage of these offers please wear your military uniform or have a military ID or proof of service:
Restaurants: