Bulloch County honored fallen soldiers on Memorial Day, Monday, May 30, 2022 at the Emma Kelly Theater. The 2022 ceremony began at 10:30 with music by the Averitt's Robert Cottle with the program began at 11:00 AM. The American Legion Dexter Allen Post 90 coordinated the ceremony.
Bulloch County Sheriff's Department Honor Guard presented the colors and American Legion Dexter Allen Post 90 member Bob Marsh served as the Master of Ceremony.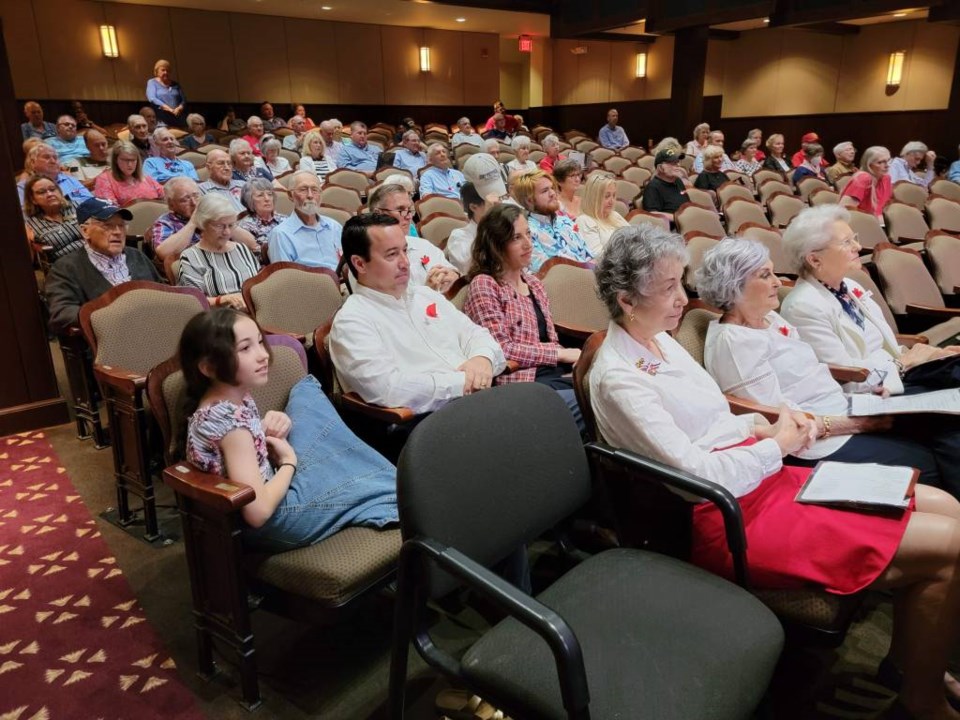 The ceremony included the intoning of the names of all who have given their life for our county from or connected to Bulloch County.
Marine First Lieutenant Cody Wooley, who is a Marine recruiter with the 6th Marine Corps Recruiting District in Columbia, S.C., presented the keynote address.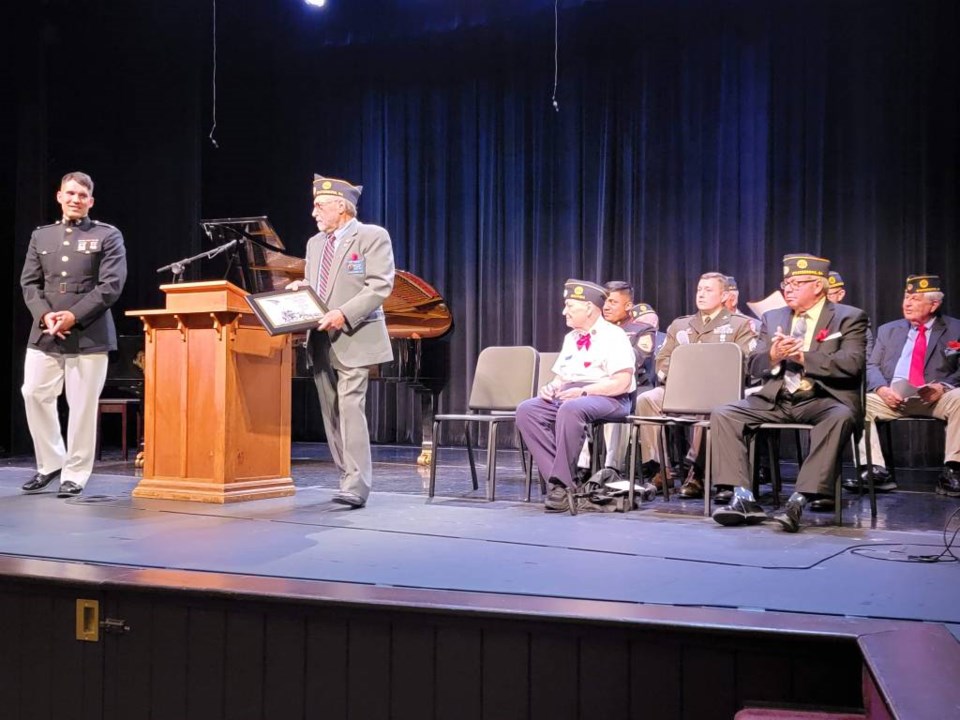 Prior to the 11 AM Memorial Day service, Veterans also placed wreaths at the Veterans Memorial monuments located at Triangle Park and Statesboro City Hall.
Grice Connect Live Stream of the Entire Ceremony:
During the Memorial Day service the names of soldiers killed in action were intoned. Below is a list of all soldiers from Bulloch County or who were attached to and deployed from units in Bulloch County.
BULLOCH VETERANS KILLED IN ACTION
WORLD WAR 1
Dexter Allen
William Baker
Brooks Beasley
Lawson Bell
Willie Brannen
George Guy Burgess
Ernest Cannon
Carswell Deal
Edwin DeLoach
George Falagan
Cephas Feelings
Herbert Folsom
Paul R. Groover
Neal H. Hagan
Jesse Lewis
Clarence Lyons
Blitch Parrish
Solomon Raymond
Thomas Raymond
Walter Sanders
John M. Sheffield
Louis O. Stanford
James Stewart
Claude B Terry
Homer Van Buren Warnock
James W Wiliams
BULLOCH VETERANS KILLED IN ACTION
WORLD WAR 2
PACIFIC THEATER
Albert Allen*
James V. Anderson
John D. Arnett
Alfred C. Barnes *
Inman Beasley
John T. Box
Dan C Branson, Jr.
William H. Bryant
John C. Bure, Jr. *
Barney L. Chester *
James O. Cooper
Leroy Cowart Jr. *
John F. Darley, Jr. *
Pierce Darwin DeLoach*
Kelley Bruce Dickerson*
Clyde Thomas Dixon *
Erastus Don Ellis
Olice R. Evans
James A. Futch, Jr.
Bill M Gerald *
Carl L. Gordy*
Thomas Hendley
James M. Hendrix
F. Glen Hodges*
Herman Lavonne Hodges
William G. Holloway
Arthur J. Howell *
Charles Hunnicutt
James Alvin Lanier
Jemison B. Lynn
Archie Redell Martin*
Charles T. Martin*
Leonard E. Mincey
Carrol Minick*
Cecil Morris
Richard Newton
George B. Newton
George W. Olgesby
Austin K Pennington
Jackie (Jake) Pennington
Ernest L. Poindexter, Jr.*
Berton H. Ramsey, Jr.
Troy R. Reddick
Rupert D. Riggs, Jr. *
Barney W. Shelnutt
J. I. Shurling
Erastus D. Sills
Rufus A. Small
Rufus B. Stephens
Jack L. Suddath*
Clifton Summerlin
James Walter Swint
Chares T. Thornton
Cecil Turner
Charles D. Wall
Albert A Ward*
William D. Ward
Roland D. Warnock
Floyd B. Waters
Ellis F. Williams
Jack B. White
Hardy Talmadge Womack
John Gilbert Woodward
Frank R. Zetterower, Jr.
* Denotes Killed in Pacific
BULLOCH VETERANS KILLED IN ACTION KOREA
Larry B. Akins SSGT Air Force…. 31 Jan, 1954 Died while missing
David Chance PVT. Army…. 25 Aug, 1950 Killed in Action
James A. Hunnicutt SGT Army…. 12 Dec, 1950 Died while captured
Charles H. Lord, Jr. PVT Army…..02 Nov, 1950 Died while captured
George D. Tillman PFC Army……15 April, 953 Killed in Action
Thomas Crosby Army Killed in Action
BULLOCH VETERANS KILLED IN ACTION VIETNAM
James R. Brannen
Hubert F. Brinson
Lenard Coleman
Jessie W. Conner
David L. DeLoach
Luther M. Jones
Michael T Rowe
BULLOCH COUNTY VETERANS
KILLED IN ACTION
IRAQ/AFGHANISTAN
SPC MATTHEW GIBBS
SPC CHARLES H. WARREN
SSGT DENNIS P. MERCK
SPC JERRY L. GANEY
SGT BROCK H. CHAVERS
SFC ISAAC L. JOHNSON
CAPT. THOMAS LEE MOORE
SSGT CHESTER McBRIDE, III
NOTES: Some of these men were stationed at or deployed from the local guard base so we include them on our list