GRICE CONNECT TO OUR HEALTHCARE WORKERS. WE HEAR YOU! WE LOVE YOU! WE THANK GOD FOR YOU!
Grice Connect is hearing from healthcare workers who are not sure how much more they can take. They are baffled that no one in Statesboro and Bulloch County seem to believe what is really happening inside our hospital.
They are frustrated by the fact that this many people didn't have to be sick. If citizens would listen to their doctors and get the vaccine. We can stop this madness.
They are putting their lives on the line everyday, risking their personal health and possibly the health of their families E V E R Y D A Y serving people who are not willing to do even the basic things, like wear a mask to stop this virus.
"Our EGRMC staff are mentally and physically exhausted, they continue to work long hard hours caring for our community. This is not like a surge from a wreck or a plane crash this is a disaster without an end in sight and that makes it even more exhausting," said Marie Burdett,MSN,RN, EGRMC Chief Nursing Officer.
"I am extremely proud of the entire hospital team and our EMS partners. We made a choice to get in to healthcare because we want to care for our community. We remain here for this town, and I pray that with more being vaccinated we will begin to see fewer lives lost."
WHY???
One nurse described to me how she was verbally attacked by a local citizen in a grocery store after leaving a double shift. She was still in her scrubs, wearing a mask.
She had just left, pain, suffering and even death unlike she has ever seen before. Only to be attacked because she had the audacity to wear a mask in public.
She called me crying from the parking lot of the grocery store and asked me two sobering questions.
WHY DON'T THEY CARE ABOUT ME AND MY FAMILY?
WHY SHOULD I KEEP DOING THIS WHEN THEY DON'T CARE UNTIL IT IS TOO LATE?
What they are witnessing are Statesboro and Bulloch County citizens carrying on with their lives, without taking basic virus stopping precautions like wearing a mask, as if what is happening inside the hospital is NOT REAL.
Patients begging for life saving drugs - even ones with only emergency authorization
What amazes them the most, is that they see people on social media and in person, sharing unfounded, non-science based reasons NOT to GET VACCINATED. But when they are critically ill, they trust every word the doctors and healthcare workers say, every bit of the science and even drugs that could save their lives that are NOT FDA approved, but are approved by EMERGENCY AUTHORIZATION.
Here are a few words from messages Grice Connect has received over the last week
Overwhelmed.
Mentally and physically exhausted.
It is like a war zone and no one seems to care.
Why are people putting themselves through this?
Why are they taking such crazy risks with their health?
Don't they understand they are putting me and my family at risk, because they chose to NOT get a LIFESAVING vaccine?
EGRMC & BCEMS seeing highest number of sick patients since pandemic began
EGRMC and BCEMS have seen their largest number of COVID cases over the past few weeks since the pandemic began. Each day, they seem to break a new record of the day before. The worst part is that there is no quick end in sight.
Epidemiologist are predicting several more weeks before we reach the peak.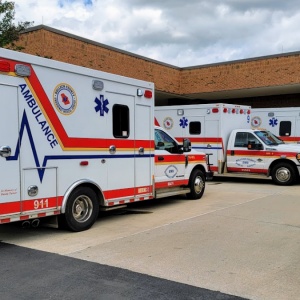 These are NOT simply numbers. They are our friends and family
The reports we share everyday, these are not just numbers, they are Moms, Dads, Children, Grandchildren, Aunts, Uncles, Friends and Neighbors. The level of sickness and death from the Delta Variant and this new surge is stunning.
Our frontline healthcare workers need our help NOW!
On Sunday, as you head to church, think of ways you can come together as church families and Sunday School classes to help stop this pandemic along with recognizing and encouraging our amazing health care workers.
School teachers, day cares, assisted living facilities. PLEASE coordinate artwork, cards, letters, notes to encourage and thank them.
As individuals we all can do SOMETHING to help.
Wear mask and social distance, wash your hands - do the basic things proven to work
DO SOMETHING TO LET THEM KNOW YOU CARE AND UNDERSTAND THE RISK THEY ARE TAKING FOR OUR COMMUNITY
THEY NEED CARDS, NOTES, POSTERS FROM YOU!
EGRMC AND BULLOCH EMS ADDRESS:
EGRMC
P.O. BOX 1048
STATESBORO, GA 30459
BULLOCH COUNTY EMS
P.O. BOX 1409
STATESBORO, GA 30459