Ogeechee Riverkeeper works to raise awareness and engage the local community through outreach and education with various events and volunteer opportunities throughout the year.
In its beginnings, Ogeechee Riverkeeper (ORK) was a merge between two non-profit organizations, the Canoochee Riverkeeper and Friends of the Ogeechee River. Specifically, the ORK is a non-profit organization that "works to protect, preserve, and improve the water quality of the Ogeechee River Basin." 
The Ogeechee River is one of Georgia's few remaining free-flowing rivers. It runs for 245 miles from its headwaters in Union Point, Georgia, and ends just outside Savannah at Ossabaw Sound.  
Local clean-up efforts
Locally, the ORK partners with The City of Statesboro and Keep Bulloch Beautiful for monthly clean-ups.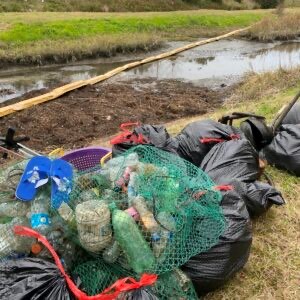 Mel Sparrow, ORK Education and Outreach Coordinator, says, "We are always in need of volunteers for the monthly clean up for the Don't Litter Lotts project."
"Locally, we focus on education, outreach, and litter mitigation," she added. 
The Little Lotts Creek leads to the Canoochee River then into the Ogeechee River before emptying into the Atlantic Ocean.  A litter trap is used at Little Lotts Creek which uses a string of floats and net to capture pieces of litter. It was designed by Osprey Initiative. Currently, there are two booms, and by placing them yards apart, it can catch items that may have been missed by the first boom.
Mel feels that their most important events are community clean ups and members' only events.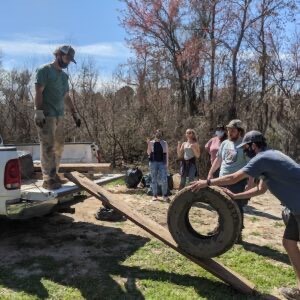 "Community Clean-ups happen twice a year in different rural areas of the watershed and it is a time for us to make community contacts and bring people together to clean up the areas where they live," she said.
The clean-ups are under the Great American Cleanup in the Spring through Keep America Beautiful and local affiliates and River's Alive in the Fall, which is a DNR program. 
Outreach events
In October, an upcoming event for the public is Birds and Bins, a birding walk and litter clean up. The ORK along with Ogeechee Audubon Society and GSU Alternative Break will search for birds, raptors, and other fall resident birds while picking up litter along the S&S Greenway. Registration is required for all events, including Lotts' monthly clean-up.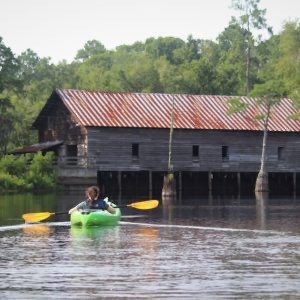 Mel says, "Our members' only events are times for us to provide fun activities for folks and get to know who makes up our membership. Their support is what helps keep us afloat (pun intended), and we want to show our appreciation."
Members-only events coming up include Botany and Brews, which will be a plant walk through the GSU Botanic Garden led by Horticulture Manager, Joshua Jones. The Botanic Garden is home to over 20 of the state's protected species. The walk through will be followed by an optional get together at Eagle Creek Brewery.
In October, there will be a guided paddle tour at George L. Smith Park in Twin City. If you are looking for a nice day trip, there will also be a Riverfest at the Mill on the banks of the Ogeechee River, in Warrenton, Georgia, on the first Saturday in October. There will be live music, archery, mule drawn wagon rides, a raffle, and much more.
In November, there will be an Oyster Roast Fundraiser at the Isle of Hope Marina in Savannah. This event is open to the public and includes food and drink, live music, and a silent auction. Tickets for this event are required.
"I am equally excited for all our events for different reasons, whether the focus is fundraising, outreach or education," Mel said.
Ways to get involved with ORK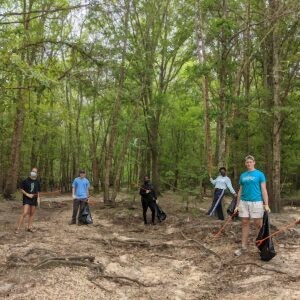 The ORK website contains a wealth of information from the Ogeechee Riverkeeper history to live nature cameras. There is a link to report pollution, and even a river inspired Spotify playlist. For free education resources for teachers, parents, and students, check out the Virtual Education Library.  For more information on the Science Curriculum created for 5th, 9th, and 10th grade, contact melanie@ogeecheeriver.org.
For upcoming volunteer opportunities, a Tool Kit for citizens, upcoming events, or if you are interested in becoming a member check out the information below. 
You can also follow ORK on Instagram and Facebook.  
Georgia Adopt-a-Stream Training
September 24
9am to 4pm
Louisville City Hall
Louisville, Ga
Botany and Brews with Botanic Garden at Georgia Southern (Members Only)
September 25 1:30pm-3:30pm
1503 Bland Ave.
Statesboro, Ga 30458
Riverfest
October 1
9am-4pm
Ogeechee River Mill 
262 Reynolds Road
Warrenton, Ga 30828
Birds and Bins
October 15
9am-12pm
S&S Greenway
00 Gentilly Rd 
Statesboro, Ga 30458
George L. Smith Paddle (Members Only)
October 22
10:30am -2:30pm
George L. Smith State Park
Twin City, Ga 30471
Don't Litter Lotts Cleanup
October 24
9-11am
Little Lotts Cleanup Site
Statesboro, GA
Oyster for the Ogeechee
November 3
6-9pm
Isle of Hope Marina
50 W Bluff Dr. , Savannah, Ga  31406
Moon RIver Sunset Paddle (Members Only) 
November 19
2:30-6:30pm
Butter Bean Beach
25 Diamond Causeway
Savannah, Ga 31406
Don't Litter Lotts Cleanup
November 21
9-11am
Little Lotts Cleanup Site
Statesboro, Ga
River's Alive
December 3
9am-12pm
Millen Train Viewing Platform
548 Cotton Ave, Millen, GA 30442