A few weeks ago we soft launched a new event calendar on the Grice Connect website and in the daily email. One of the top request from our followers and community leaders was for us to launch a comprehensive, interactive event calendar. You asked and we delivered.
The calendar is now live on our site and in our daily emails. You can also see a live preview below. The basic listings are free thanks to the generous support and sponsorship of Auto-Owners Insurance and Glenn/Davis & Associates, an AssuredPartners Company, the Averitt Center for the Arts and Wing Maxx.
Have an event and it is not showing on the calendar? No problem, click on Add Your Event button below to add. You will initially create a username and password. This will allow you to edit the event in case of any changes and will make it quicker to add more events in the future.
There are always lots of things going on in the Boro and across the county. Maybe this will help connect us all a little more to the wide spectrum of fun opportunities every day.
FREE YARD SALES LISTING
Having a yard sale? Basic listings are free on our events calendar even for yard sales. In fact there are two popular neighborhood yard sales listed for tomorrow. One in the Irongate neighborhood and one in the Hunters Pointe neighborhood.
Great live music around town this weekend and a pop up retail market on the Courthouse square Saturday are other highlights of weekend activities.
---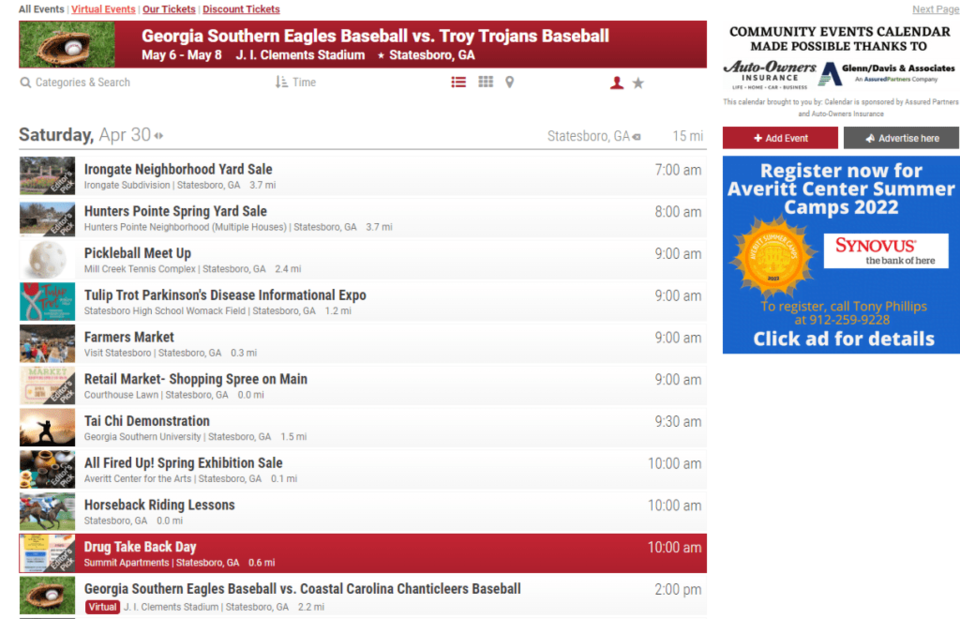 Watch for more exciting changes coming to Grice Connect in the coming weeks. Together we are building a more caring and connected community.
Subscribe to our FREE to subscribe - FREE to read daily email