"In an abundance of caution due to the inclement weather, we will not be holding a public event.  The outdoor Hands Around the Courthouse event has been canceled, but we will be recording the swearing-in ceremony and speakers and will post the link for everyone to view at a later date," said Kristen Kramer, CASA Ogeechee. "We apologize for any inconvenience, but as the weather clears up on Friday (April 1st), we will be planting pinwheels at Noon and we invite the public to come out and plant a pinwheel on the courthouse lawn.  Please follow us on social media for all updates during Child Abuse Prevention Month."
To kick off Child Abuse Prevention Month—April, Prevent Child Abuse Bulloch, CASA Ogeechee, and United Way of Southeast Georgia will be hosting Bulloch County's Inaugural Hands Around the Courthouse. The event will be held on Thursday, March 31, at noon on the Bulloch County Courthouse Lawn. The community is invited to come out and learn how everyone can "lend a hand" as we work together to bring awareness to child abuse and the need to make child and family well-being a priority in our community.
Georgia is once again ranked 38th in the nation in child and family well-being, according to the 2021 Kids Count Data Book which is released by The Annie E. Casey Foundation. The annual report identifies areas where Georgia's children face struggles and measures where they are making progress across four domains: economic well-being, education, family and community and health.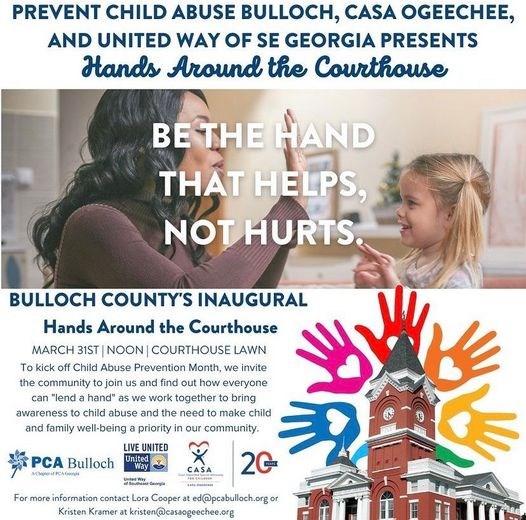 "While Georgia is ranked 38th in the nation for child and family well-being it is ranked 1st in the nation in small businesses." said Lora Cooper, Executive Director of Prevent Child Abuse Bulloch. Cooper added "Events like Hands Around the Courthouse provide an opportunity for the community to learn about local and state programs that are working to strengthen families and how they can help change the state of child and family well-being here in Bulloch County." Prevent Child Abuse Bulloch is a part of the Prevent Child Abuse Georgia network that provides statewide direction in child abuse prevention to promote the happy and healthy childhood that every child deserves.
During the ceremony, CASA Ogeechee will be swearing-in new CASA Volunteers. This will be CASA Ogeechee's first Swearing-in Ceremony held outside the courthouse and they would like to invite the public to come and show their support for these individuals volunteering their time to advocate for children experiencing foster care in our community. "We are honored to be a part of this event and we look forward to swearing-in new CASA Volunteers to increase our advocacy efforts in our community.
To be able to recognize the commitment of our new and current CASA Volunteers in a public setting is priceless. A lot of their work goes unseen, so we truly appreciate the support of our community," said Julie Pickens, Executive Director of Child Advocacy Services SEGA, Inc (CASSEGA). CASSEGA is the sponsoring agency for both Ogeechee Visitation Centers and CASA Ogeechee.
For more information on Hands Around the Courthouse and how you can help strengthen families, please call Lora Cooper at the Outreach Center office at (912) 489-8547 or Kristen Kramer at the CASA Ogeechee office at (912) 764-4849.