On Thursday, the entire staff of EGRMC and EMS were treated to meals from a variety of food trucks as an appreciation by the City of all they are doing for our community.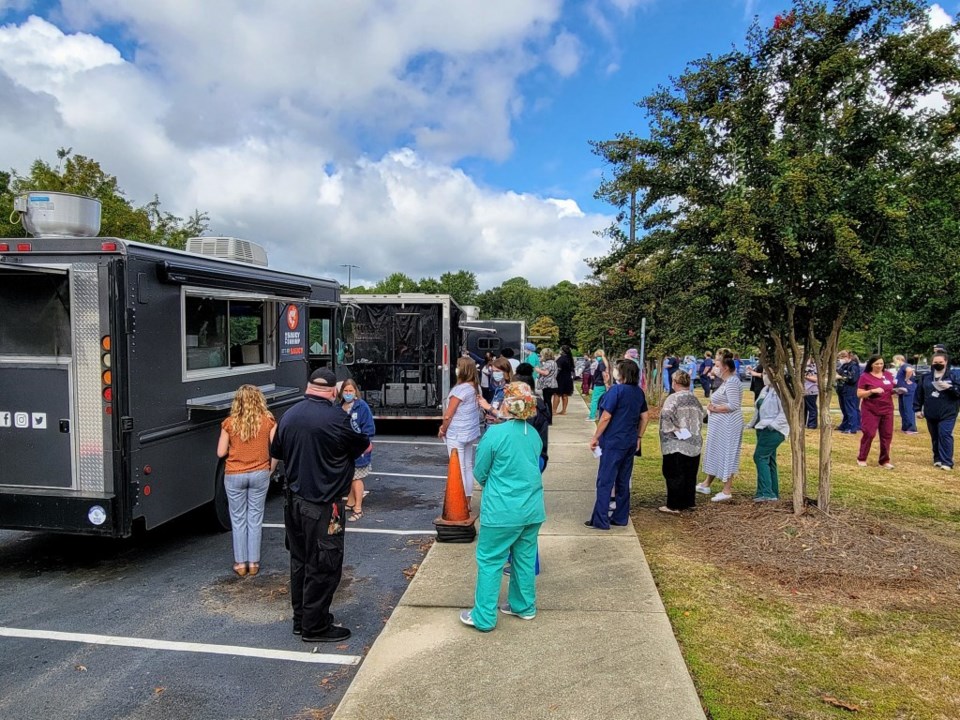 Mayor's Visit to COVID Floors
The idea was hatched after Statesboro Mayor Jonathan McCollar toured the hospital a few weeks ago to see first hand the unbelievable commitment our Front Line health care workers are making for all of us.
Stephen Pennington, EGRMC CEO explained to the Mayor the strain that the current surge is placing on staff at the hospital and Bulloch Counties emergency healthcare system in general.
Pennington stated that throughout the pandemic the hospital has been implementing measures to give back to employees to appreciate the work that they are doing in these trying times such as allowing food trucks on property biweekly.
However, this recent surge has been especially difficult for health care workers.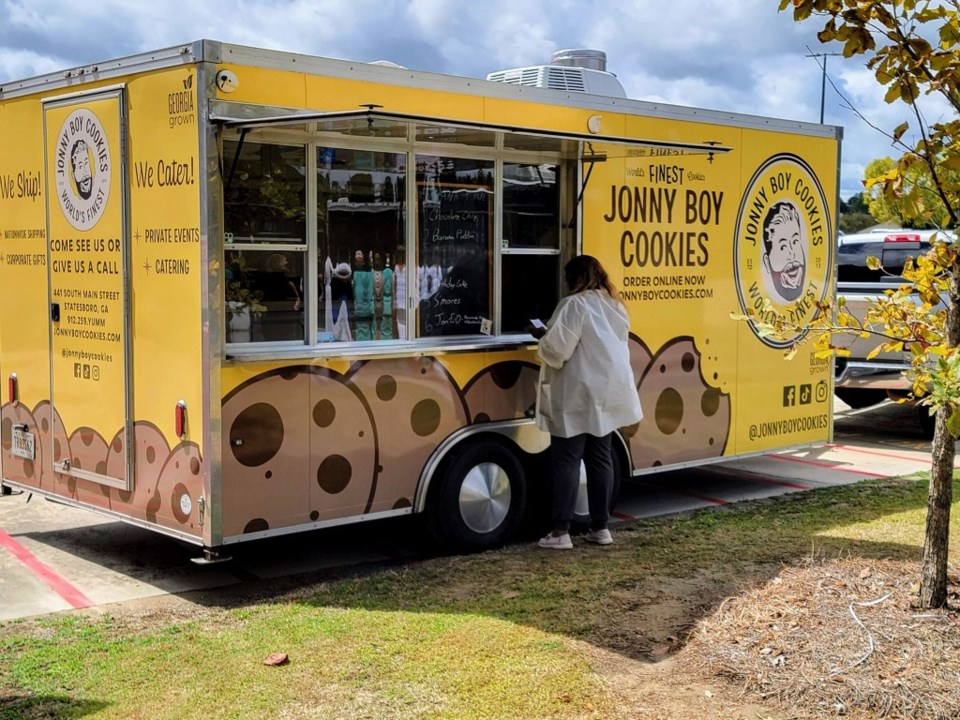 Appreciation Event Idea Developed
As a result it was determined that it would be beneficial to the community for the city to host an appreciation event for all of our healthcare workers at the hospital and Bulloch EMS.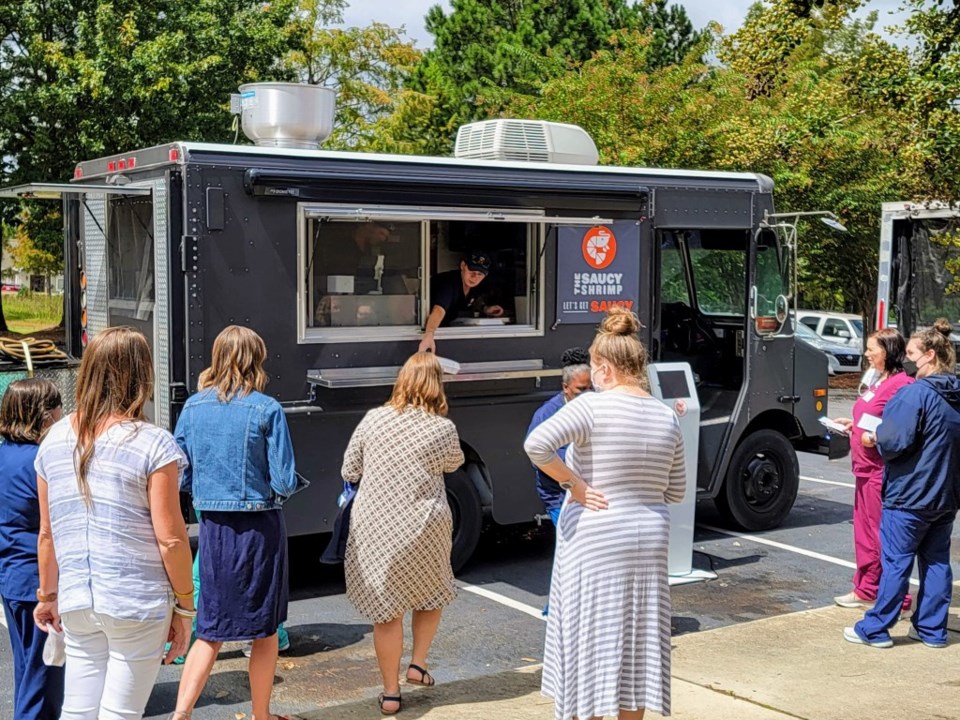 Assistant City Manager Jason Boyles coordinated with Erin Spillman, Director of marketing at EGRMC and Hannah Womack with Johnny Boy Cookies locally.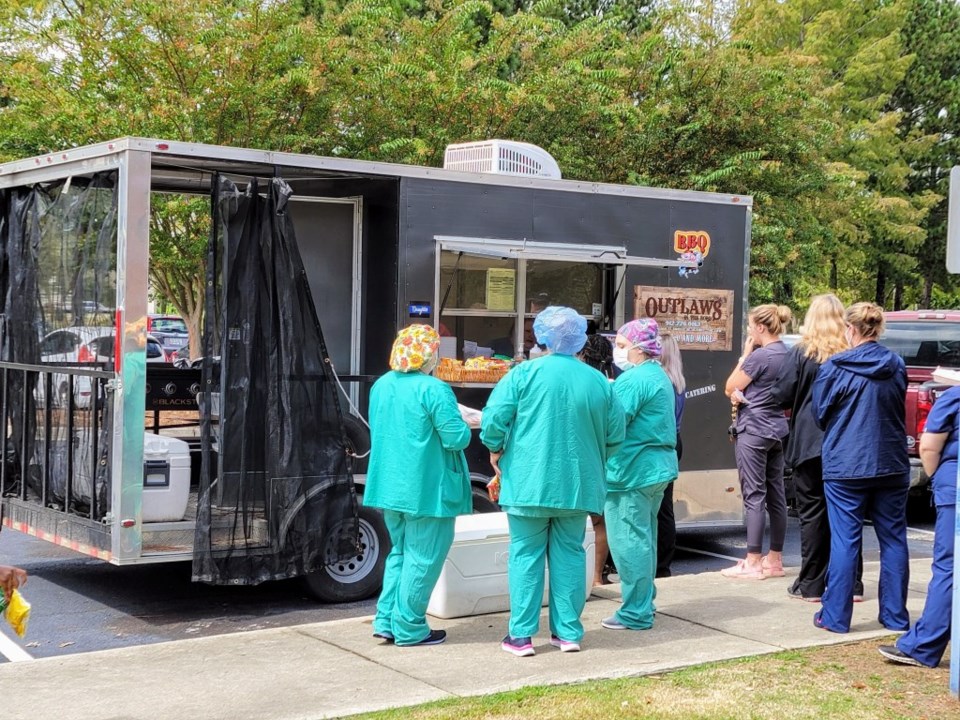 Erin created meal vouchers and distributed them to staff at the hospital and Boyles distributed to vouchers to Bulloch County EMS.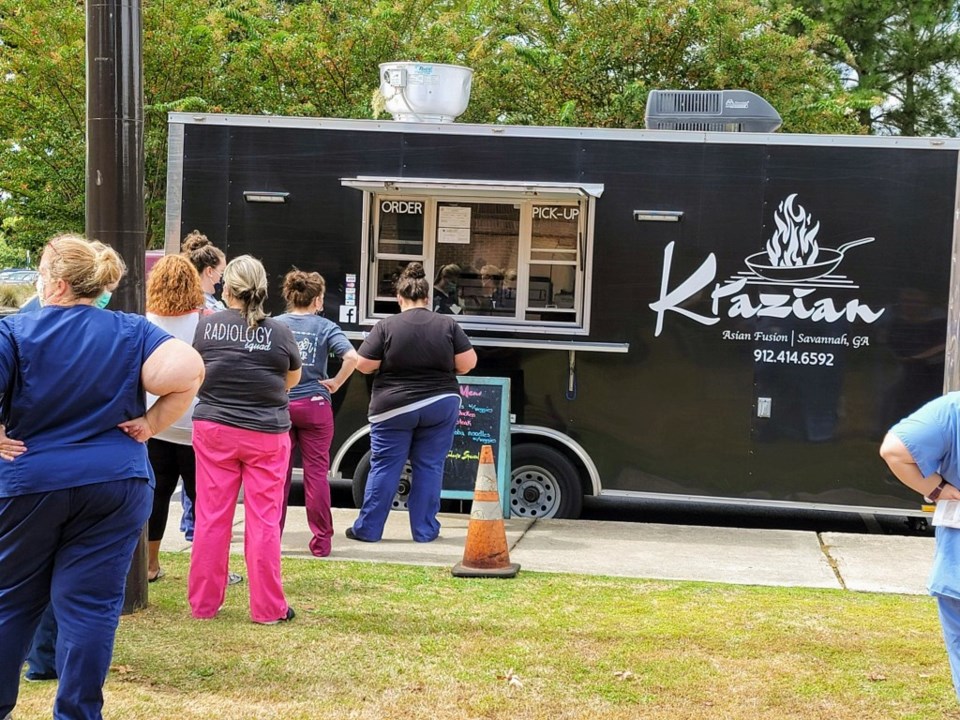 Hannah coordinated all of the food trucks for the event including outlaws BBQ, Saucy Shrimp, Krazian and Johnny Boy Cookies.
The city provided EGRMC' S dayshift and evening shift with a meal voucher for an entrée, a drink and a cookie dessert.
Much Appreciated
This was an incredible gesture of goodness from the City of Statesboro and it was appreciated SO MUCH by all of our front line health care hero's. As I walked through the crowd, thanking them and taking pictures it was great to see the joy and excitement on their faces.
There is not a lot of joy in their work right now. Any small gesture of kindness really means the world to them. Those words I heard over and over, how all of the things the community is doing means so much to them.
They feel as though most days, no one is listening, or understanding the incredible stress and pressure they are under on a daily basis, giving their all to our community.
This act of kindness from the City is deserving of a million Grice Good's.
PLEASE find a way today to be kind to someone. You really never know when a simply random act of kindness may be just the life line someone needs.
Your love and kindness that will help them push forward for another day.