Betty Foy Sanders, Statesboro native, artist, philanthropist and former First Lady of Georgia died on Sunday, May 29, 2022 at the age of 95.
According to the Richard B. Russell Library for Political Research and Studies, University of Georgia Betty Bird Foy Sanders was born to a farming family in Statesboro on August 6, 1926. She spent a year at the Georgia Teacher's College, and then earned a degree in Fine Arts from the University of Georgia. She met Carl Sanders at UGA, and they married in 1947. They moved to Augusta, Carl Sanders's hometown, where Carl practiced law. When he entered politics, Betty campaigned with him, and they moved to Atlanta when Carl was elected governor in 1962. As the first lady of Georgia, she raised two children, helped develop the new governor's mansion, and entertained many renowned politicians and business leaders.
Click here to learn more about Mrs. Sanders in a video interview with her produced and archived by the Richard B. Russell Library for Political Research and Studies, University of Georgia.
Averitt Legend in the Arts
Betty Foy Sanders was a legend in the Georgia art world, especially in Statesboro, and the Averitt Center for the Arts confirmed that status by naming her the 2015 Legend in the Arts Award Inductee. Sanders joins Emma Kelly, Willie McTell, Michael Braz, Roxie Remley and Delmar Presley as the sixth named Legend. Within the Georgia
community, these men and women are known not only for their amazing artistic abilities, but for their contributions to the area's arts culture.
The Betty Foy Sanders Department of Art
A lasting tribute to Sanders' steadfast support of Statesboro and Georgia Southern University is the visual arts department that bears her name: The Betty Foy Sanders Department of Art.
Betty Foy Sanders whole-heartedly pursued her interest for student education in the visual arts. During her husband's tenure as governor, her efforts toward the construction of several fine arts buildings and additions for the University System of Georgia were exceptional —including Georgia Southern's Foy Fine Arts Building, named for her father J. P. Foy. Truly student centered, Sanders established
generous academic scholarships, student travel scholarships and opportunities for the art students of Georgia Southern University —including 'the Betty Bus' to transport students to exhibitions, artists' studios and sites for creative inspiration. Through her generosity and model of excellence, Betty Foy Sanders has provided for the next generation of Georgia artists, and has honored Georgia Southern with that responsibility.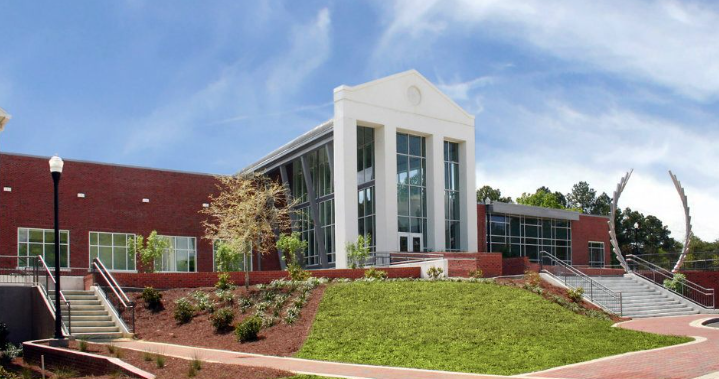 "I have always wanted to help students," she said. Sanders views her donations as a way of giving back to the University that has meant so much to her personally.
"There's something about Georgia Southern. This is an opportunity for me to educate, instruct and direct future generations," Betty Foy Sanders said proudly during the dedication of the GS Art Department bearing her name.
"I have never met anyone who could hold a candle to her warmth, graciousness, and sharp mind. Her beautiful and regal physical presence becomes even more enchanting when she begins communicating with her wit, her ability to converse about anything and everything, especially about art," said Dr. Patricia Carter, GS Professor/BFSDoA Department Chair Emerita. "Her genuine interest in others, and her ability to make others feel valuable with her gentle and kind words. Really, she's a legendary human-being, and yet she describes herself as "a country girl from Statesboro, Georgia."
Governor Kemp Remembers Mrs. Sanders
"Marty, the girls, and I were saddened to learn of Mrs. Betty Foy Sanders' passing," said Governor Brian Kemp. "As first lady and alongside Georgia's 74th governor, Carl Edward Sanders Sr., she represented so much of what makes Georgia the greatest state in our nation to call home. With her sharp wit, class, and famous sense of humor, she was the epitome of a southern woman. During her years as first lady and during her long and fulfilling life afterwards, she was devoted to beautifying our state, preserving Georgia's proud history, and helping students of the arts further their education and talents. "A talented artist in her own right, her influences are felt at the Georgia Governor's Mansion to this day, and they will be felt for years to come," continued Kemp. "As we mourn with her family and loved ones, we also thank God for her service, her life of contributions to her fellow Georgians, and the shining example she set for so many others."
Family Tribute
Mrs. Sanders's niece Beth Brannen Chandler wrote a beautiful tribute to her. We are including it here with Mrs. Chandler's permission.