Statesboro City Council met on Tuesday, February 15, 2022 at 5:30 pm for their regularly scheduled meeting.
The council had a very heavy agenda for the meeting. The item of most interest was the proposed second reading and vote on the package sales ordinance.
You can view a recording of the entire meeting below:
More Changes to Package Sales Ordinance
After a lengthy discussion and several citizens spoke of their concerns with the ordinance, the council made a few revisions which include:
A change to add a distance requirement of a package store location to 100 yards between package stores and a building on a college campus.  This only impacts college campus distance. Other school buildings, educational building or school grounds will remain 200 yards from a package store. These parameters can't be diminished by local action, like college campuses can. Unchanged was the 100 yards distance requirement of a package store to any church building, alcoholic treatment center owned and operated by the state or any county or municipal government, or housing authority property.
Council also removed the square footage requirement. Prior to the removal it was 3,000 square feet of combined showroom and storage in size.
These changes will now require one more vote at the next council meeting which is March 1st to approve the ordinance. If there are no further changes.
Other Statesboro City Council Business
Council approved the Surplus and Disposition of the following items:
a) 2003 F-150 Ford Truck (Serial # (2ftrx17w24ca29145)
Approved the Downtown Master Plan as amended for the City of Statesboro. The final master plan can be reviewed by clicking here.
Approved a Memorandum of Understanding between the City of Statesboro and Whitesville Community Resource and Development Organization, Inc. (WCRDO) setting out terms for conveyance of real property commonly known as Whitesville Community Park from WRCDO to City in order for City to maintain the real property as a park.
Approved application for an alcohol license for:
A. New Statesboro Investment DBA Sparker 3348 Northside Dr W Statesboro, Ga 30458 License Type: Package Sales: Beer and Wine and Sunday Sales
B. Phenomenal Memories 6 Carver St Statesboro, Ga 30458 License Type: Event Venue
Held a Public Hearing and Consideration of a Motion to approve Dolans BBQ Sign:
The Variance would allow Mary Beth Brown, owner of Dolan's to work with Whitfield signs to construct and install a Dolan's BBQ sign on the roof of her building that exceeds the allowed square footage for a building sign at 239 South Main.
The council approved this zoning and variance change to allow Dolan's to construct a sign on top of the building as pictured below.
University Plaza Proposed Development
Statesboro City Council held a Public Hearing and Consideration of a Motion to Approve a zoning change for Rael Development Corporation to build a housing complex at 1 University Place known commonly as University Plaza. The Council approved the request included below:
A. Rael Development Corporation requests a variance from Article XIV, Section 1402 of the Statesboro Zoning Ordinance in order to apply for a PUD (Planned Unit Development) at 1 University Place.
B. Rael Development Corporation requests a Zoning Map Amendment in order to establish a PUD (Planned Unit Development) at 1 University Place.
Graeme Rael, President and CEO of Rael Development Corporation based in Dallas, Texas made a presentation about the project and took questions from the council.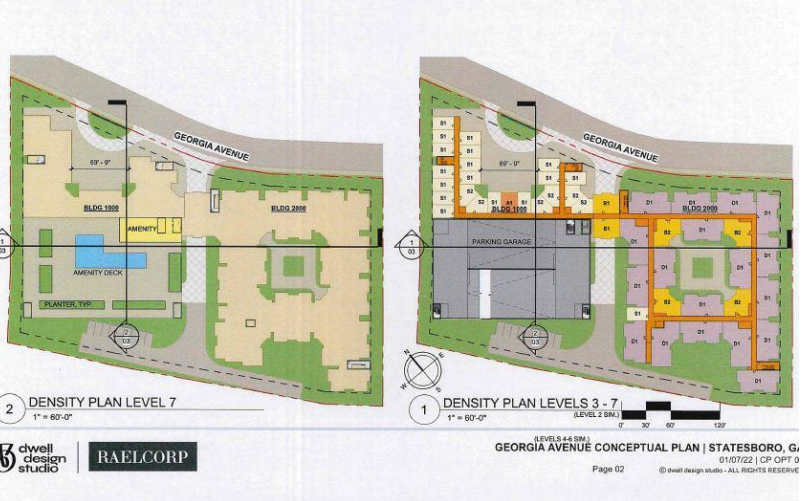 They are proposing building a large multifamily, student housing complex on this site. Mr. Rael pointed out that this is an underutilized piece of property and this plan would be the highest and best use for the property.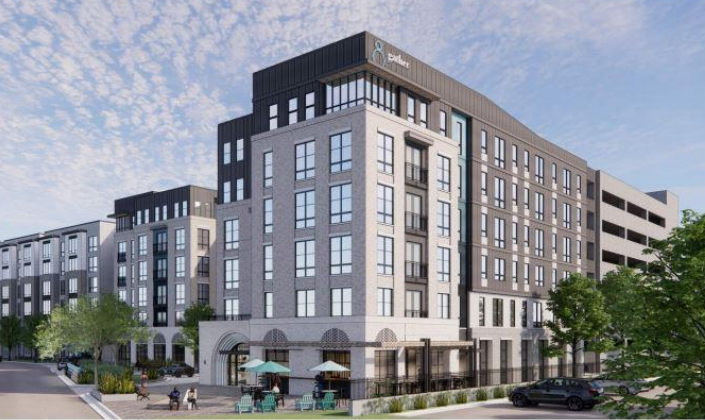 The proposal included 600 beds of residential space with minimal commercial use. It would include a multi story parking garage which will be determined based on potential shared parking agreement with Georgia Southern University. Approximately 25% of the complex will be one studio and one bedroom. The remainder will be multi bedroom apartments. They will construct at a recommended ratio of .7 spaces to one bed. Council approved this zoning request.
More Business
Approved a resolution reclassifying the position of Senior Planner in the Planning and Development Department to a Planning and Housing Administrator.
Approved a Resolution allowing for an application for the 2022 State Farm Neighborhood Assist $25,000 Grant. Keep Statesboro-Bulloch Beautiful (KSBB) wishes to use this grant to move forward with a proposed community garden and a mobile urban garden program within the city limits of Statesboro. A study has been conducted to identify a suitable location for locating a community garden. Further, a mobile urban garden program would be an excellent complement and promotional tool for a community garden.
Approved a resolution to allow SFD to apply for Assistance to Firefighters – Fire Prevention and Safety Grant to provide Arson Investigation Training. The grant is a $25,000.00 grant.
Tabled a motion to award a contract to Everside Health for an onsite employee health clinic in the amount of $286,123.00 to allow for more review of the committee's recommendations.
Tabled a motion to award a contract to Freese and Nichols, Inc. to perform engineering design and permitting services in the amount of $2,650,450.00 for the Creek on the Blue Mile project. The will hold another Work Session on March 1, and then plan to vote on this contract at the March 15, 2022 meeting.
Approved an emergency purchase request to replace the public works building air handler and ductwork. The City received quotes from two vendors and recommended proceeding with Davis heating and air at a price of $61,380.43.