A little after 8 am on Friday, May 27, 2022 Bulloch County 911 dispatched Bulloch County EMS to a medical emergency call. Bulloch County EMS Medic Two responded to the call in emergency mode with lights and sirens.
As the ambulance traveled through the intersection at Fair Road and Veterans Memorial Parkway, Medic Two was stuck in the drivers door by a pickup truck traveling through the intersection.
The impact from the pickup truck caused airbag deployment and the truck to shift sideways in the intersection.
Neither of the paramedics on Medic Two were seriously injured. The 26 year old, male driver of the pickup was transported by another Bulloch EMS ambulance to EGRMC with non-life threatening injuries. There were no other injuries reported.
The accident report is incomplete at the time of the story. Georgia State Patrol is handling the accident investigation.
Medic Two was Bulloch County EMS's newest ambulance. It was put into service in April of 22 and only has 3,000 miles on it. The ambulance was severely damaged in the crash.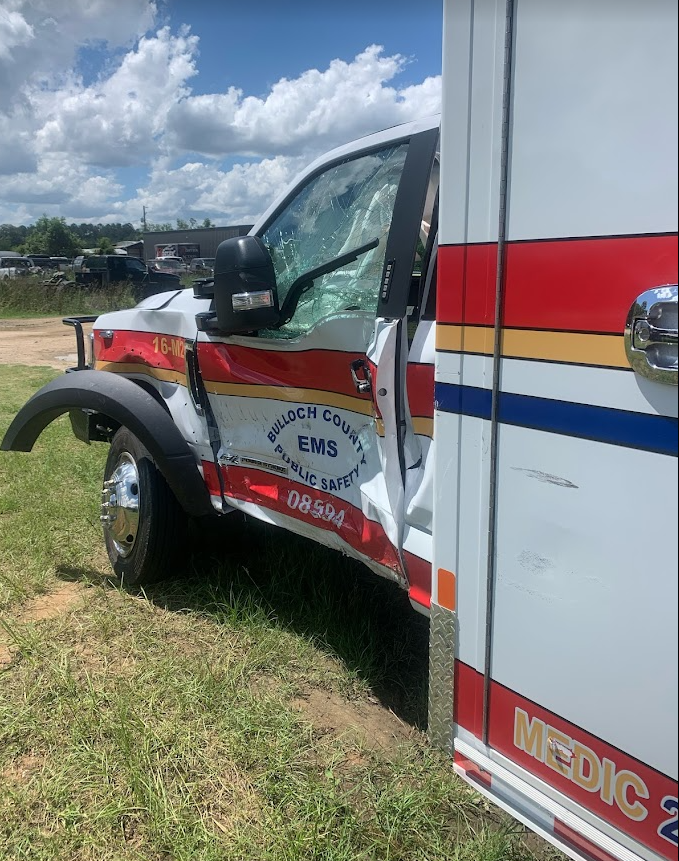 Bulloch County EMS has an older ambulance they will put back into service to handle emergency calls in the interim.
This is the second accident involving an ambulance at this same intersection in just a little over six months.
The last accident occured with a private EMS service last November.