Bulloch County Schools will host an Employee Recruitment Fair on Saturday, February 26, from 9 a.m. to 12 noon, at Statesboro High School. The school district is hiring for all job types.

Come meet with principals and hiring supervisors. Interested applicants may bring a resume if they have one, particularly if they are seeking a teaching position, or visit the event's resume resource table for tips about how to create one.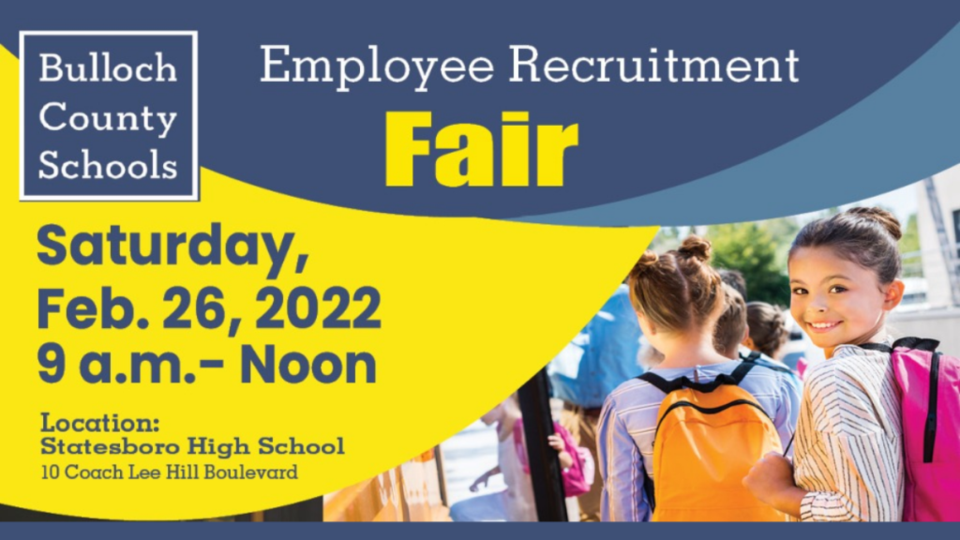 The Employee Recruitment Fair will provide applicants:
Information about the school district's many career opportunities.
A showcase of individual exhibit tables for each school and department to help applicants learn more about them and make decisions about where they may like to work and for what jobs they may want to apply.
A time to get noticed and have meaningful face-to-face conversations with school principals and hiring supervisors to help make employment decisions. Some jobs receive hundreds of applicants, so this is an opportunity to stand out.
A time to learn how to create an online profile on Bulloch County Schools' online jobs website, Applitrack, so applicants can be considered for any current or upcoming job postings.
A time to learn how to become a certified teacher, if someone has a four-year college degree in an area other than education, and they are interested in becoming a teacher, we will have representatives and information about state certification program options to become a certified teacher.
A time to complete a paper application for applicants interested in clerical, bus driver, bus monitor, school food services, or custodian jobs.
Available Job Types
Bulloch County Schools encourages interested applicants for all job types to attend: administrators, teachers, special education teachers and support professionals, counselors, nurses, clerical staff, bookkeepers, school food services workers, school bus drivers, school bus monitors, bus mechanics, custodians, paraprofessionals, and more. Applicants who are interested in being a substitute for any of these type positions are also encouraged to attend.

About Bulloch County Schools
Bulloch County Schools is a consolidated city-county system, in rural Georgia, approximately 55 miles from Savannah. It serves the communities of Statesboro, Brooklet, Portal, Nevils, Register, and Stilson. The school district is Bulloch County's second-largest employer with more than 2,200 full-time, part-time, contracted services, seasonal, and substitute employees. It serves more than 11,000 students through 15 schools, three alternative learning centers, and four office complexes. It employs nearly 1,000 certified teachers and administrators and more than 1,200 other professionals and skilled laborers.

Bulloch County Schools is known for its grit and innovative way of doing business that places the educational needs of children first. Join us. The district helps educators succeed with its new teacher induction program, dedicated time to collaborate with peers, professional development, plus a local university (Georgia Southern) where you can further your post-graduate education. The district also provides teachers with the technology, tools and support they need. The area is filled with quality-of-life amenities at a lower cost of living. Come grow your career with Bulloch County Schools.

Can't Attend? Apply Online
Can't be there? Apply online today for current openings or create an online profile in the application site to be considered for up to one year for future job listings.