For Angelia Morris her Christmas miracle began on March 29, 2021 when she received a phone call that her apartment building was on fire. When she arrived back at her apartment she was in total shock.
The entire building at Little Lotts Creek, including 20 apartments, were either completely destroyed or severely damaged by water and smoke. It appeared the single mom and her daughter had lost everything. Angelia was devastated.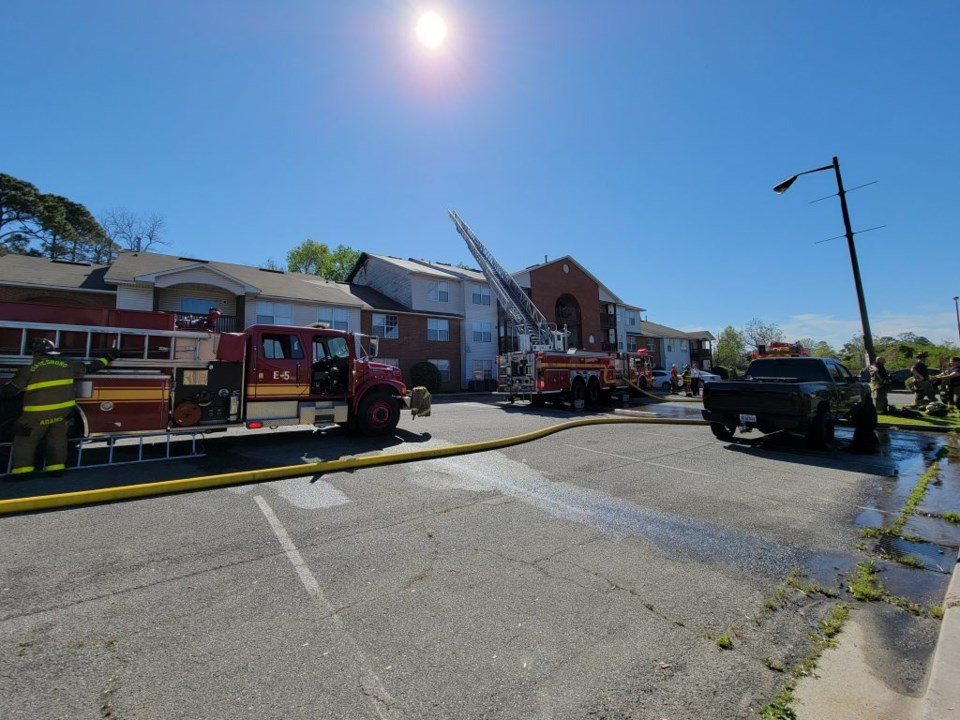 She works as a CNA at EGRMC and had lived in Little Lotts Creek for 14 years. It was the only home her daughter Ty'nia, then 14 had ever known.
A disaster services team responded from the American Red Cross. They gave them enough funds to cover some essentials, a hotel for a couple of nights and some food. The owners of the apartment complex offered little assistance to any of the 20 families. In a moment, 63 people were homeless.
The apartment manager, Katherine Parks, reached out for assistance from the Red Cross, Bulloch VOAD and many other agencies. She coordinated a drive to help replace items lost in the fire. This was held at the Kiwanis Fairgrounds. The items collected were managed and distributed to the victims by Christian Social Ministry and Fostering Bulloch Hope Chest. Even though Ms. Morris expressed frustration by the owners of the complex, many local agencies stepped up to help. It was truly a community effort.
"This is the most traumatic thing I had ever experienced. I had no clue where to turn," said Ms. Morris. "That is when Mr. Grice with Bulloch VOAD and Grice Connect stepped in the room and assured all of us this community would not turn their back on them. He told us he would do everything in his power to help get us through this."
Ms. Morris's apartment was on the middle floor in the back of the building. It sustained heavy smoke and water damage. After weeks of not being allowed back in by the property management, she and others were given 12 hours to get what they could out of the building. The victims who had paid their April rent, after some pushing, were able to get the rent returned. That was the only assistance she received from a place she had lived for 14 years.
She lost everything in her kitchen and a good bit of her furniture. Most of their clothes were salvageable.
"It seemed like the blows kept coming. However, within an hour, Mr. Grice had arranged U-haul trucks donated by McKeithen' hardware. Bulloch VOAD and Grice Connect then rented storage facilities", said Ms. Morris. "He even coordinated volunteers from the community to come help all of us."
Community steps up
It was obvious these families would need more help than was initially provided by the Red Cross and local agencies. After discussing with Red Cross the best path forward it was determined that we needed to raise a significant amount of funds to cover short term housing for most of the families. The Red Cross agreed to help provide case management for a month, but could not received and distribute funds.
This was a huge help, but there was still a need for an organization to handle the funds, since Bulloch VOAD does not have 501c3 status, nor is structured to handle long term recovery.
Most local agencies were short staffed and stretched due to COVID and could not take on a project this size. The city nor the county had a structure in place to manage this.
Bulloch County Public Safety Director Ted Wynn reached out to the Georgia Emergency Management Agency for assistance and they recommended partnering with CEDRC, a long term recovery organization in Savannah, to help.
CEDRC agreed to accept contributions and disperse them based on their established protocols. With this in place Grice Connect made an appeal to our followers to help these families.
In less than 48 hours they raised over $17,000. The American Red Cross had already distributed over $11,000 in direct assistance, bringing to total assistance to over $28,000. The funds were used primarily to provide temporary housing to the families who needed help.
Thanks to these contributions Bulloch VOAD and Grice Connect were able to negotiate a special rate at the Stay Plus Extended Stay hotel. Everyone who needed housing was placed in this hotel. Many were in the hotel for weeks while they worked to locate another place to live.
EGRMC co-workers come to her aid
Ms. Morris was one of the first to find permanent housing. Thanks to help also from her co-workers at EGRMC she was one of the first to get into permanent housing.
"The generosity of strangers was the most incredible part of this tragedy. My co-workers quickly rallied around me and began to help in amazing ways," said Ms. Morris. "I was most surprised by the generosity of co-workers in the hospital that I didn't even know. That along with so many in the community who had never met any of us really was overwhelming. It was the most wonderful feeling in the world to have your employer and co-workers come together to help me in what was my greatest time of need."
Ms. Morris had never had to rely on any handouts from the government or any agency. She had always worked hard and somehow has been able to provide for her daughter.
When directed to agencies for assistance she found this to be very humbling and difficult to do.
"I cried myself to sleep many nights. It was a very challenging time for me, said Ms. Morris. "My faith was tested but in the end, God came through sending me one angel after another, just when I had no idea where to turn next. God is GOOD!"
Christmas in a new home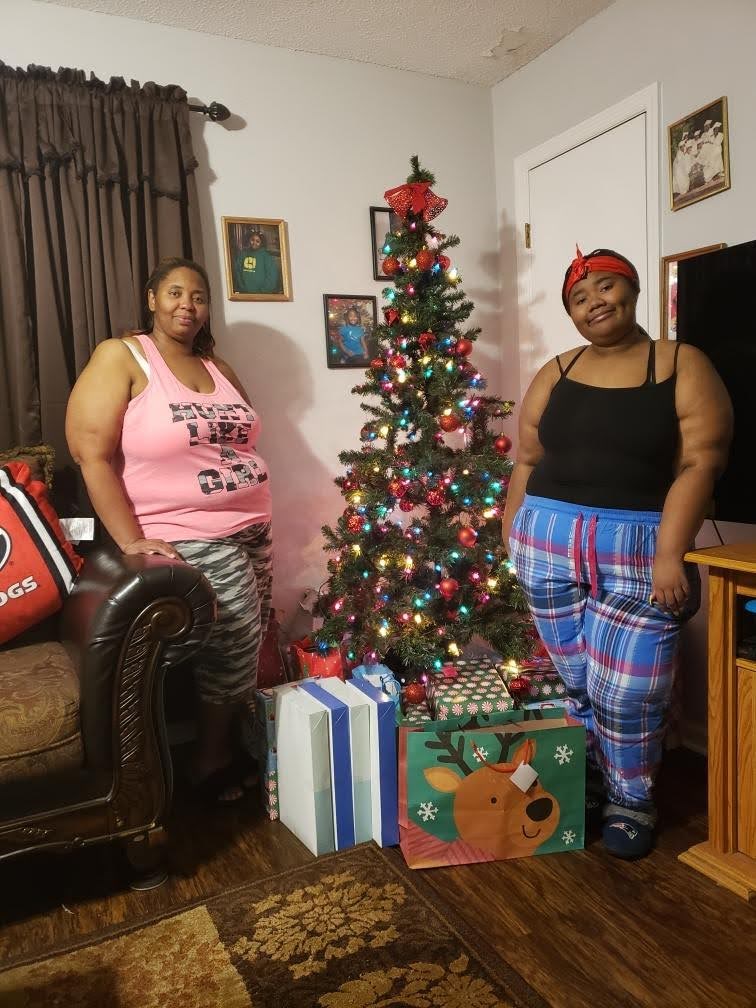 After over a month in a hotel, Ms. Morris and her daughter Ty'nia Morris moved into another home. They love their new place and are so happy to be able to move forward with their lives.
They both said this will be their best Christmas ever thanks to the Christmas spirit and miracles so many strangers showed to them over the past nine months.
"There is NO way I could have made it without the assistance from the community. I would love to say Thank you, Thank you, Thank you for all everyone did for Ty'nia and me. The many phone calls, prayers, gifts and financial help was what helped us make it through," said Ms. Morris. "I am especially grateful for Mr. Grice, Grice Connect, Bulloch VOAD, the Red Cross, my co-workers at EGRMC and most of all my family. God bless you all!"
Never know when the tide will turn
Ms. Morris is wonderfully kind to share her compliments for Mr. Grice and Grice Connect. However, the real credit goes to all of the angels who stepped up in extraordinary ways to help Ms. Morris and the 62 others impacted by this tragedy. What makes a community special is how we respond in times of our neighbors greatest need. Statesboro and Bulloch County continue to do this in remarkable and often unimaginable ways.
"I have always lived by the thought that you really never know who that stranger is who needs your help. You don't know their story or position in the community. None of that really matters, until it does however," said DeWayne Grice. "Shortly after Ms. Morris had moved into her apartment, my grandmother, who is a second mom to me, was transported by ambulance with a life threatening condition to EGRMC. When they got her stabilized and moved her up to ICU the angel who greeted us was Ms. Morris. She took extraordinary care of my mom and showered her and me with more generosity and kindness than I had extended to her."
Ms. Morris is an extraordinary lady who makes a difference for so many in her job at EGRMC.
Responding to a need for her co-workers
In the height of the Delta surge when we were all trying to find ways to offer encouragement and help to our health care workers we received a call from Ms. Morris with an idea.
One of her co-workers had found a special respirator mask that was designed to be more comfortable and could be reused daily. It was something that she felt would help improve the quality of care and the moral of her co-workers. She felt that if this came from the community it would mean more than if purchased by the hospital.
With permission and approval from EGRMC, Grice Connect reached out to several local philanthropist in our community. One local company decided to purchase over 100 of these special respirator masks at a cost of over $10,000.
Ms. Morris again was an angel to so many who had been an angel to her.
Opportunity for our community
This is a wonderful story that fortunately for Ms. Morris had a great ending. However, it does expose an opportunity in our community to create a plan for victims of home fires. There are a number of amazing agencies and resources that can provide assistance, but we need an individual or organization that is willing to help coordinate resources.
Anyone who has experienced a home fire understands how vulnerable you are when you experience this. Even when your home is properly insured there are decisions that need to be made quickly that can have a large impact on your long term recovery.
Our hope at Grice Connect is to pull together a group of community leaders and volunteers, hopefully some who have experienced a home fire to help develop a plan of action for these tragedies in the future.
If you are interested in helping please reach out to Grice Connect at info@griceconnect.com.