Children ages 6-12 are invited to join Mr. Mark Fuller, Georgia Southern alum and GE Engineer, and Dr. Drew Snelling, Assistant Professor in the Manufacturing Engineering Department at GSU, for a fun and free STEM event at the Statesboro-Bulloch County Library this Wednesday, November 9.
The event will begin at 5:30pm and will feature fun with 3D printed catapults. Participants will build cup castles and use the catapults to knock them down with projectiles, which will teach them about both kinetic and potential energy.
"Every child will build their own catapult to keep and knock down the enemies' castles," Fuller said. "It will be great fun, and your child will learn about science in the process."
While the event is geared mostly toward children ages 6-12, Fuller noted that any interested child is welcome to attend. Parents may also stay for the fun and to help defeat enemies.
This is the second STEM event Fuller has hosted at the library. During the first event, the kids had such a great interest in the catapults he brought that he decided to create another event solely focusing on those. He designed this particular catapult to be easy to make and to use, and he hopes to make it available for download after the event, as well.
In his work at GE, Fuller designs and builds metal 3D printed parts for cars and military aircraft. He even builds space parts! So this event is sure to be an extremely cool opportunity for kids interested in STEM. No pre-registration is required; walk-ins are welcome. For more information, contact Mark Fuller at 6markfuller@gmail.com or 770-355-1223.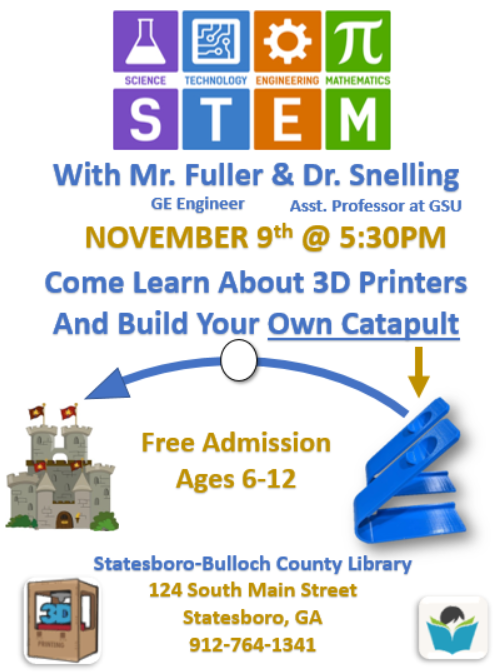 FREE 3D Printed Catapult STEM Event
Wednesday, November 9, 2022
5:30pm
Statesboro-Bulloch County Library
124 S. Main Street
Statesboro, GA 30458
(912) 764-1341