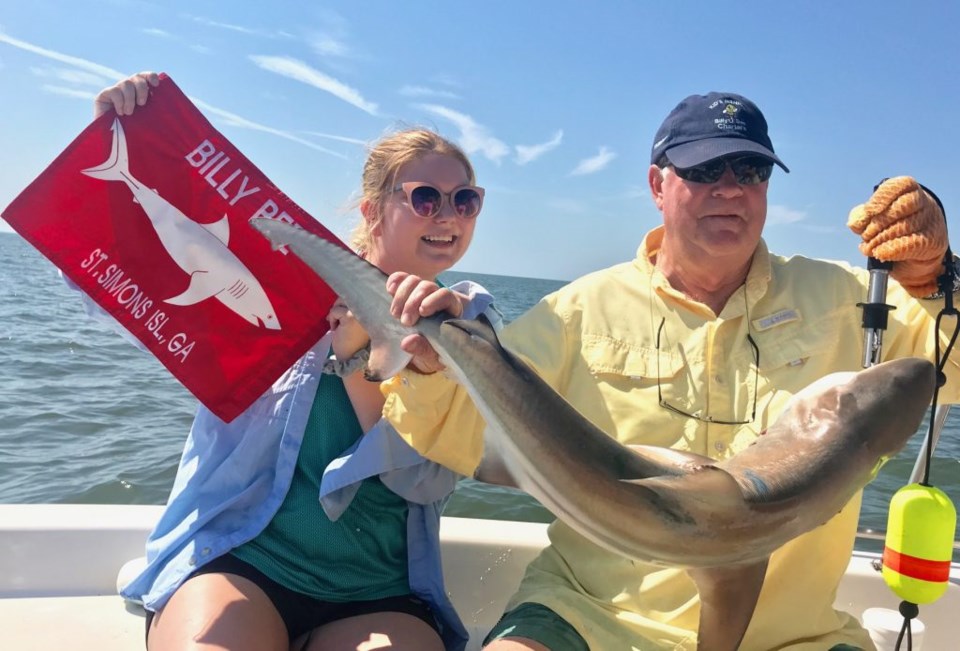 No matter where you go, it is hard to escape from Bulloch County. That, at least, was my discovery this past weekend when we spent the morning charter fishing around Saint Simons Island with Captain Dr. Billy Bice. After devoting 31 years to a career in education, Billy and his wife Florence Ann retired fifteen years ago to Saint Simons Island so Billy could pursue his "dream job" as Captain of his 22' "Billy Bee" charter boat.
It is hard not to know Billy Bice if you have lived in Bulloch County very long. Many may remember him as an accomplished administrator becoming the youngest serving principle in Georgia at the age of 25. Others may remember him as the last elected superintendent of schools for Bulloch County. But anyone who knows Billy will absolutely remember him for his quick wit, incredibly positive and uplifting personality and continuous humor.
I have many great Billy Bice stories. My favorite is from when Billy served as program chair of the noon Rotary club. Billy still holds the record for the best attended Rotary meeting ever when he announced that the speaker would be the General Manager of a very popular Gentleman's adult entertainment establishment in Atlanta. To top it off, he promised that his guest would be bringing some very special employees that were sure to create shock and awe with the audience. It was standing room only and the charade has become legend among loyal Rotarians. Ask any old timer Rotarian to give you the rest of that story.
As a native Bulloch countian, Billy grew up hunting and fishing and never really grew out of it. He has now combined his love of fishing with a way to open the curiosity of children and adults about the great outdoors and how special sharing something as simple as fishing can spark imaginations and open a whole new world for children of all ages.
It also won't surprise any of you who know Billy that he tops the list on the popular travel app TripAdvisor as the #1 outdoor activity in Saint Simons Island out of 39 ranked.
My wife Lori, my daughter Edie Grace and my niece Mackenzie Long had never been deep sea fishing before and we felt this would be a great way to introduce them to it. My step father-in-law Dr. Larry Hubbard and I have a little experience with all types of fishing, but he will agree, it was one of the most enjoyable experiences we have had on the water.
What made it nice for Larry and I was that Billy and his first mate Shep Davenport did all the work. All we had to do was show up ready for fun. Billy has only one rule when you enter the boat and that is to stay in the boat at all times. I did have a close call, but managed not to break his only rule.
On the way out, Billy gave us a history lesson about the area and points of interest. He gave us pointers on what to expect and continued to entertain us with his unstoppable humor. We fished for a few hours and everyone caught lots of fish. We hauled in 31 Whiting and four nice sized sharks.
When our "three hour tour" was over, Billy cleaned the fish for us and sent us over to Catch 228 restaurant where they cooked our catch for us. The fish were delicious but paled in comparison to the incredible memories we made seeing our girls land their first big fish.
If you're looking for a great family adventure this summer, I highly recommend chartering the Billy Bee with Captain Billy, one of Bulloch County favorite sons. He offers an all-inclusive price for a morning or afternoon charter that includes up to six guests and everything you need to have a great time on the water. It is a great adventure for children of all ages. Learn more by visiting www.billybeecharters.com