On Tuesday, August 1, 2023, Statesboro Mayor Jonathan McCollar, City Council, and Fire Chief Tim Grams presented three firefighters with the Medal of Valor, the highest award in the Fire Service -- not just for SFD. These three and nine others received the Statesboro Fire Department Unit Citation as well.
The awards were given in recognition of heroic service in rescuing a Statesboro citizen from his burning home.
The fire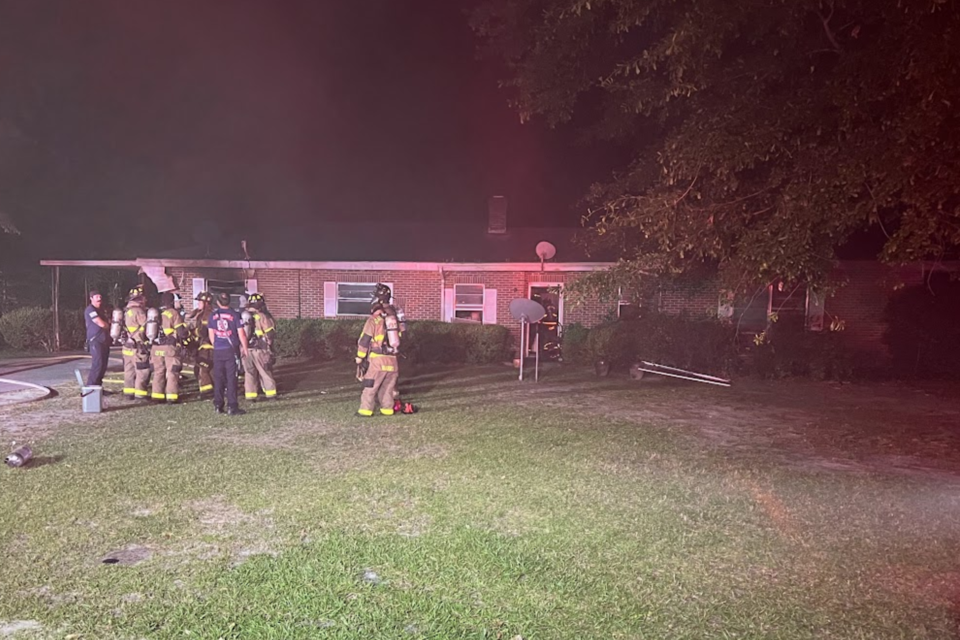 Tim Grams, Statesboro Fire Chief, explained the heroic action.
"At 11:29 PM on the night of June 2, 2023 the Statesboro Fire Department was dispatched to 20 Lindberg Street for a reported structure fire," he said. "Within 4 minutes of receiving the alarm, the first arriving Statesboro Fire Department units found a single story house with moderate to heavy smoke coming from the structure.
Firefighting crews initiated fire suppression operations as well as conducted a primary search for possible victims. Within minutes of arriving on scene, Statesboro Firefighters were able to confine and extinguish the fire as well as locate and successfully remove Mr. John Oglesby from the building, who was treated and transported to the hospital by Bulloch County EMS.
I would like to take just a moment and express our gratitude to the Good Samaritan who promptly called 911 to report the fire. Without their responsible and deliberate actions, the outcome of this incident could have been vastly different."
CLICK HERE to review Grice Connect's story from the night of the fire.
Statesboro Fire Department Unit Citation Award
The Statesboro Fire Department Unit Citation is awarded to any group of two or more Fire Department members who make up a company, shift, sector, team, or work group that has performed in an outstanding manner worthy of recognition. The Unit Citation is recommended by a superior officer within the Fire Department and is approved by the Fire Chief after a formal review of the actions for which the accommodation is being recommended.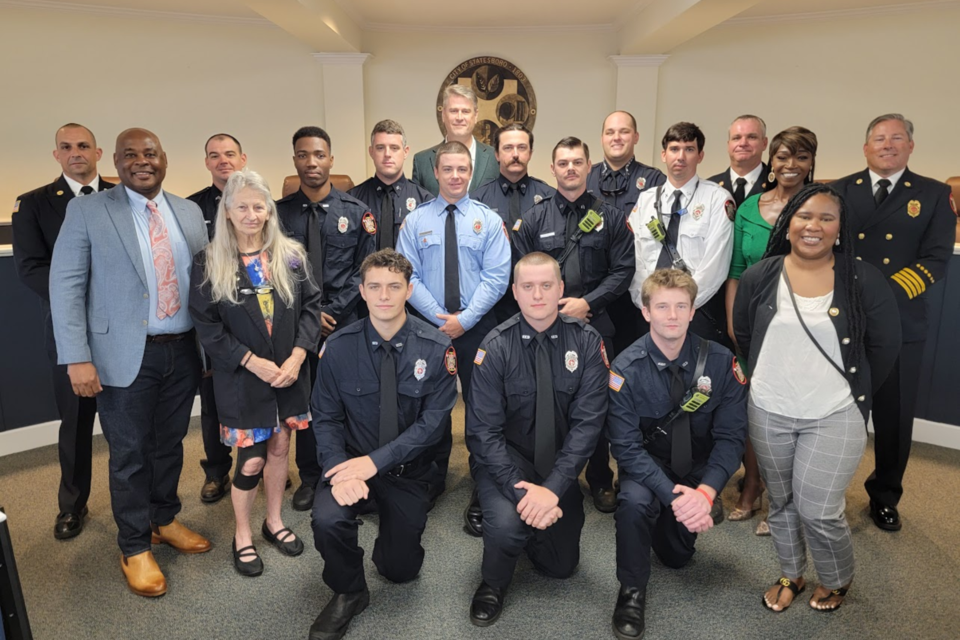 The following individuals were awarded the Statesboro Fire Department Unit Citation for outstanding performance during the course of carrying out their duties, which resulted in the successful rescue of Mr. John Olgesby from that burning home on June 2nd.
Captain Rabon Hutchinson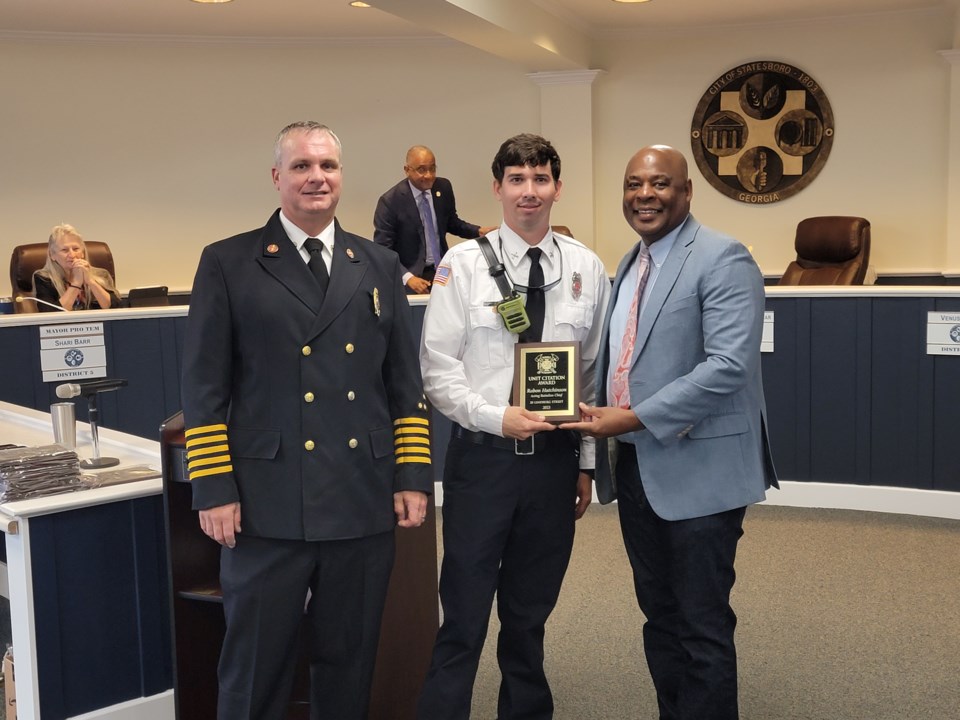 Lieutenant Spencer Rowe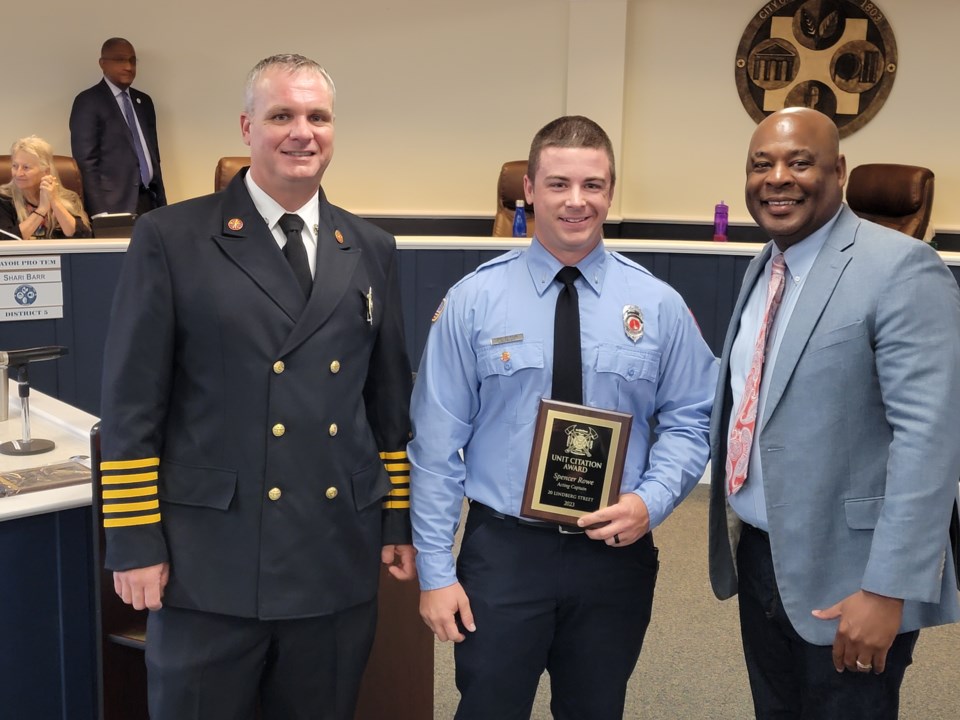 Lieutenant Jason Barrs
(Not able to attend.)
FAO Spencer Johnson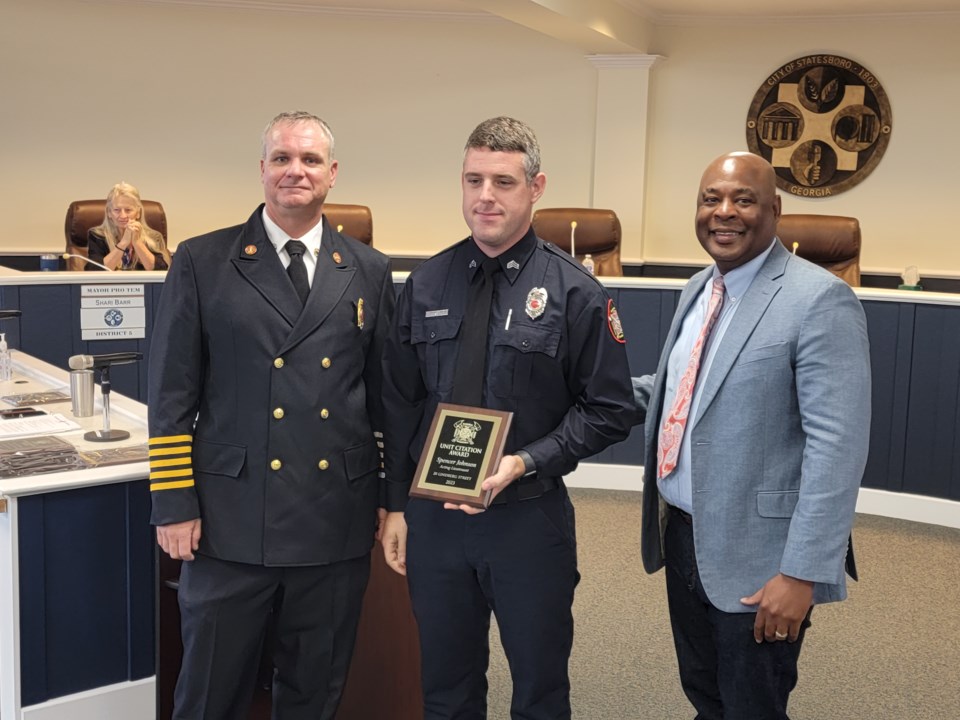 FAO Ben Adams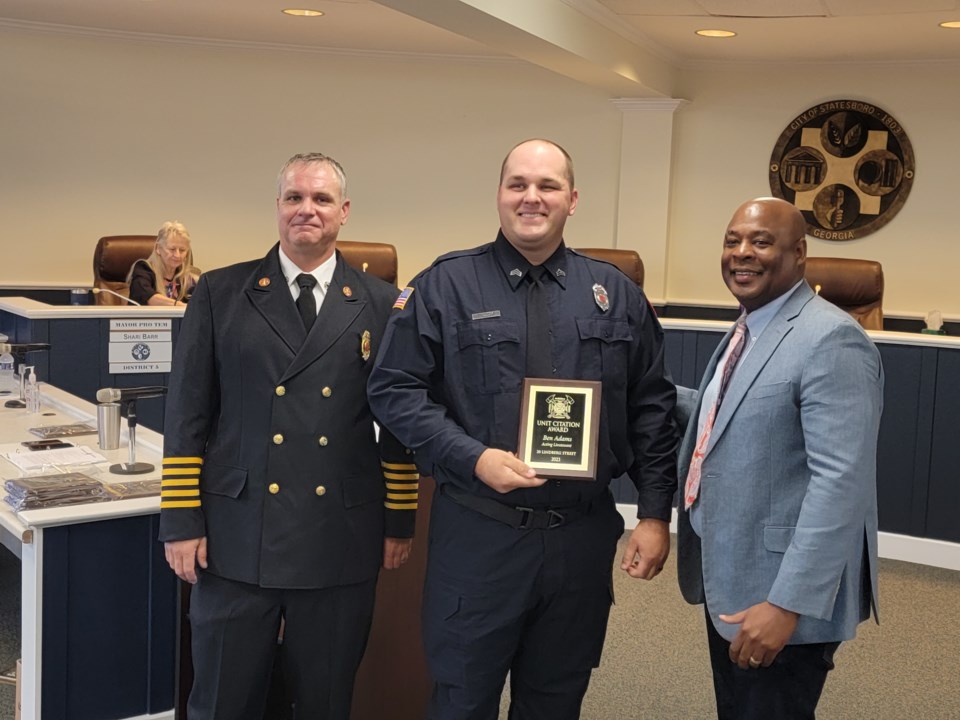 FAO Casey Perkins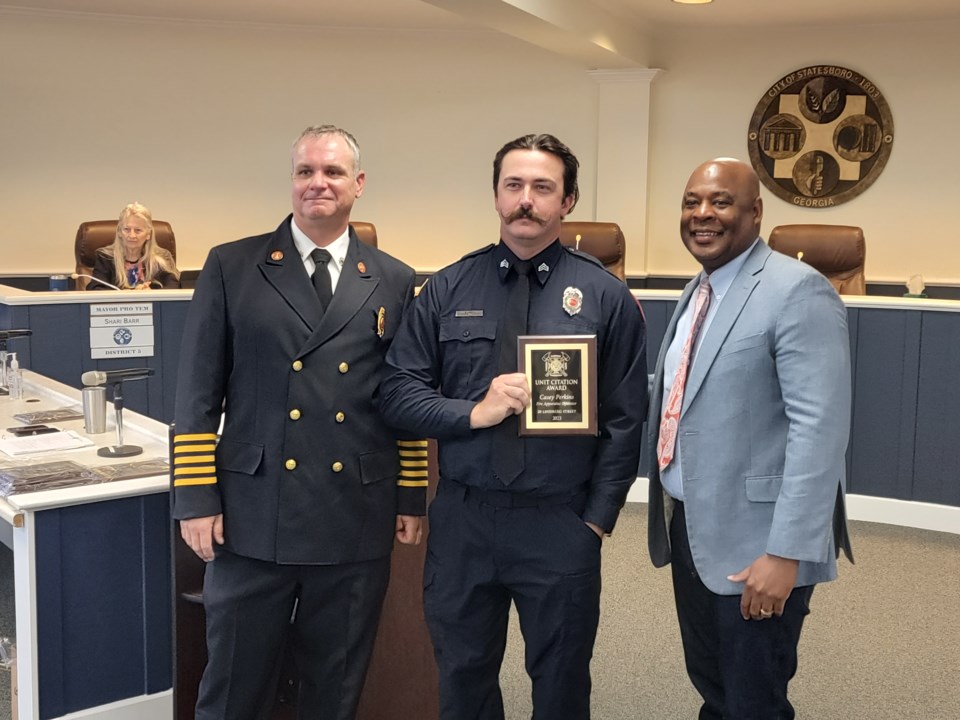 FAO Ryan Marrow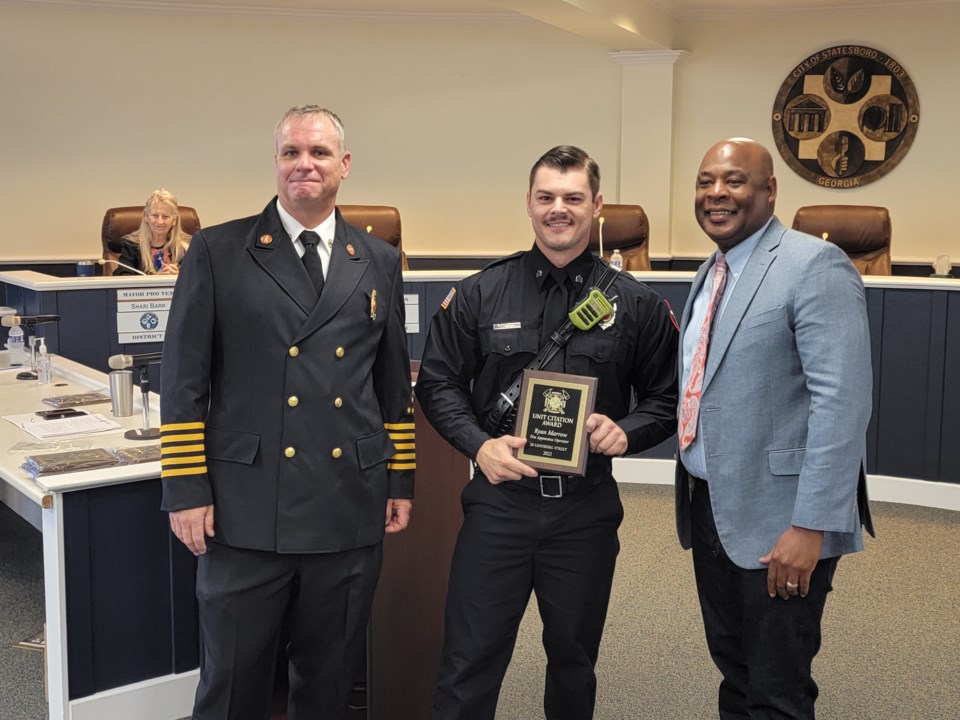 FAO Justin Eaton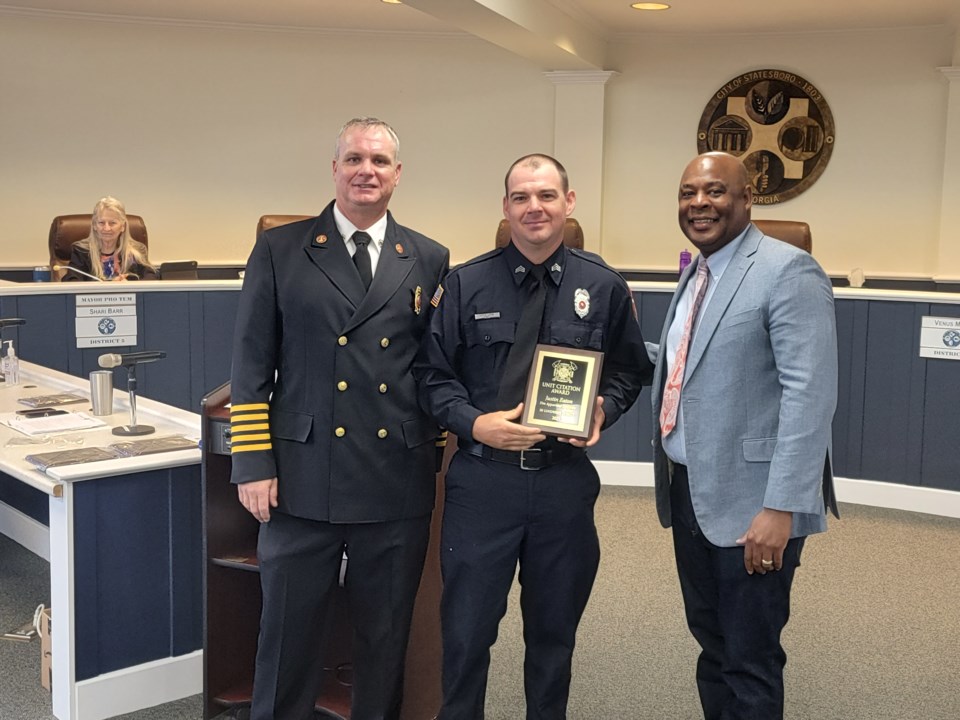 Firefighter Valiant Lyte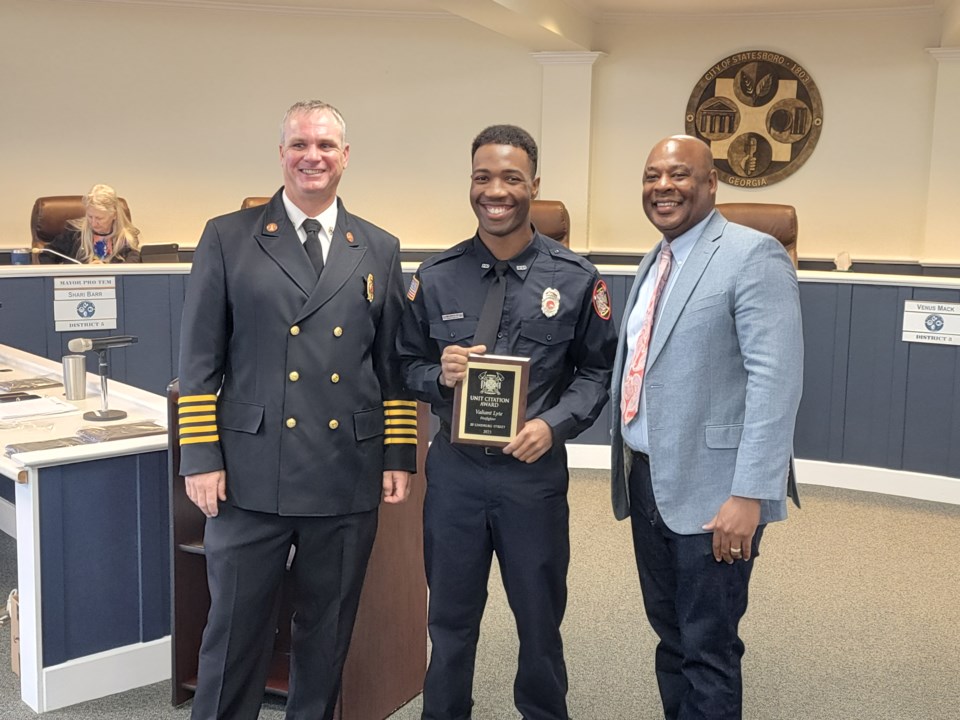 Firefighter Bradley Scott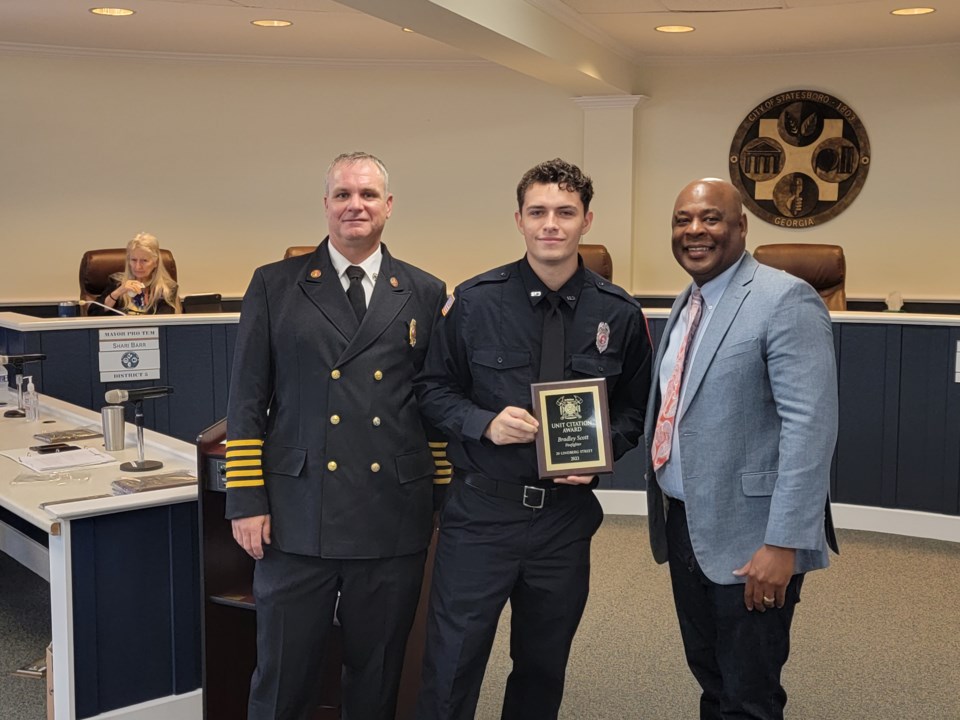 Firefighter Hunter Swinford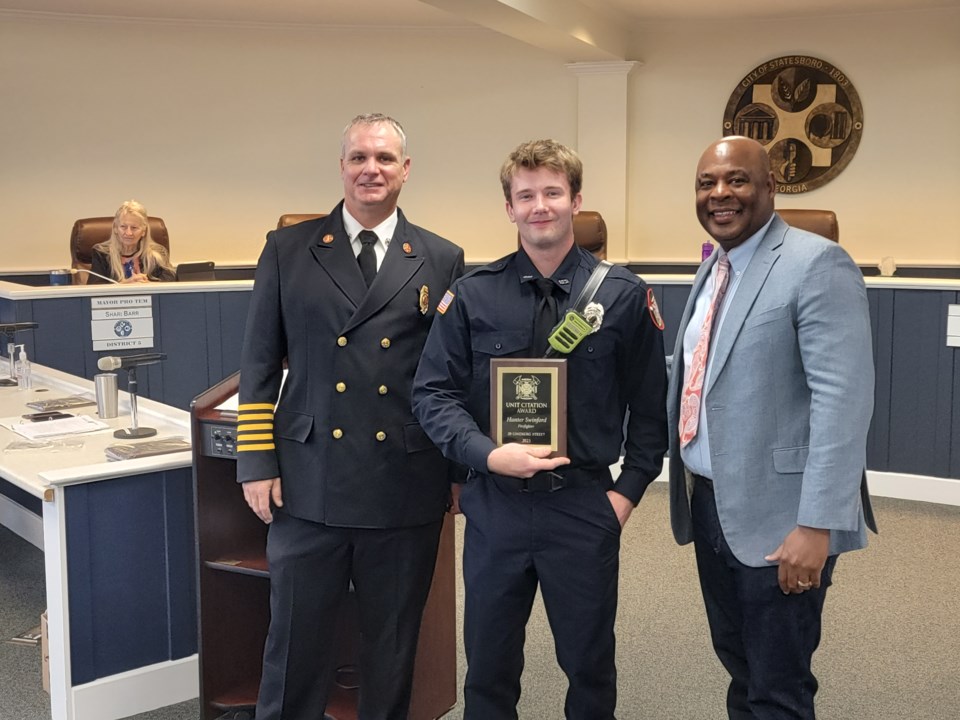 Firefighter Bradley Sapp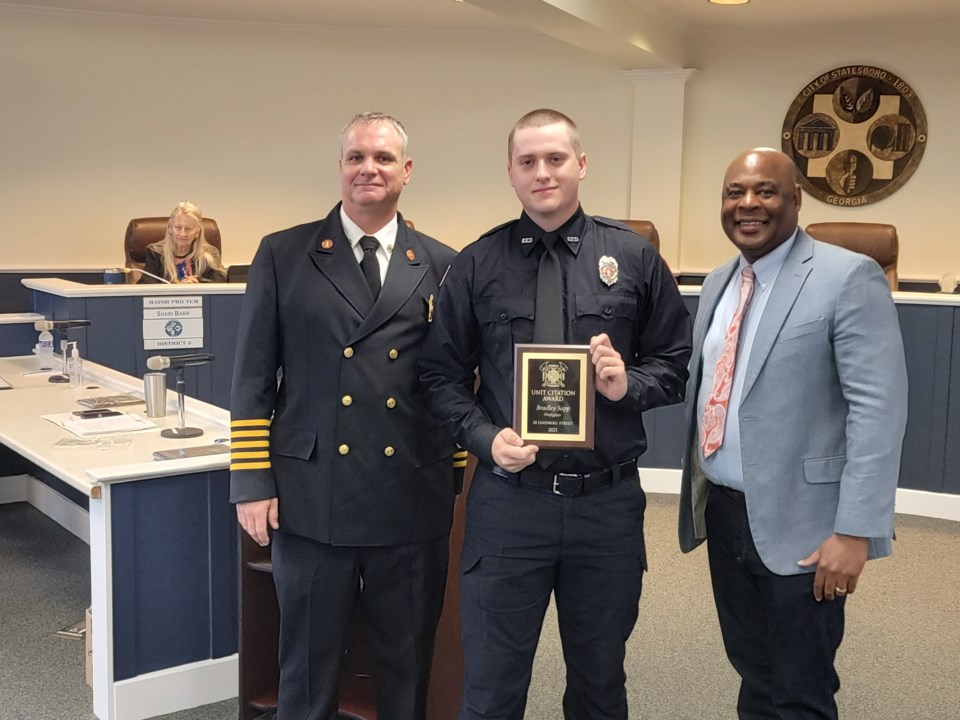 Statesboro Fire Medal of Valor Award
In addition to this group being recognized for their outstanding performance, there are three individuals whose actions directly impacted the outcome of this incident.
The Statesboro Medal of Valor is awarded to a member who, under extreme conditions in which life safety is at great risk, performs in an outstanding manner worthy of special recognition. The Medal of Valor is one of the most prestigious honors awarded to Statesboro Fire Department members and is presented only to those deserving.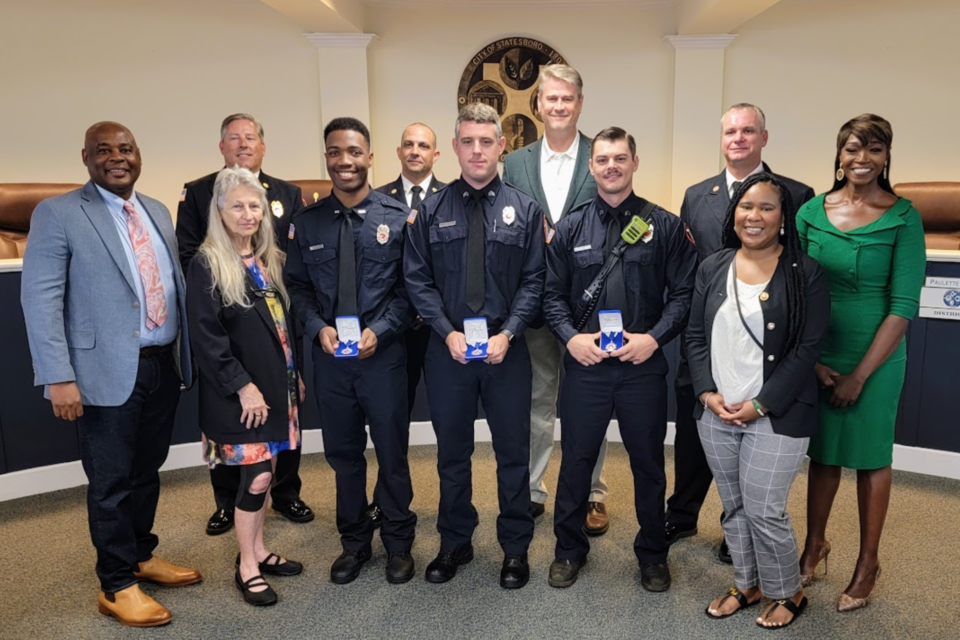 For their outstanding actions as well as their display of courage and selflessness on the night of June 2nd, 2023, the following individuals were awarded the Statesboro Fire Department Medal of Valor.
FAO Spencer Johnson

FAO Ryan Marrow

Firefighter Valiant Lyte
"The manner in which all 12 of these men performed their duties that night embodies the professionalism, dedication, and character that the Statesboro Fire Department expects in all its members. As the Fire Chief, I take great pride in our fire department, its members, and the exceptional service they provide to our community," said Chief Grams. "These individuals serve as a testament to the unwavering commitment and courage that the citizens of the Statesboro and Bulloch County community can rely on in their times of greatest need."
Wonderful outcome
Chief Grams reported that Mr. Oglesby has been released from the hospital and is now residing in the Atlanta area, near family.
This outcome serves as a powerful reminder of the impact our first responders have on the lives they touch, and it further reinforces the importance of the exceptional work carried out by the men and women of the Statesboro Fire Department.
Medal of Valor
Grice Connect asked the three Medal of Valor recipients to describe what it means to them to receive fire services highest award. We also asked about their memories from that fateful night and hear from from Battalion Chief Merritt Kearns, A-shift.
FAO Spencer Johnson (serving as Acting Lieutenant that night)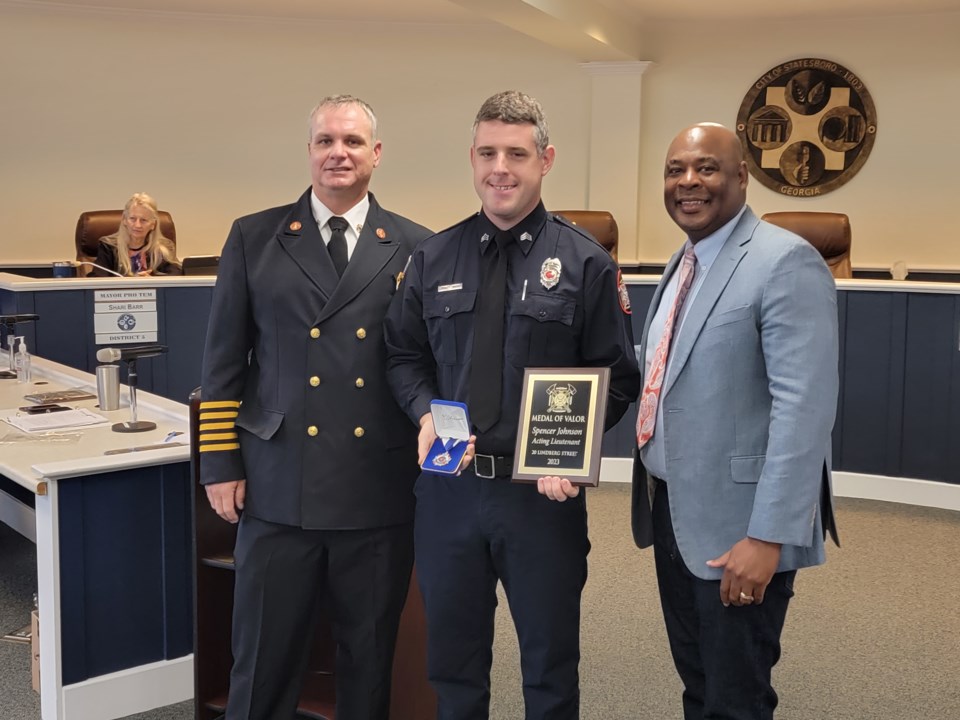 "The Valor Award to me symbolizes a high honor and the respect that the department has for its employees. Receiving this award has made me very proud to be a part of the department and being able to be there for the community in their time of need," said FAO Spencer Johnson. "The things I found remarkable about that night was the speed of the crews and the ability to fall into place working together to reach the common goal.
I am grateful for the training that our department offers us to better ourselves for the citizens of Statesboro."
Firefighter Valiant Lyte
"Earning the Valor Award gives me a lot of pride and motivation for the type of work I do. We do a lot of training for these situations, which may happen anywhere and anytime. Saving and protecting lives is part of the job, but I was told that it's rare to pull someone out of a structure alive, so hearing that made me rethink how important it is to do what we do as firefighters," said Firefighter Valiant Lyte.
"Everything was chaotic and quick. We train for rescues frequently, and seeing that we were able to save a man's life makes me want to train harder and keep pushing to polish my craft as a firefighter. I just want to thank God for the individual who made the 911 call, we firefighters for letting our training kick in and being able to effect a successful rescue, and the City Council for recognizing our team."
FAO Ryan Morrow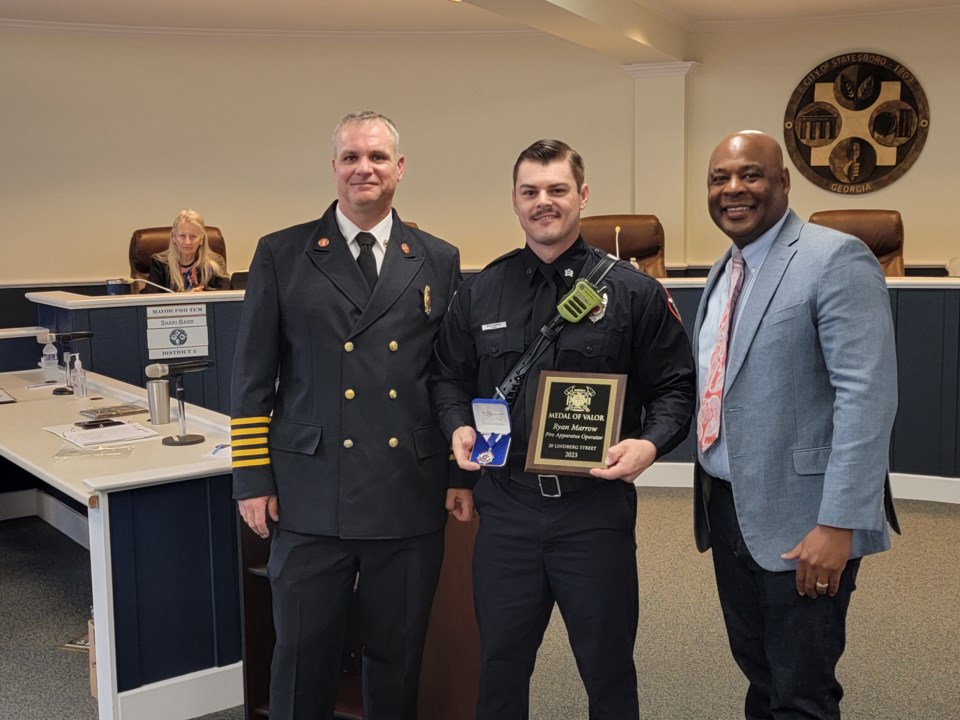 "It's not as much about the award and recognition as it is about making a difference in somebody's life. We as firemen swore an oath to them -- the people of the community we serve. I am beyond thankful to receive the award, but it was truly a team effort. I'm just proud to work beside some of the best in this business that we call the fire service," said FAO Ryan Morrow.
"That night will always stick with me. We as a crew did something that many firefighters won't ever experience in their career. Knowing we were there when we needed to be and made a difference that changed the outcome of somebody's life. I would like to add that after the rescue was made and the adrenaline slowed down, the first person I wanted to call and tell was my best friend of many years, Chris Applebee (Lt. Applebee passed away September 9, 2021). I feel as if I had him with me that night and I would've made him proud. I'm so grateful that Chris's wife Tracy, his son Caden, and daughter Navee came today to show their love and support to me."
Lt. Applebee's wife and children attended the ceremony.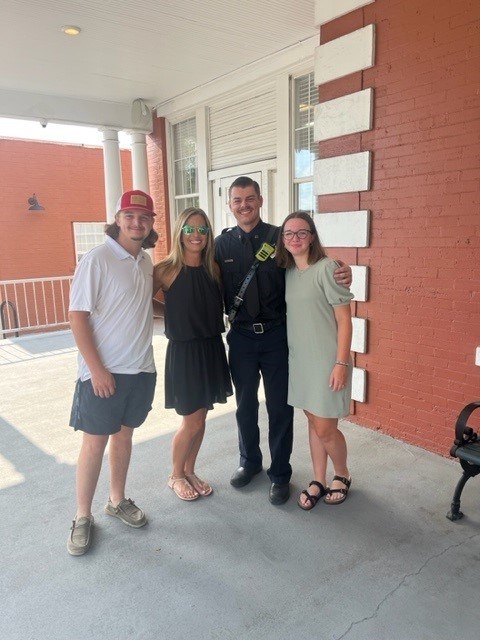 Battalion Chief Merritt Kearns, A-shift
"I am incredibly proud of our firefighters for the successful rescue they performed on Lindberg Street. Life safety is our number one priority at the Statesboro Fire Department, and searching for entrapped civilians is something we do at every fire," said Battalion Chief Merritt Kerns.
"However, 'making a grab' or a successful rescue is something that usually happens only a few times during a career. The rescue on Lindberg Street can be attributed to the extraordinary efforts of our firefighters and the excellent training each member receives."
A grateful community
We should all be tremendously grateful to be served by dedicated and heroic firefighters who make up the SFD. These firefighters train for worst case scenarios and often put their lives in great danger to ensure the health and safety of others. Their response and rapid interior search at this fire are a testimony to their countless hours of training. They executed their fire attack plan very well and tremendously heroically.
The same can be said about the Bulloch County EMS paramedics on the scene. Their rapid and advanced treatment of the victim at the scene was equally important to saving his life.
These men are not an exception to the rule of the men and women who bravely serve, but an example of the quality of the team that identify themselves with honor as Statesboro Firefighters.