Tuesday, November 8, 2022, is Election Day and your last chance to vote. Grice Connect has compiled information on finding your polling place, voting hours, and ID requirements below. You can also view a sample ballot here.
Remember to make a plan to VOTE on Tuesday!
Follow Grice Connect for local election results. We will begin providing updates as soon as the results begin coming in after the polls close at 7pm.
Voting on Election Day
On Election Day, you must vote at your designated polling place. Polling places are open from 7:00 AM to 7:00 PM on Election Day. If you are in line at 7:00 PM, you will be allowed to cast your vote.

When you get to your polling place, proceed to the check-in desk and fill out a voter's certificate with your name and address. Next, show your photo ID. A poll worker will then check your photo ID, verify that you are registered and at the correct polling location, issue you a voter access card or ballot, whichever is applicable, and allow you to vote.

Voting Machines
Georgia uses a ballot marking device for elections. Municipalities may use other methods of voting in municipal elections. Instructions on how to use voting equipment are posted at each polling location. You may also ask a poll worker to explain the voting method at your polling location.

Voter Assistance
Voting must be readily accessible to disabled and elderly voters. If you need special assistance to vote or to access your polling place, contact your county registrar's office.
Finding Your Precinct
Your assigned polling place is shown on your voter registration card. You can find your polling location on the map below (click on precinct for direction information), by going to http://www.mvp.sos.ga.gov or contact the Bulloch County registrar's office at (912) 764-6502. Thanks to the Bulloch County GIS office for putting together this interactive map.
You can also enter your address on this website to find your voting location.
On Election Day, you may ONLY vote at your assigned precinct. If you arrive at the incorrect precinct, you will only be able to cast a provisional ballot.
If a voter registered to vote on time but voted in the wrong precinct, certain conditions must be met for their provisional ballot to be counted. In such a situation, only a ballot cast by a voter between 5:00pm and the regular closing time of the polls on election day, with a sworn statement from the voter, will be reviewed. The sworn statement must confirm that the voter is unable to vote at his or her assigned precinct before the polls close and give reason why.
Poll workers are to notify any voter who shows up at the incorrect precinct and give them information on their correct precinct. Provisional ballots meeting review requirements will be sent to the State Election Board.
Voter ID Requirements
Georgia law requires registered voters to show photo identification in order to vote in person.
What IDs are acceptable?
Any valid state or federal government issued photo ID, including a FREE Voter ID Card issued by your county registrar's office or the Georgia Department of Driver Services (DDS)
A Georgia Driver's License, even if expired
Valid employee photo ID from any branch, department, agency, or entity of the U.S. Government, Georgia, or any county, municipality, board, authority or other entity of this state
Valid U.S. passport ID
Valid U.S. military photo ID
Valid tribal photo ID
If you do not have a photo ID listed above, you can still vote by provisional ballot. You have three days after the election to bring the required photo ID to your county registrar's office in order for your provisional ballot to be counted.

If you have to vote a provisional ballot because you don't have one of the forms of Photo ID listed above, you can go to your county voter registration office, get a FREE photo ID and present it within three days after the election and your provisional ballot will be counted.

If you simply forget your Photo ID, and time permits, you can retrieve it, return to the polling place, and vote.
Sample Ballot
A sample ballot for the Tuesday election is provided below.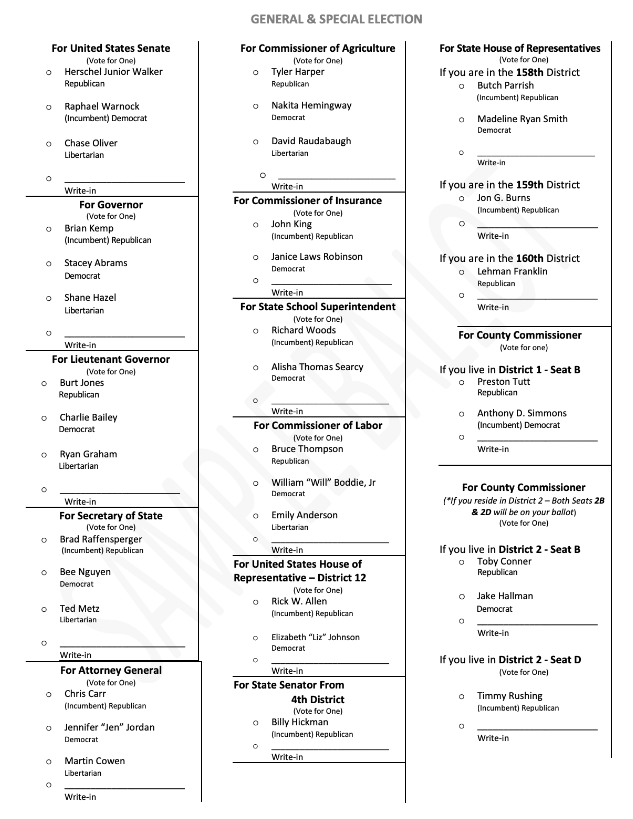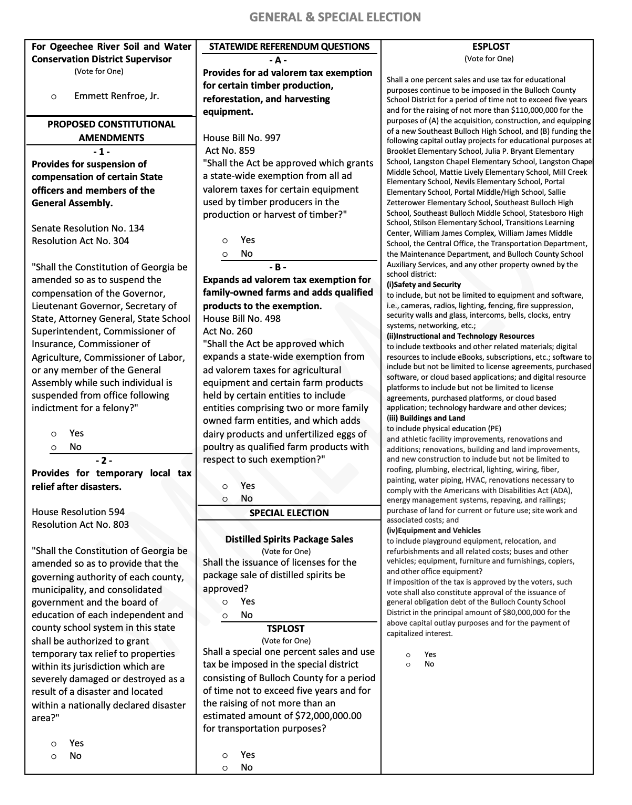 Directions to All Polling Places
Lockhart (#1)
4508 ROCKYFORD ROAD,
PORTAL, GA 30450
Take US 80 West to Hopulikit — take US 25 to Rockyford Road – turn right on Rockyford Road and go about 1.4 miles on the right.
Blitch (#2)
1757 METTS ROAD (MIDDLEGROUND COMMUNITY BUILDING)
STATESBORO, GA 30461
Go out Lakeview Road to intersection of Lakeview and Clito Road (Metts Road) – turn left on Metts Road – the Middleground Community Building at the intersection of Middleground and Metts Road is the precinct building.
Hagin (#3)
5023 CLITO ROAD
STATESBORO, GA 30461
Take East Main Street (Hwy 24) to the intersection of Hwy 24 and Clito Road. The Precinct is the block building on the right.
Brooklet (#4)
416 NORTH CROMLEY ROAD (BROOKLET REC DEPT)
BROOKLET, GA 30415
Take US 80 East to Brooklet, turn left on Cromley Road (by Clyde's) – precinct is in the Community Building,
Stilson (#5)
16894 HWY 119 CONNECTOR (STILSON COMMUNITY BUILDING
BROOKLET, GA 30415
Take US 80 East past Brooklet to Stilson – turn left on 119 at the Country Store – go approximately ½ mile to the Community Building on left.
Bay (#6)
63 LANIER ROAD
PEMBROKE, GA 31321
Go Hwy 67 to Hwy 46 – turn left on Hwy 46 and go approximately 6.7 miles – the precinct is located beside the fire department on right.
Nevils (#7)
122 NEVILS-DENMARK ROAD
PEMBROKE, GA 31321
Go Hwy 67 to Denmark Community -– turn right on the Nevils-Denmark Road – just before you get into Nevils there is a block building on the left beside the fire department.
Sinkhole (#8)
1934 UNION CHURCH ROAD
REGISTER, GA 30452
Take 301 South to Union Church Road – turn left on Union Church Road and go about 2.8 to the Union Baptist Church (on the right hand side).
Register (#9)
33 FOSTER ROAD
REGISTER, GA 30452
Go out Cypress Lake Road to the City of Register; turn right on 2nd Street or Railroad Street – both streets dead end on Foster Road and the voting precinct is the block building on the opposite side of the road between the two streets.
Emit (#10)
3023 HARVILLE ROAD
STATESBORO, GA 30458
Go out Hwy 67 to Harville Road – turn right on Harville Road – go about 3 miles – the precinct is just past the Groover Old Mill Road and Harville Road intersection on the right.
Statesboro (#11)
150 WILLIAMS ROAD
STATESBORO, GA 30458
Take Northside Drive West (HWY 80) to Williams Road. Precinct is at William James Educational Complex lunchroom.
Portal (#12)
351 NORTH GRADY STREET
PORTAL, GA 30450
Precinct is located in Aaron Worship Center Social Hall.
Fair (#13)
16942 HWY 67 (KIWANIS FAIR GROUNDS)
STATESBORO, GA 30458
Take Hwy 67 to the Fair Grounds on the left – Precinct is located in the Kiwanis Building.
Church (#14)
4 SOUTH ZETTEROWER (STATESBORO PRIMITIVE BAPTIST CHURCH)
STATESBORO, GA 30458
Intersection of East Main Street and South Zetterower – voting is in social hall.
Pittman Park (#15)
1102 FAIR ROAD (PITTMAN PARK UNITED METHODIST CHURCH)
STATESBORO, GA 30458)
Intersection of Fair Road and Gentilly across from GSU. Voting is in gym/social hall.
Leefield (#16)
5294 BROOKLET LEEFIELD ROAD (LEEFIELD BAPTIST CHURCH)
BROOKLET, GA 30415
Take Hwy 80 to Brooklet city limits; turn left on Old Leefield Road; turn left on Brooklet-Leefield Road; precinct is just before you get to the 4-way stop on Stilson-Leefield Road.
If you have additional questions or need more information, visit the Bulloch County Department of Elections website below.