NWS Charleston is forecasting the possibility of freezing rain moving in late Friday evening into Saturday Morning for Statesboro and Bulloch County. They issued a hazardous weather outlook again on Thursday, January 20, 2022 regarding this possibility.
Ted Wynn, EMA Director for Bulloch County, also issued a second advisory Thursday, morning as well for Bulloch County.
It does not appear at this time that Bulloch County Schools will be affected by this winter storm.
We first reported on Monday the possibility of snow and very cold temperatures for the end of the week. Lots can change still in a few days. Stay alert to these changing weather conditions over the next few days.
Bulloch County EMA
...Freezing Rain Still Possible Friday into Saturday...
The NWS in Charleston is forecasting the possibility of some freezing rain late Friday into Saturday morning.
The potential for ice accumulation is greatest for inland SC currently. There is a winter storm watch for inland SC.
This watch could spread into our area over the next 24 hours.
The timing for the possibility of freezing rain for us is Friday evening into early Saturday morning.
Bulloch County Public Works crews are preparing to respond if bridges and overpasses develop issues associated with any freezing precipitation.
Monitor your weather and news sources for developments.
Starting early Friday evening, please limit travel to necessary only until roads are determined to be safe.
Law enforcement will be out in force monitoring the roads for issues.
The image above depicts where the freezing rain is likely to occur and what the timing looks like now.
Bulloch EMA will continue to monitor the weather.
Remember while confidence is growing in the forecast, it could still change.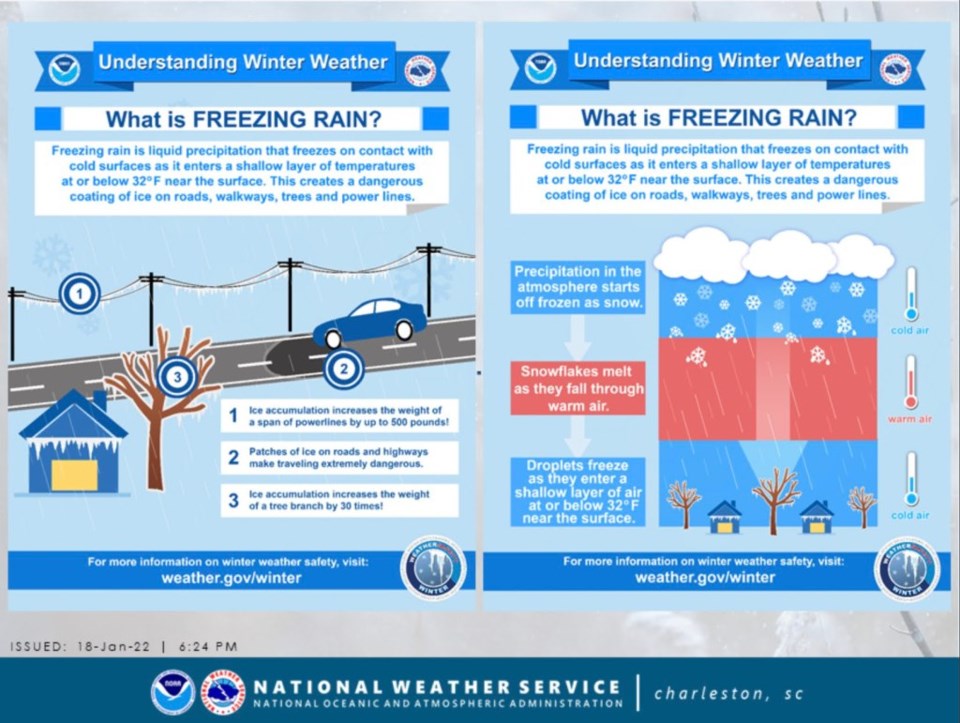 As colder weather is forecasted for the weekend and beyond so be mindful of:
People – should dress warmly, in layers, to avoid hypothermia (abnormally low body temperature).
Pets – should be brought indoors or provided with a warm place to sleep.
Pipes – that run outside or under a house should be wrapped in pipe insulation to avoid cracks due to water freezing in them.
Plants – may need to be covered or brought inside to avoid frost damage.
NWS Hazardous Weather Outlook
Winter Weather - 4:25 am, January 20,2022: A storm system is expected to affect the area Friday through Saturday morning.
The time period of greatest concern is Friday evening through Saturday morning when widespread freezing rain is possible.
While confidence is increasing that the predominant precipitation type will be freezing rain, a short period of snow and/or sleet cannot be ruled out for inland areas late Friday night.
The potential for ice accumulation is highest inland, where at least a Winter Weather Advisory will be possible.
Stay tuned for the latest information about this potential winter weather event.
Below is current weather information from the NWS: