Bulloch County:
Region J Critical Care Bed Capacity decreased to 16 today. There are only 16% (468 beds) critical care beds available statewide.
803 Total confirmed cases and 7 deaths total reported here with 65 hospitalizations total. Up 12 confirmed cases since yesterday. (These figures apply to Bulloch County Residents)
EGRMC currently/today caring for 25 COVID-19 positive patients today (May or may not be Bulloch County Residents) 5 COVID-19 patients on vents.
EMS received notice of 1 Confirmed COVID-19 positive and 8 probable patients transported recently. To Date: 64 probable and 45 confirmed transports by EMS.
Evans County:
100 total confirmed cases and 0 deaths total reported with 8 total hospitalizations.
Candler County:
139 total confirmed cases and 0 deaths total reported with 7 total hospitalizations.
Exceeding EGRMC bed and staff capacity is why leaders keep calling for citizens to wear a mask, social distance, wash hands and avoid crowds to slow the spread and not overwhelm our hospital. EGRMC has 24 ICU beds and 17 vents currently. The ICU bed count does not include step down beds. They can expand to more critical beds if needed with some modifications.
<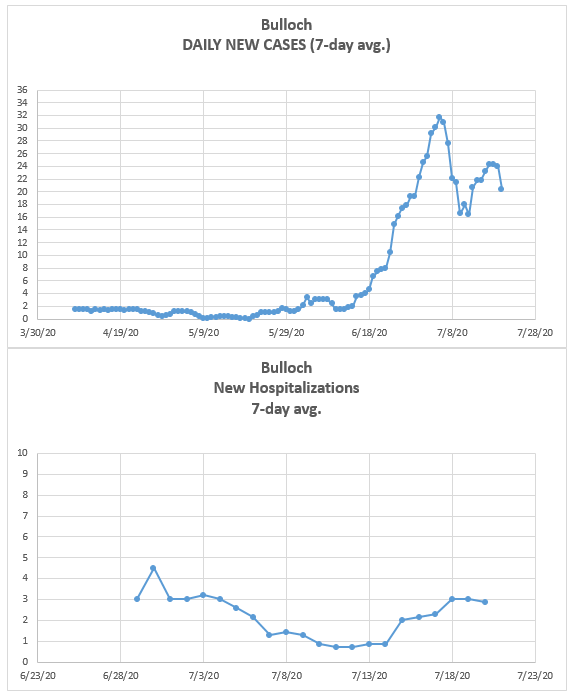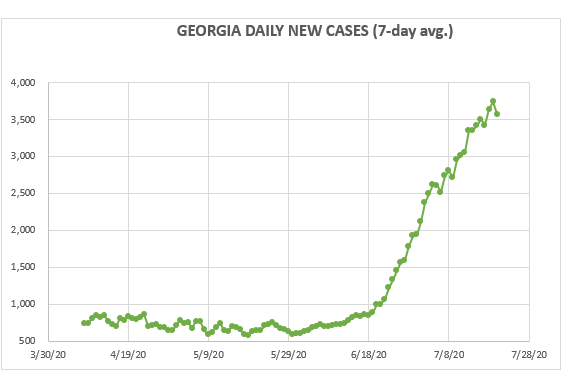 Georgia and Bulloch 7 Day Graphs provided by Parker Engineering, Statesboro.
The Georgia Tech COVID-19 risk assessment planning tool shows the risk level of attending an event in any county in America, given the event size and location (assuming 10:1 ascertainment bias). The risk level is the estimated chance (0-100%) that at least 1 COVID-19 positive individual will be present at an event in a county, given the size of the event. Choose an event size. Use the drop-down menu to choose a county you would like to zoom in on.
Testing Data
Note: The graphs depict total tests and not the number of persons tested. Some individuals may be tested multiple times.
Weekly Testing Numbers
The following graph depicts the number of specimens collected for testing by the Southeast Health District each week. Tests are also performed by private physicians, hospitals, federally qualified health centers, urgent care centers, among others so this number is not a comprehensive total of all testing done in our area.
Percentage of COVID-19 Positive Tests
The graph below shows the percentage of COVID-19 positive specimens collected by the Southeast Health District and processed through our main laboratory (Ipsum Diagnostics), beginning May 25, 2020.
Evaluating the percentage of positive test results can give you a better understanding of the spread of COVID-19.
BULLOCH COUNTY LONG-TERM CARE FACILITY 7/20/20 COVID-19 REPORT:
FACILITY
# OF RESIDENTS
# COVID POSITIVE RESIDENT
# COVID DEATHS
Total Tested Residents

#

Recovered

#COVID POSITIVE STAFF
BROWN'S
53
0
0
4
0
2
EAGLE
50
0
0
50
0
4
GARDENS
30
0
0
32
1
1
HERITAGE
59
20
4
67
0
11
BETHANY
40
8
0
40
25
4
WILLOW POND
38
1
0
36
0
2
WESTWOOD
34
4
1
46
1
2
BULLOCH COUNTY TOTAL COVID-19 DEATHS:
| | | | | |
| --- | --- | --- | --- | --- |
| AGE | SEX | COUNTY | RACE | COMORBIDITY |
| 65 | Male | Bulloch | White | Unknown |
| 42 | Female | Bulloch | African-American/ Black | Yes |
| 76 | Female | Bulloch | White | No |
| 90+ | Female | Bulloch | White | Unknown |
| 62 | Female | Bulloch | White | Unknown |
| 90+ | Female | Bulloch | African-American/Black | Yes |
| 47 | Male | Bulloch | Unknown | Unknown |
https://dph.georgia.gov/covid-19-daily-status-report
Special thanks to today's sponsor Vision Source, Professional Eye Care with Dr. Horace Deal and Dr. Dylan Piette. They are always there for you. During the entire COVID-19 pandemic, they made a commitment to never close their office. They continued to see patients and have been available and on call for their patients. Of course, they are following all CDC recommended safety protocols to keep you and your eyes safe and healthy. They are all wearing mask and urge patients to do the same. They limited access and increased sanitation using UVC and Ozone air purifiers. Every frame is sterilized if touched. Your health and safety is Dr. Deal and Dr. Piette's first priority. You can always count on Vision Source, Professional Eye care to never leave you when your eyes need them the most. To book an appointment or learn more about Vision Source, Professional Eye care click here or call them at 912-764-5609.