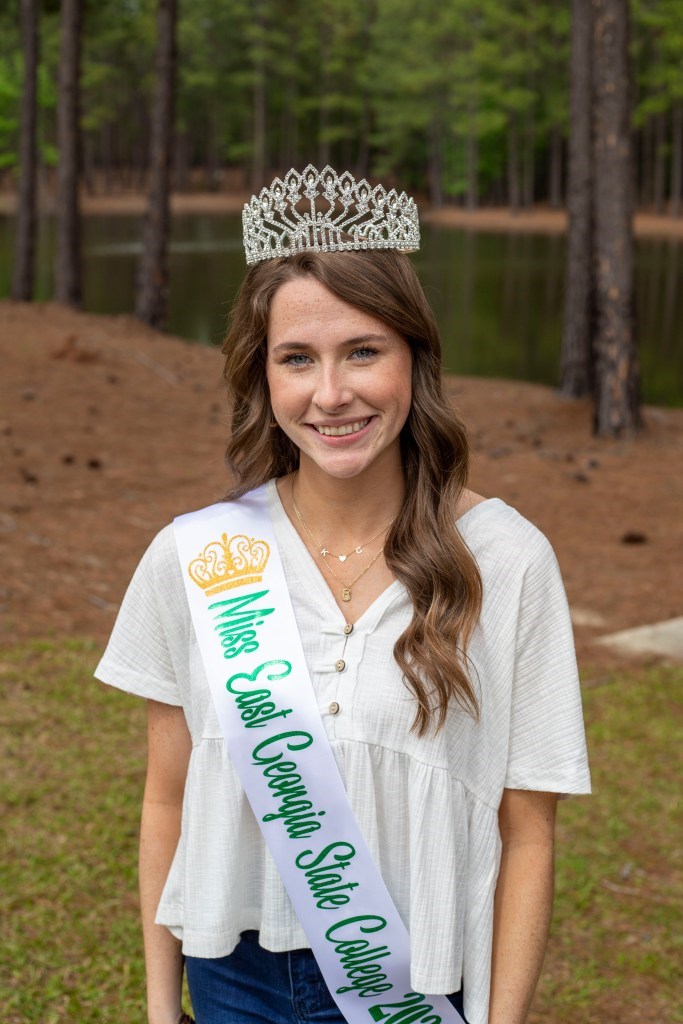 The 2022 Miss East Georgia State College Scholarship Pageant was held Saturday, April 9. Carleigh DeFee is the new Miss EGSC after her performances in the private interview with the judges, on stage question, casual wear, and evening gown parts of the competition.
Carleigh DeFee is the 18-year-old daughter of Lane and Jane DeFee of Soperton, Ga. She is the granddaughter of Hugh and Brenda Brantley of Soperton, Ga., and Martha DeFee of Highland Home, Al. She graduated from Robert Toombs Christian Academy in 2021 as the salutatorian of her class. In high school, DeFee was secretary of the Student Government Association and was named the 2020 Homecoming Queen, 2021 Prom Queen, and 2021 Miss RTCA.
DeFee decided to attend EGSC to be closer to home for her start in college and to get the feel of college before continuing her education at a larger university. She was accepted into the Correll Scholars Program at EGSC. Through the scholarship program, DeFee has volunteered with the Bobcat Buddies tutoring and mentoring program. The program teams up Correll Scholars with an elementary school student for tutoring and mentoring twice a week.
Carleigh DeFee is a general studies major at EGSC and plans to transfer to a larger university to become a certified registered nurse anesthetist with her doctorate in nursing practice. At EGSC she is on the President's List and is part of Phi Theta Kappa Honor Society.
DeFee decided to compete in the Miss EGSC pageant to try something new. She has only competed in one pageant before, her high school pageant she won.
"I remember she signed me up for dance when I was little, and I love it. I have danced for 11 years and the last four of those years was competitively. I was also on my high school's shotgun team. My mom always told me to do my best and be proud."
"My mom is always encouraging me and especially encouraging me to try something new," said DeFee.
During her year of service as Miss EGSC, she plans to volunteer with her platform "Know Your NAME: Not Another ME" which is a pen pal mentoring program between college students and the local elementary school.
The Miss EGSC Scholarship Pageant was hosted by EGSC's Student Government Association. The Miss EGSC Pageant Board would like to thank Southern Traditions for donating the beautiful bouquets the winners received, and Frills by Scott in Statesboro, Ga., for dressing Miss EGSC 2021, Anita Cerpovicz, and the emcee of the event. The board would also like to thank All Star Dance Academy for providing the entertainment during the event, and the many volunteers who made the pageant a success.