Ogeechee Area Hospice invites the community out to their Mistletoe & Memories, 16th Annual Tree Lighting Ceremony and Celebration. The Mistletoe & Memories tree lighting will be held on Thursday, December 1, 2022 beginning at 5:30 PM till 6:30 PM. Ogeechee Area Hospice is located at 200 Donehoo Street in Statesboro, GA.
The Ogeechee Area Hospice staff and volunteers would like for you to join them as they celebrate the joys of the season and honor the lives that have touched us through the years.
The event will include the Tree Lighting, Holiday Music, Refreshments, Face Painting, Pet Therapy and a surprise visit from Mr. and Mrs. Santa Claus will try to join us for the evening.
Purchase a "light" in memory or honor of a loved one
One of the special parts of this annual tradition is the opportunity to make a $5 contribution to Ogeechee Area Hospice to purchase a "light" on the Christmas tree in memory or to honor a loved one. You can purchase the lights at the event or by sending a check to Ogeechee Area Hospice, P.O. Box 531, Statesboro, GA 30459. Please put the name of the person you are remembering and who it is given by.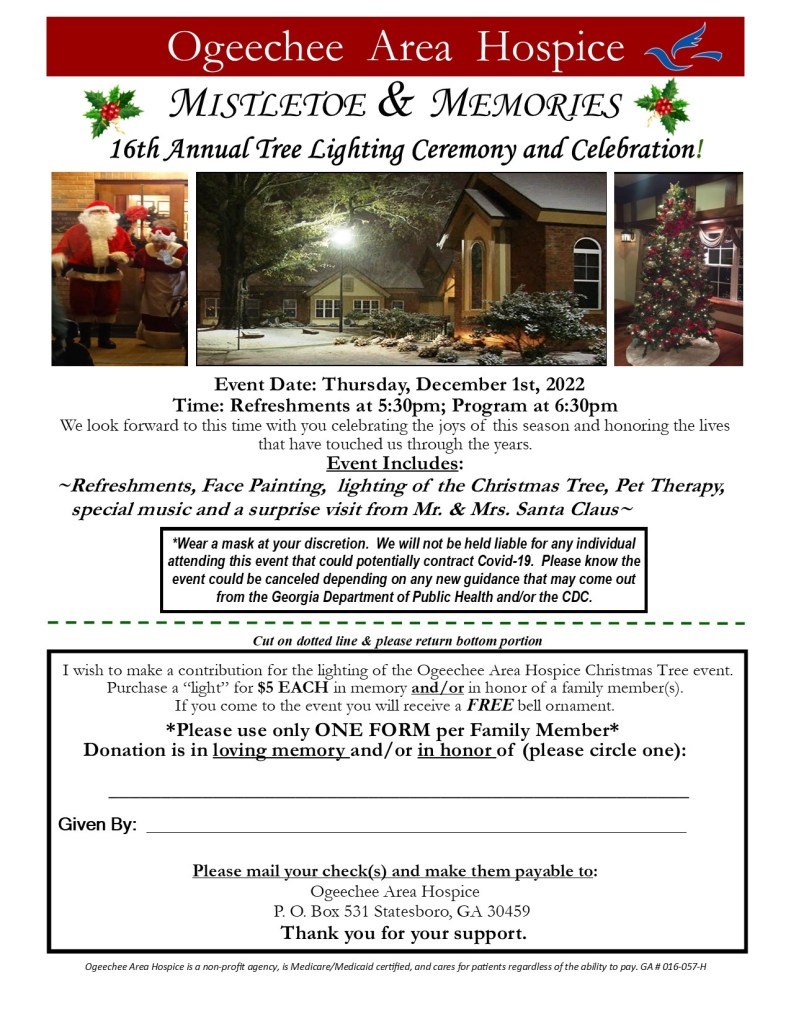 Ogeechee Area Hospice is a tremendous gift from our community to our community.