Ogeechee Area Hospice held their annual Denim and Diamonds benefit on Saturday night, May 15th. The sold out event was held at The Venues on the campus of Ogeechee Technical College. The benefit supporting Ogeechee Area Hospice included a fun evening of dancing with delicious Hors D'oeuvres all in support of a great cause.
The event was cancelled last year due to COVID. However, they continued with the raffle of the mule which Grice Connect livestreamed during their chicken dinner sales pickup.
The band "Good Vibrations" played top 40 hits from the 50's through present day including Beach, Rock & Roll, Soul, Oldies, Disco and Motown. 
Ogeechee Area Hospice is the only not for profit hospice that serves our region with both in home and in facility end of life care. So many of us in Bulloch and surrounding counties have been positively impacted by the services of OAH, it makes it an easy organization to support in extraordinary ways.
In addition to the ticket purchases the event included a silent auction, drawing for a pair of stunning $2,000 diamond earrings donated by Bernard's Jewelers and the raffle of a Kawasaki Mule. Bobby Jones won the diamond earrings.
LIVESTREAM OF MULE GIVEAWAY
The benefit was catered by Simply Elegant Catering owned by Shirl Ellis who was also the lucky winner of the Kawasaki Mule.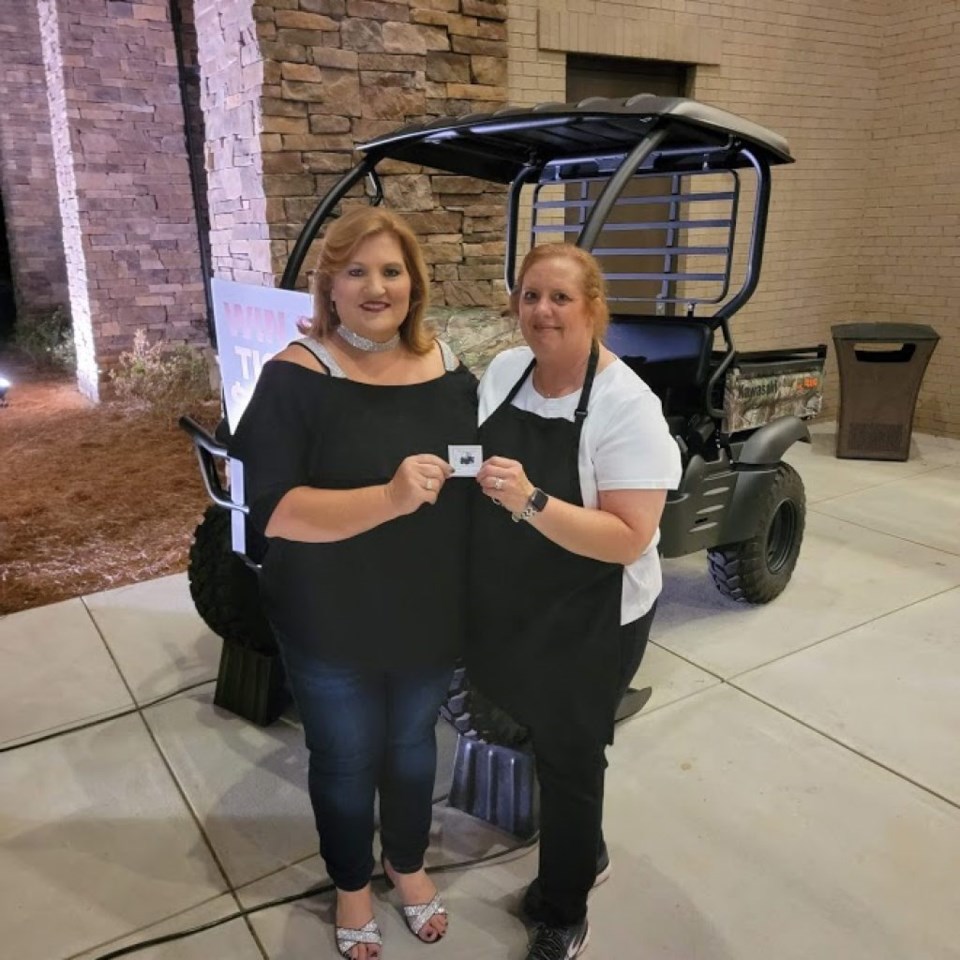 Tinker Lanier, Development Officer of Ogeechee Area Hospice was thrilled with the benefit and said it was an extrodinary success.
"We want to thank all of the communities, organizations and individuals who support Ogeechee Area Hospice every day. From gifts of time and money, without their support we could not be successful," said Tinker Lanier. "Saturday night was no exception. Our supporters showed up and showed out with their generosity."
Ogeechee Area Hospice Mission
Ogeechee Area Hospice exists for the sole purpose of providing expert comfort and bereavement support to persons affected by a life threatening illness and/or grief.  Our skilled team of physicians, nurses, social workers, home health aides, bereavement counselors, chaplains and volunteers are specifically trained to provide this specialized care during the final period of life.  With a common spirit of compassion, choice, respect and cooperation, Ogeechee Area Hospice fulfills its commitment of promoting human dignity and comfort to eligible residents of Statesboro Georgia and the surrounding counties.