Friends and family of the late Bruce Yawn gathered last week with Synovus bank leadership to honor Yawn with the naming of the banks community room for him. Yawn served for the past 15 years as Chair of the banks Advisory Board. That board met in the community room.
The community room is located on the second floor of the bank and as the name indicates it is offered for use to organizations in the community as well. A large crowd attended the event memorializing Yawn.
Speakers will include Synovus Market Executive Chad Wiggins, Executive Vice President and Chief Community Banking Officer Wayne Akins, Professional and Executive Banker Kim Brannen Powell and community leaders Ike Hubbard and Jody Stubbs.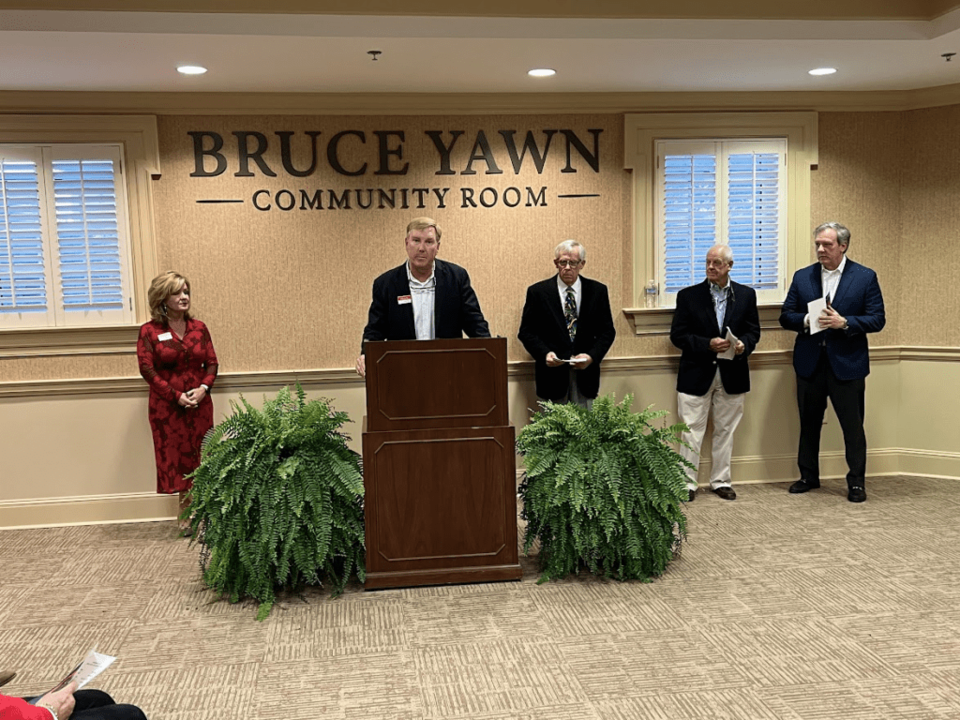 "In January of this year, Statesboro lost a giant of a leader and businessman and the entire community lost a friend, " said Darron Burnette, Synovus South Georgia/ North Florida Division CEO. "Bruce Yawn gave so much to the town he loved dearly and Statesboro is a better place because of him."
Below is full video of the dedication:
A tribute to Bruce Yawn
Professional and Executive Banker Kim Brannen Powell wrote an endearing tribute to Yawn that was included on a plaque in the room and in the program. Below are excerpts from Powell's tribute.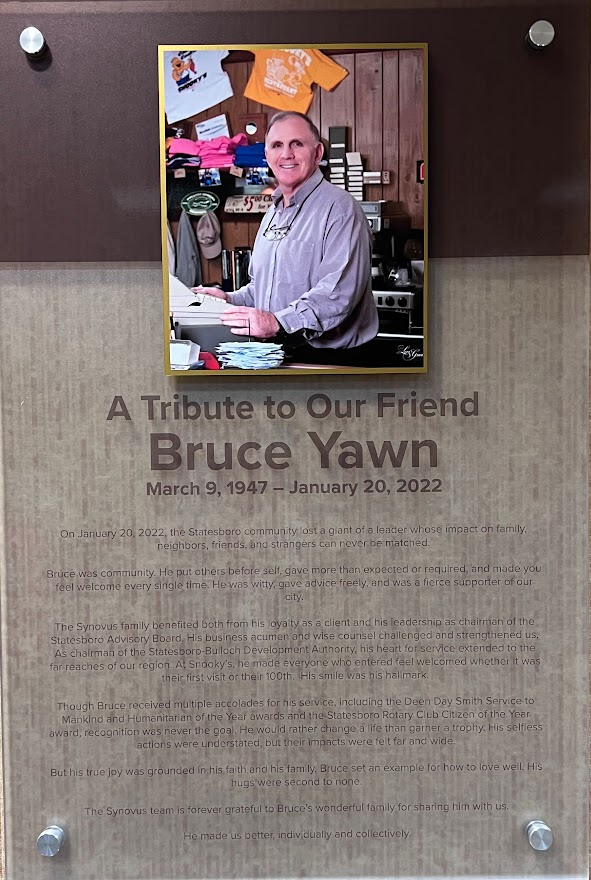 "Bruce was community. He put others before self, gave more then expected or required and made you feel welcome every single time. He was witty, gave advice freely and was a fierce supporter of our city.
The Synovus family benefited both from his loyalty as a client and his leadership as chairman of the Statesboro Advisory Board. His business acumen and wise counsel challenged and strengthened us. As chairman of the Statesboro-Bulloch Development Authority, his heart for service extended to far reaches of our region. At Snooky's, he made everyone who entered feel welcome whether it was their first visit or their 100th. His smile was his hallmark.
Though Bruce received multiple accolades for his service, including the Deen Day Smith Service to Mankind and Humanitarian of the Year awards and the Statesboro Rotary Club Citizen of the Year award, recognition was never the goal. He would rather change a life than garner a trophy. HIs selfless actions were understated, but their impacts were felt far and wide.
But his true joy was grounded in faith and his family. Bruce set an example for how to love well."
Bruce Yawns family shares gratitude
Bruce had a large family, all of which he loved deeply. Many of them attended the dedication honoring and memorializing a man they loved and admired. They were each tremendously grateful for the thoughtfulness and kindness of the Synovus family to remember Yawn in such a special way.
"Our family is truly honored that Synovus has chosen to name its Community Room after Dad. Whether it be his time serving with the team at Synovus or the many other people he had the opportunity to work with, our community was why he did it. He believed strongly in giving back to those that have done so much for him and our family," said Jeff Yawn, Bruce Yawn's son.
Snooky's themed business after hours
After the dedication ceremony, attendees were invited down to the main lobby of the bank and enjoy the annual Statesboro-Bulloch Chamber of Commerce Business After Hours event. The event was themed after Snooky's, the popular restaurant Yawn owned and operated.