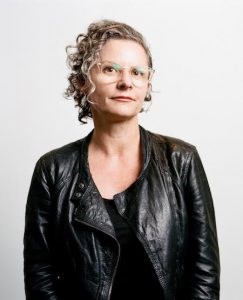 It is not every day that the Wall Street Journal covers a Bulloch Countian when she changes jobs. That is exactly what happened last week. However, not much about the former Brooklet citizen Joy Howard's life or career path has been normal. Recently, Joy accepted the position as Chief Marketing Office for the ride share company, Lyft, which garnered the attention of the national media including the Wall Street Journal. Joy is the daughter of Barbara Christmas Golden of Statesboro and sister to Holly Durrence of Reidsville and Sarah Beverley of Collins.
Joy and her sisters moved to Brooklet in middle school when her Mom, Barbara, accepted the assistant principle position at Southeast Bulloch. Barbara also later served as the principle at Stilson Elementary. Even though Joy attended middle school in Brooklet and high school at Southeast Bulloch she ended up skipping her senior year to start college at Agnes Scott. Joy considers herself a proud member of the class of 1987 at Southeast Bulloch.
Joy joins Lyft after a nearly three-year stint as Chief Marketing Officer for Sonos, which is known for their smart speakers. There she spent more than three years scaling their disruptive technology and leading the digital transformation of their marketing team.
"I've devoted my career to building brands that are platforms for positive social change, so I couldn't be more thrilled to join Lyft, one of our country's great social enterprise brands," said Joy Howard. "Americans have embraced Lyft because the company not only offers superior service, but also is deeply committed to transform transportation and make our cities more livable. I can't wait to contribute to this crucial mission. Besides – I ditched my car three years ago, so I leapt at the opportunity to give back to the brand that made that possible."
In a press release Lyft described Joy as having a proven track record of achieving aggressive growth goals and growing iconic brands with measurable impact, and they couldn't be more excited to have her join the team.
Joy is an unmatched marketing and brand strategist who brings leadership experience from several beloved brands. Joy led global marketing at Patagonia, where she dramatically accelerated the growth of their direct business and pioneered new forms of consumer engagement. She also led multi-billion dollar global brands at Nike and Coca-Cola.
Joy Howard joined Sonos as their global Chief Marketing Officer in the summer of 2015. Prior to joining Sonos, she led global marketing for Patagonia where she reinvigorated their brand, accelerated the growth of their direct business, and pioneered new forms of consumer engagement for which she was featured in Fast Company's 100 Most Creative People in Business. She joined Patagonia from NIKE, where she was the global VP of Marketing for Converse All Star, the world's largest and most iconic footwear franchise and beloved youth culture brand. Howard developed her marketing chops at the Coca-Cola Company, where she was based in Zurich as Global Marketing Director for their joint venture with Nestlé. She began her career in marketing at Johnson & Johnson Consumer Products Company.
Prior to her career in marketing, Joy was a recording artist with Seely, the first American band signed to the 90's Britpop powerhouse label Too Pure. She has an MBA from UNC-Chapel Hill and a Bachelor's degree from Agnes Scott College in Atlanta, Georgia.