Members of the Statesboro-Bulloch Airport Authority, Bulloch County leadership, local pilots, friends and family gathered on Thursday, March 16, 2023, at the airport for a retirement reception honoring Kathy Boykin, the airport's manager. Kathy has served in this capacity for the past nine years.
Kathy, a Screven County resident, began her career in aviation when she wanted to learn to fly. At the time, she was working at the Savannah River Site and found it difficult to find a local flight school. Seeing the need, she and her husband Roy began the process of starting a flight school in the area.
They began the process in 1999, purchased their first airplane in early 2001, and signed papers on their second plane in August 2001. She got all of her insurance in place and started operations with Pegasus Air the first of September. They had their first student solo before September 11, 2001, when all aviation was grounded.
"So I started my career in aviation with a bang!" joked Kathy.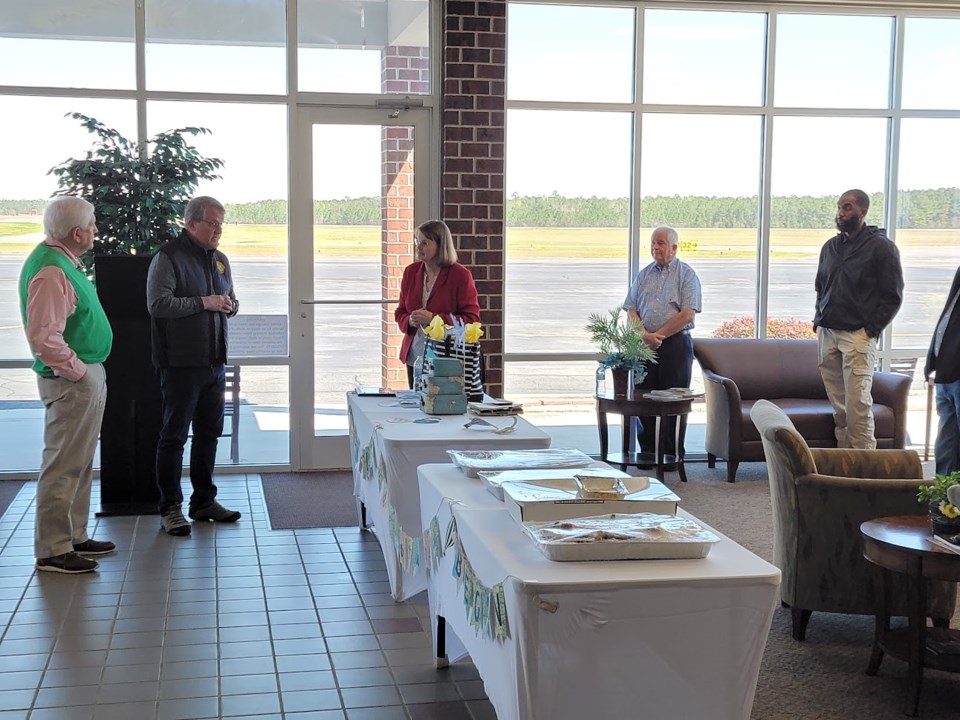 Fortunately, Kathy had not quit her day job at the Savannah River Site. She continued working both jobs for the next few years until they had built the business up to a point where she could come on full-time. After building the business, she sold it a few years later.
During the next few years, she helped a friend start another flight school. It was during a meeting at the airport with the airport manager for that flight school that he told her he was leaving for another position out of town and encouraged her to apply.
She applied, and the airport authority hired her in 2014. She is serving in that role until her retirement on March 31, 2023.
"I have enjoyed working with the aviation community here so much. It is a great community," Boykin said. "I want to compliment leaders in the City of Statesboro and Bulloch County, along with the businessmen who serve on the airport authority, for recognizing the benefit to the community of having a strong, successful airport and enabling it to build and to grow."
During her tenure, she has led continuous improvements and upgrades at the airport to include new T-Hangers, a corporate hanger, a rehab of the runway, building of a secondary container for the fuel trucks, extending the fence, adding security cameras, adding a security staff member, getting a GPS approach to runway 14, and changing their unicom frequency so it is not as congested.
"Thankfully community leaders have recognized the importance of having a municipal airport and understand all the ways it benefits the community," she said. "I have enjoyed every minute of working with at the airport authority; they are a great group of leaders, and we also have a lot of good people in aviation around the airport."
In addition to the reception, members of the Airport Authority and friends of the airport gave Kathy and her husband Roy a three day cruise, which will be their first.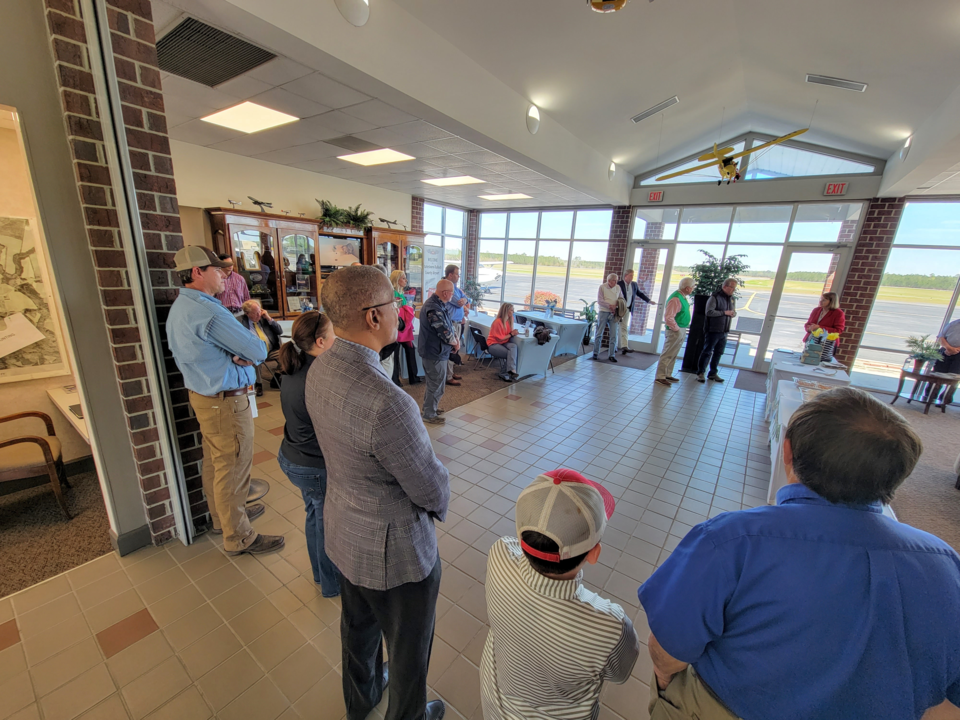 When asked what she was most looking forward to about retirement, Kathy said she is looking forward to traveling. Her husband Roy said he believes she will most enjoy not having to get up so early to be at work.
Kathy has been a wonderful partner with Grice Connect. She has always been great in keeping our community updated with activities at the airport and has been a real pleasure to work with. We will miss her as well and hope she and Roy have a wonderful, well deserved retirement.