DAILY UPDATE COVID-19 6/26/2020
PLEASE WEAR A MASK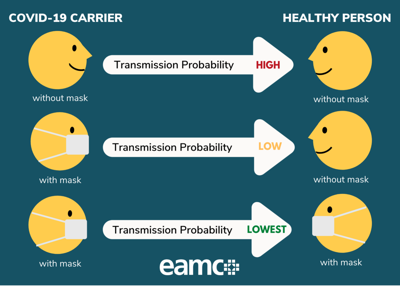 261 Total confirmed cases and 3 deaths total reported here with 20 hospitalizations total. Up 179 confirmed cases in the last 13 days – since Friday 6/12/20.
EGRMC currently/today caring for 8 COVID-19 positive patients today. (COUNTY OF RESIDENCE UNKNOWN).
Bulloch County is currently in the Category of "Substantial Spread". Below are the criteria recognized by DPH.
Substantial Spread: greater than 100 cases per 100,000 county residents
Minimal/Moderate Spread: 6-100 cases per 100,000 county residents
No/Low Spread: 1-5 cases per 100,000 county residents
Bulloch County Long-Term Care Facility 6/25/20 COVID-19 Report:
BROWN'S HEALTH & REHAB CENTER, 55 residents, 1 COVID positive staff member (CORRECTED 2 Patients Have BEEN Tested – NO CONFIRMED PATIENT POSITIVES)
EAGLE HEALTH & REHABILITATION, 52 residents, 4 COVID positive staff members
HERITAGE INN HEALTH & REHABILITATION, 65 residents, 9 COVID positive staff members
THE LODGE AT BETHANY, 44 residents, 2 COVID positive staff members
WESTWOOD HEALTHCARE & REHABILITATION, 38 residents, 1 COVID positive resident, 5 COVID deaths, 1 COVID positive staff member
Full Long-Term Care Facility COVID-19 Report available here
We asked DPH about why we are only showing three deaths total for Bulloch County and DCH Long-Term Care report is showing 4 COVID-19 deaths. They blame this difference in numbers from DCH and DPH, on a lag in data entry that could result in this difference.
Local Efforts and Information:
BOE serving 5600 meals daily through July 17. Bulloch VOAD working to fill 17-day period meals will be unavailable.
EMS transported 2 positive COVID-19 patients in the past 24 hrs. To Date: 28 probable and 13 confirmed transports by EMS. Up 2 confirmed.
SPOC open today at local health department. Call 855-473-4374 for an appointment.
EMA received confirmation of additional 10k for local stockpile and eventual distribution
Bulloch VOAD working with

vulnerable individuals impacted by COVID-19

To date EMA has facilitated 39 resource requests with 38 completed.
3 BULLOCH COUNTY DEATHS (No data on 5 nursing home deaths)
Age Sex County Race Comorbidity
| | | | | |
| --- | --- | --- | --- | --- |
| 65 | Male | Bulloch | White | Unknown |
| 42 | Female | Bulloch | African-American/ Black | Yes |
| 76 | Female | Bulloch | White | No |
Note: While testing numbers have increased, we should realize the cases are there whether we test or not. Follow the guidance below and let's slow the spread in Bulloch. We must take this serious.
Free COVID-19 testing available to anyone regardless of symptoms present or not at the Bulloch County Health Department, 1 W Altman Street. Contact the local health department for an appointment at 855-473-4374.
Important: As the numbers in several categories continue to rise, it is so important that a facemask be worn when out in public. A facemask protects others should you be infected and unaware. It is not hard to see when out and about that many do not take this seriously. Clerks and cashiers in our community are for the most part wearing them to protect citizens, so show them the same courtesy and concern……. WEAR A FACE COVERING. COVID- 19 is going to be around for a while. Wearing a face mask is as simple as being a good neighbor. While some states are seeing declines in numbers, others are going up. Experts believe we are still in the first wave, and we must remain vigilant.
Also, to further prevent infection and to slow transmission of COVID-19, do the following:
Wash your hands regularly with soap and water or clean them with alcohol-based hand rub.

Maintain at least six feet distance between you and people coughing or sneezing.

Avoid touching your face.

Cover your mouth and nose when coughing or sneezing.

Stay home if you feel unwell.

Refrain from smoking and other activities that weaken the lungs.

Practice physical distancing by avoiding unnecessary travel and staying away from large groups of people.
The local SPOC/Specimen Point of Collection site is located at the local health department located at 1 W Altman Street in Statesboro. If you would like to be tested for free, please call 855-473-4374 for an appointment at the new site.
Review Report Data
This daily report is compiled by Ted Wynn, Bulloch County Public Safety Director. The information he is providing is all of the information DPH is releasing for our county. They will not release information on active cases or number of tests performed in our county. The report does not identify when tests reported today were actually conducted. Also, EGRMC is providing daily COVID-19 admissions numbers at the hospital. However, they will NOT release what county those patients reside in. That is the reason total hospitalizations and number of daily positives do not correlate. Wynn has provided links below so you can validate the information he is using for this daily report.
This is the response from the Southeast Health District which includes Bulloch regarding why they will not release more information:
Each health district within the state of Georgia chooses which data they release. Our health district of 16 counties has chosen to route individuals to the final data from the state. As there may be a delay in data receipt and entry, we do not want to create more confusion by providing numbers at a county and/or district level and the data not aligning with the final state numbers. This is being done to provide greater clarity by using one source of numbers which are at the state level.
The data from the Georgia Department of Public Health for this report was acquired from the DPH Daily Report which can be viewed here.
Long-Term Care Facility COVID-19 Report available here