Bulloch County Schools and all of its district offices will be closed on Thursday and Friday, September 29-30, for all students and employees. All after-school activities, sports practices and meetings are also canceled. The school district has begun informing student families and employees through its mass communication system, websites and social media.
This decision is based on the most recent official weather forecasts we have from the National Weather Service that show the possibility of severe weather in our area beginning as early as 8 a.m., Thursday morning. This forecast includes possible wind gusts of over 35 miles per hour which are out of the safe zone for school buses, student drivers and families to travel. The safety of employees and children is the most important consideration during this time.
As the school district reopens on Monday, the amount of rain Bulloch County receives could affect school bus route stops. The school district has already made a list of potential alternate bus stops for roads where flooding or road closures typically occur due to heavy rain or standing water. Remain alert. Bulloch County Schools will notify families if they need to activate any of these alternate stops.
Statesboro STEAM Closing
Statesboro STEAM Academy is dismissing students at 12:30 PM on Thursday, September 29 and has cancelled all classes on Friday, September 30.
Trinity Christian School Closing
Trinity Christian School will dismiss students on Thursday, September 29, 2022 at 12:30 pm and will be closed on Friday, September 30. All after school activities, sporting events and after care will be cancelled for Thursday and Friday.
Bulloch Academy Closing
Bulloch Academy will be closed on September 29th and 30th and will reopen on Monday, October 3rd.
Georgia Southern Closing Campus Moving Classes Online
Out of an abundance of caution for the safety of Georgia Southern's students, faculty and staff, the University is moving all classes online and closing its campuses due to Hurricane Ian starting at 1 p.m. tomorrow (Thursday, Sept. 29).
All in-person events are canceled Thursday afternoon and evening, all day Friday and until officials can ensure campuses are safe. When that determination is made, an "all-clear" will be issued via EagleAlert.
Until that "all-clear" is issued, only essential personnel should be on campus after 1 p.m. on Thursday. Employees should check with their supervisor if they are unsure about their status as an essential employee. Faculty who are toggling over to online learning should do so from their homes. If they are hosting an in-person class close to 1 pm Thursday and wish to transition to online instruction, that is an authorized option.
For employees, Human Resources officials are working to ensure all Georgia Southern faculty and staff will be paid as normal this week. Look for payroll instructions in your email tomorrow. Supervisors should be aware that some employees may have unexpected childcare needs due to school closures in our area. Please be understanding and as flexible as possible.
Students living on campus are welcome to shelter in place in their residence halls. Below are dining hall hours and operations for the remainder of the week:
Lakeside (Statesboro):
Thursday, Sept. 29:: 7 am - 3 pm (regular hours)
Friday, Sept. 30: closed
Dining Commons (Statesboro):
Thursday, Sept 29: 10:30am-7:30 pm
Friday, Sept 30: 8 am - 2 pm (To-go meal options available from noon - 2 pm)
Saturday, Oct. 1 : 10:30 am - 9 pm
Sunday, Oct. 2: 8:30 am - 9 pm (regular hours)
The Galley (Savannah):
Thursday, Sept. 29 : 7:30 am - 5 pm (To-go meal options available from 3-5 pm)
Friday, Sept. 30: closed
Saturday, Oct. 1: noon - 7 pm
Sunday, Oct. 2: 10:30 am - 7 pm (normal hours)
East Georgia State College Closing Swainsboro Campus
East Georgia State College administrators are closely monitoring Hurricane Ian and weather conditions for the areas in which our campuses are located.
SWAINSBORO UPDATE:
After meeting with our Emergency Response Committee this morning, EGSC has decided to close the Swainsboro campus at 3:30pm tomorrow, Thursday, September 29th and remain closed through Friday, September 30th. Normal Swainsboro operations and classes can and should continue up to closing time on Thursday and dining services will be open until 5:30pm Thursday evening. Dining services will also be open from 10am-2pm on Friday. For students remaining in the dorms through Thursday night and Friday, we will provide more updates to you on dining services in the coming days, as needed.
EGSC AUGUSTA & STATESBORO UPDATE:
For faculty, staff, and students on the Augusta University campus and Georgia Southerncampus, you will follow any guidelines or decisions made by those respective campuses in the coming days – we 'follow their lead,' so to speak, when it comes to emergency management planning at those locations.
This is a serious storm approaching and a lot of wind and rain will impact our area. We encourage everyone to stay safe and adhere to any campus safety announcements that may be forthcoming. As shared on Monday, this website can also be helpful as we all prepare: National Hurricane Preparedness | National Oceanic and Atmospheric Administration (noaa.gov).
If any students feel that they need assistance in the coming days, please reach out to our Christie Campus Health Support Line - 1-833-855-0079 - it is available 24/7. Our campus police will also be available around the clock. If you will be traveling any time from Thursday through Saturday, please be aware of storm conditions and potentially heavier traffic due to coastal evacuations by monitoring local weather conditions. Keep your cell phones and other devices charged in case of power outages. Also, please consider powering off your computer before leaving campus.
We plan to resume normal operations on Monday, October 3rd. Additional updates will be provided to the campus if anything significant changes in the coming day or two. Please stay safe and let's all look after each other, and our family and friends, as we weather the storm.
Ogeechee Technical College Closing Campus
The safety of the Ogeechee Tech campus community is our top priority. Out of an abundance of caution, all classes will be cancelled beginning at 4:30pm on Thursday and all campuses will be closed at 5:00pm on Thursday, September 29, 2022 through Friday, September 30, 2022 for Ogeechee Technical College.
Full list of Closings|Cancellations |Reschedules
Click here for list of closings.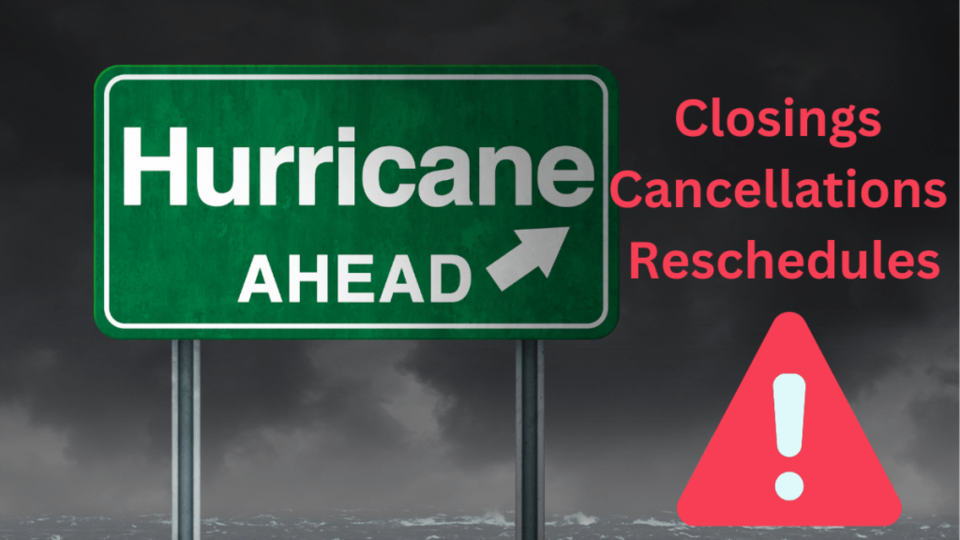 Click Here to go to Grice Connect's HURRICANE WATCH to get updated on all Bulloch County and Statesboro Hurricane IAN information.
Have family and Friends Follow and Subscribe to Grice Connect Now
Now is the time to be thinking about your Hurricane preparation plans which include liking and following Grice Connect on Facebook and subscribing to Grice Connect daily emails so you can keep up with how this storm could impact Statesboro and Bulloch County. Please also share with family and friends so they can keep updated with the storm as well.
For more hyper-local Statesboro, Georgia Southern, and Bulloch County news and events delivered directly to your inbox every day, subscribe to Grice Connect's Bulloch Daily email by clicking here. Totally FREE and ALL LOCAL! Unsubscribe at anytime.