For Lucretia Dickerson Davis, success wasn't a goal, but it was a necessity. She grew up in Jenkins County as the youngest of five siblings, in a home filled with love, spirituality and financial struggles.
Her parents taught her at a young age the value of strong work ethics and the importance of a great education in becoming a success in life. The entrepreneurial bug struck at the age of 9 when she began selling GRIT newspapers. Then she took on odd jobs in the community and started a babysitting service as a teenager.
"I learned life backwards in a sense. Because of our great financial lack, I knew I had to be financially successful," said Lucretia Davis. "I had to deal with finances the opposite of what I witnessed at home."
After graduating from Jenkins County High School she attended Barbizon Modeling School in Savannah. Then in Augusta she attended, Phillips Junior College, Kerr Business College and Augusta Technical College. At these schools she learned about modeling, business and cosmetology.
Big goals require big income
Lucretia had big goals and knew she would need an even bigger income to accomplish them. While working full time on second shift at Jockey International, she attended Kirby Business College during the day and started a house cleaning business she ran on the weekends.
She was relentless in her search to find her purpose and niche in life.
At the age of 8, she recalled watching her sister cornrowing someone's hair and she had her teach her how to do it. She recalls that her sister was impressed with how quickly she picked it up.
"I then remember seeing a man with a dog cut in his hair and his nickname in the back of his hair. I asked him how much he paid a barber to do that and he told me $25. 35 years ago that was a small fortune," said Lucretia. "That inspired me to become a barber."
She tried to enter barber shool but was told she would have to attend cosmetology school instead of barber school to become a barber.
Lucretia then began volunteering at Eva Smith's salon, who was her beautician, so she could get ahead once she started cosmetology school.
Augusta Technical College
She was shown great favor at Augusta Technical College. Coming from a family with a low income allowed her to qualify for for a full tuition grant. She also entered a work study program and was given a job at Gertrude Lockhart's salon. Gertrude was also one of her teachers.
Lucretia thought school would be easy but quickly learned it would be another trial. The work was much harder than she imagined, the work load was heavy and she began considering dropping out of school during the first quarter.
"I was practicing rolling hair on a mannequin with red and yellow rollers and I told myself this is the day I am going to decide to stay or give up," said Lucretia. "Thank God I stayed! It was at this moment that I decided to make this profession my career for life."
Building a business
It is no surprise that Lucretia became the top student in her class and exceeded all her peers to become an honor graduate. After graduation she began working in salons in the CSRA while simultaneously building her clientele working out of her "Kitchentician". The "Kitchentician" she jokingly says was the kitchen of her home in the projects.
She quickly outgrew her business in her project home and began looking for her first storefront.
In 1991, she found that in a rundown former telephone building in Millen. With a lot of sweat equity she moved into the rented building and opened JDs Beauty and Barber Salon. Lucretia was the first person in her family to open a business, which was a salon. She operated out of this building for the next nine years.
She began employing others, mentoring them and encouraging them to find their success in life. It wasn't easy, she had her share of tribulations along the way but quitting is simply not in her DNA. She persisted.
Statesboro Salon
In 1993, she entered the Statesboro market and opened her second location at 18 North Zetterower Avenue. This new salon became a hub for Ogeechee Technical College 4th quarter cosmetology interns. This provided her with even more opportunities to mentor and inspire the next generation of salon owners. She continues to operate this location.
Millen Expansion
In 2000 she purchased the former Bill's Dollar Store building which is 5,000 sq. ft. located at 617 Cotton Avenue in Millen.
"I moved from a 400 sq. ft. rented space to my own 5,000 sq. ft. building," said Lucretia. "Now is God good or what?"
In addition to her salon she opened four more businesses and leases space for a sixth business including:
JDs Beauty and Barber Salon Inc.
Millen Wigs and More
The Nail Studio
Millen Consignment Shop
Millen Civic Room
She Jay's Hair Collection, LLC (Owned by Shenice Thompson)
Lucretia is married to Charles Davis. They have been blessed with a wonderful family and lots of grandchildren. Their daughter Salita Walker Williams joined the business as a Master Cosmetologist. However, she died at age 26 after a long illness on January 4, 2015.
CORE Credit Union Board
Outside of building her business and her family, serving on the Board of Directors for CORE Credit Union has been one of her greatest honors. Lucretia has served CORE for nearly two decades.
"I recall being introduced to CORE by a friend. Until then I didn't understand the difference a credit union offered. She explained to me how a credit union is focused on lifting up the underserved communities and people who need more help in getting their finances established. They look more at each individuals story," said Lucretia. "As a board member, I have seen the tremendous difference CORE makes in so many lives in the communities we serve."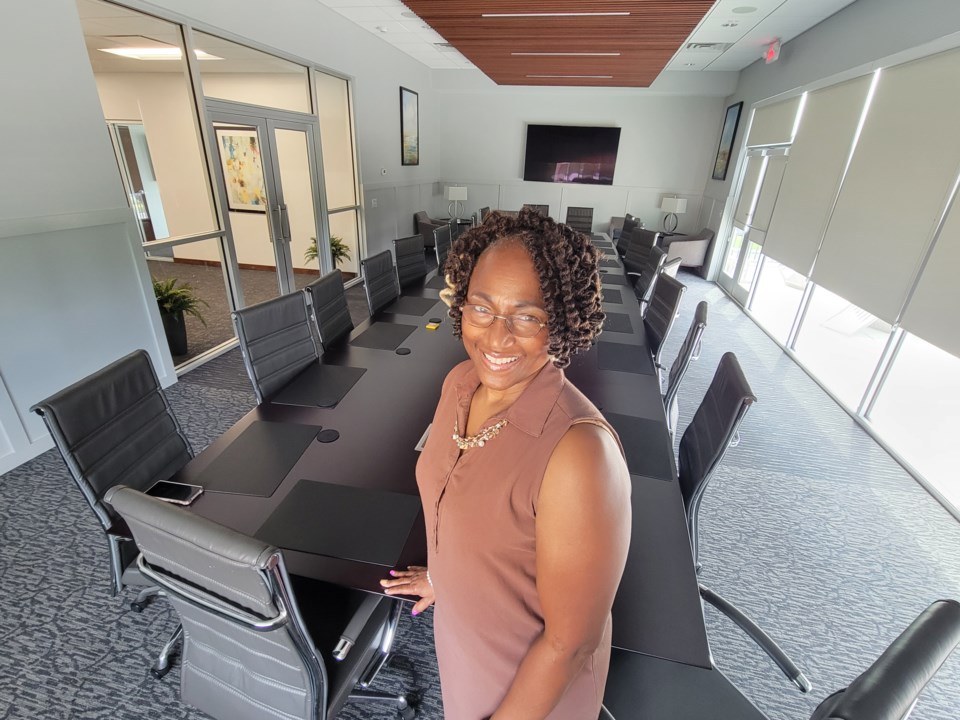 Looking back
For the past 32 years Lucretia has built successful businesses in Millen and Statesboro. As she looks back over her career, she is blessed to have had wonderful mentors in all aspects of her life. This is the one "difference maker" she encourages others to do as they begin their careers, no matter the profession.
"I can't begin to explain the importance of a great mentor. Don't ever try to go it alone. Find someone who has been where you want to go in business and learn from their success," said Lucretia. "Find someone who has your best interest at heart. Preferable someone who shares your heart and soul."