Everyone measures success in life differently. There is no greater measure of success than committing to military service. The Honor Flight Network was established to recognize this success, sacrifice and achievements of American veterans. Any Veteran who served in the U.S. Military (including U.S. Reserves and National Guard) in WWII, Korean War and Vietnam War is eligible for an Honor Flight trip. Actual combat or foreign deployment is NOT REQUIRED. Top priority is given to World War II and terminally ill veterans from all wars.
Veteran Don Poe encourages Veterans to apply
Statesboro Army Veteran Don Poe encourages World War II, Korean War, and Vietnam War Veterans to apply for an Honor Flight trip which travels from Savannah to Washington D.C. The trip from Savannah is done by bus instead of a plane. Other than the way local veterans travel to D.C. the trip agenda is the same as others traveling from all over the country.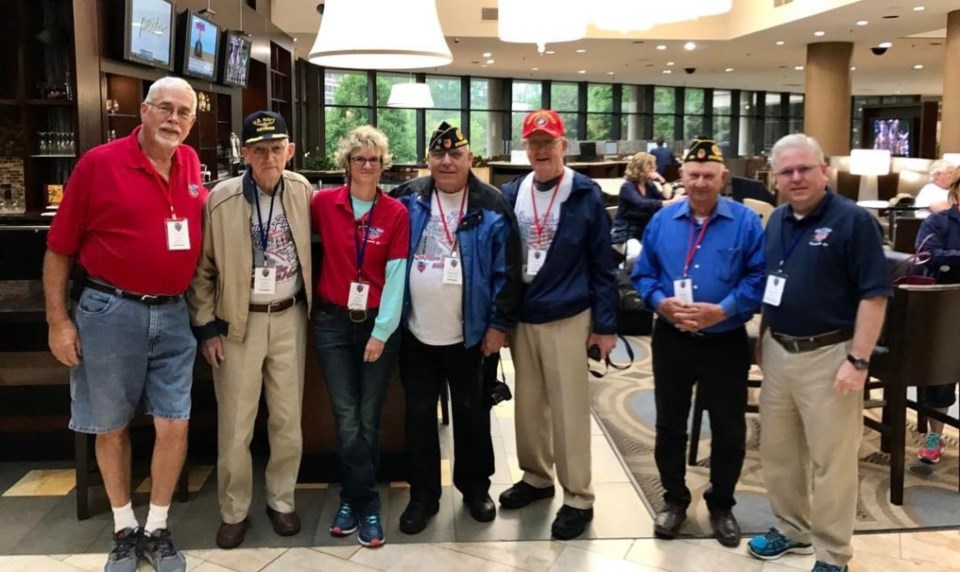 Honor Flight Savannah is one of 141 Honor Flight hub stations across the United States. It is a non-profit organization dedicated to transporting America's veterans, at no cost to them, to Washington D.C., so that they may visit the memorials built and dedicated to honoring their sacrifices in past wars.
When Don got started with the Honor Flight Network in Savannah, he knew that he would enjoy being an escort for veterans. After his first time going on an Honor Flight, he realized that he wanted to go with veterans every chance that he could. To date, Don has been an escort on five separate occasions.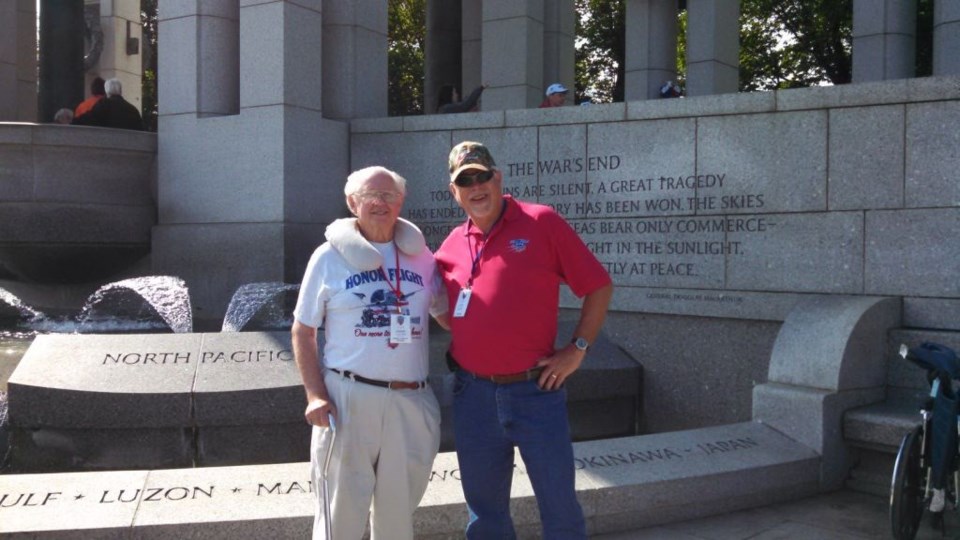 Veterans treated as hero entire trip
Don explained, "You see, if you have a problem with an engine you take it apart to see what is wrong with it. Then after you take it apart, let's say, you realize that one of the ball bearings is missing. You know that it will not work correctly without that missing ball bearing. This is what a veteran feels like when he comes home from a war. A part of him is missing. Every veteran, whether they fought in a war or were in an office setting, he or she plays an important role while in the military. From the minute they get onto the Honor Flight bus, they are treated as a hero, because that is what they are."
"When the 20-25 veterans first get on the bus, they begin talking with each other," Don continued. "They ask each other what branch of the military they served in and how long and where they were stationed. After the bus starts rolling, something happens. The bus will get completely silent."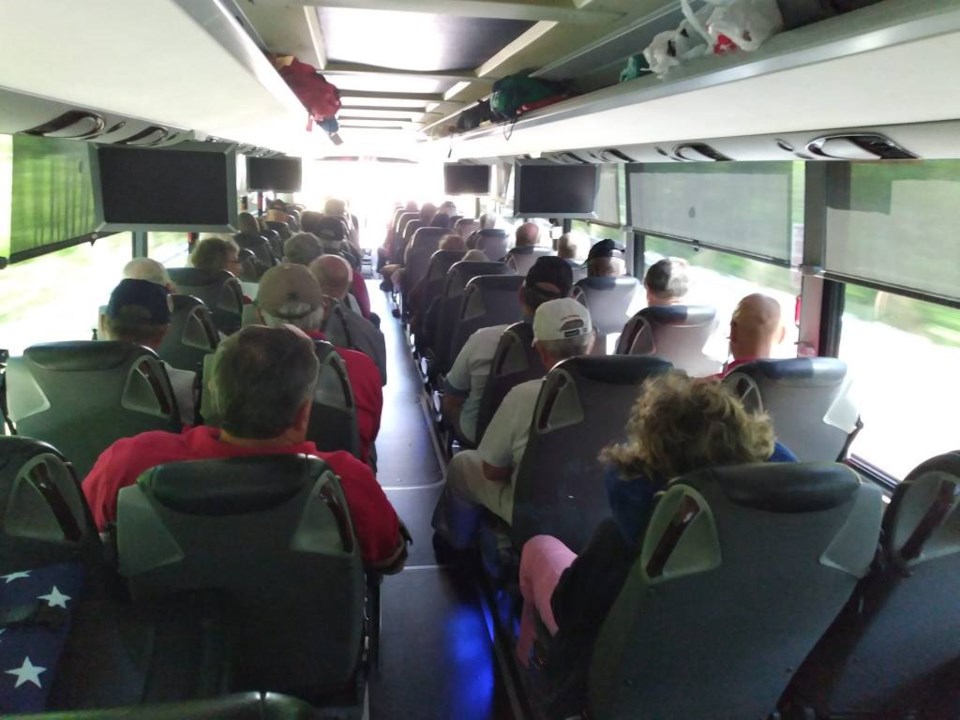 Mail Call
Don shared how, "the veterans get a mail call." He said, "Mail call is a veteran's favorite time of the day. When a veteran is off to war, it may be the only way that a veteran can receive or communicate with their loved ones. Each veteran is handed letters from family members or friends close to them and from other service members they may or may not know. These letters are letters of thanks and gratitude. This is how their trip begins."
Any veteran, no matter how much time they served and regardless of if they were in a war or not, can go on an Honor Flight. However, priority is given to the oldest living survivors as well as those with a life-threatening illness. The goal is to get those veterans to a place to be honored while they still can.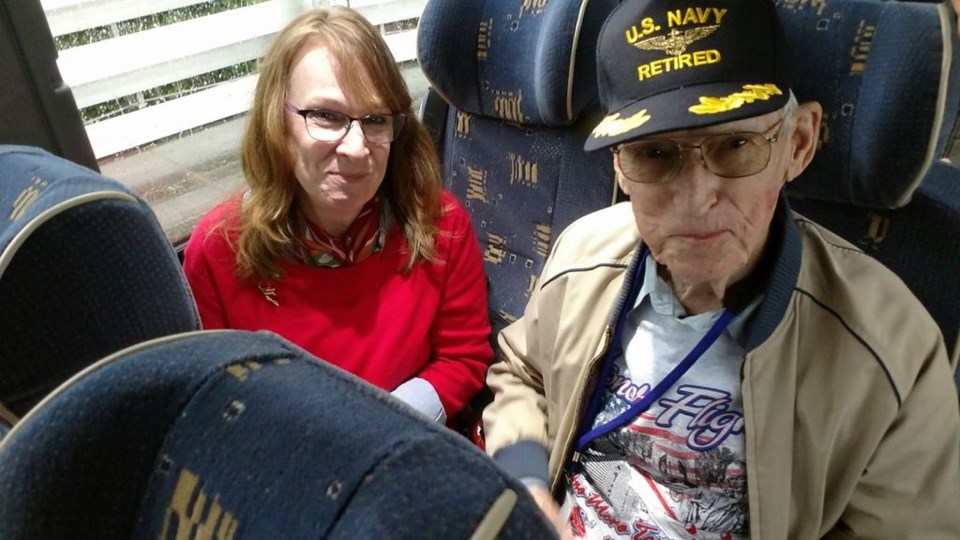 Each Honor Flight trip will leave Savannah by bus on a Friday morning and return home late Sunday afternoon. Along the trip there are restroom breaks as well as lunch. Upon arrival in Washington D.C., they get settled into the hotel, which is a nice and comfortable place to stay, then they gather for a very nice dinner. First thing, Saturday morning, they have breakfast at the hotel, and then make their way to the first stop at the World War II Monument.
Veterans are saluted as they get off the bus
As the veterans are escorted off the bus, they are greeted by military personnel who are there to salute them. The military personnel are from every rank and branch of service. They might be met by Generals, Captains, Master Sergeants, Corporals, or even service members. There may also be citizens and school children or other groups of people all of whom are there to meet each of the veterans and thank them for their service.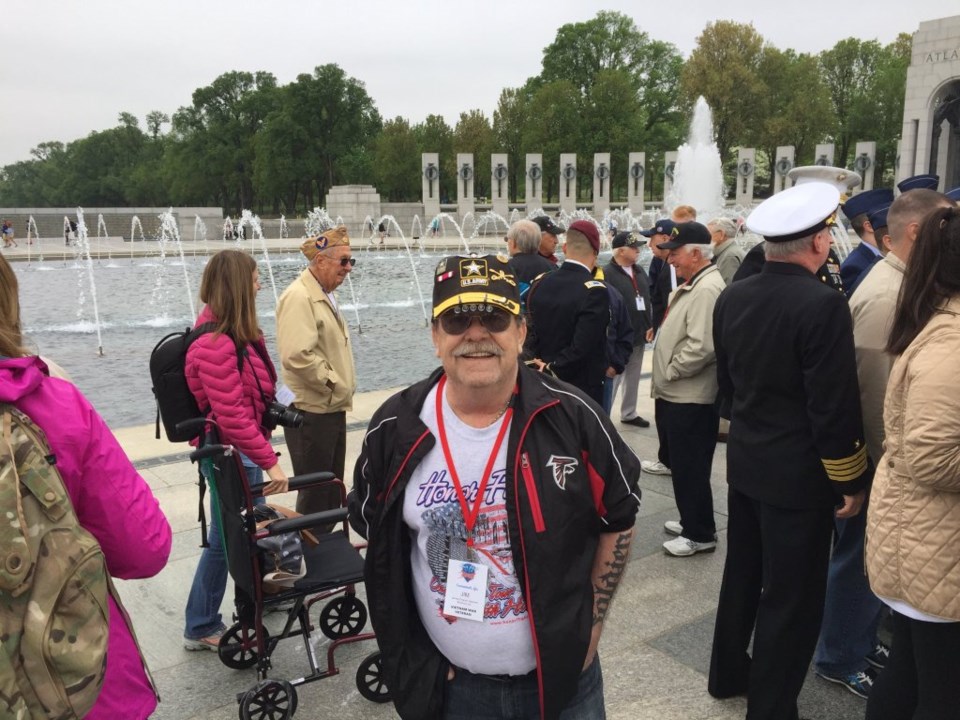 Throughout the day the Honor Flight veterans will make their way to see all the memorials. The second stop on the trip is to the Changing of the Guard at the Tomb of the Unknown Soldier. Once the ceremony is over, they are greeted by the Guards who are off duty, and they will take time to visit with each veteran and answer questions one at a time.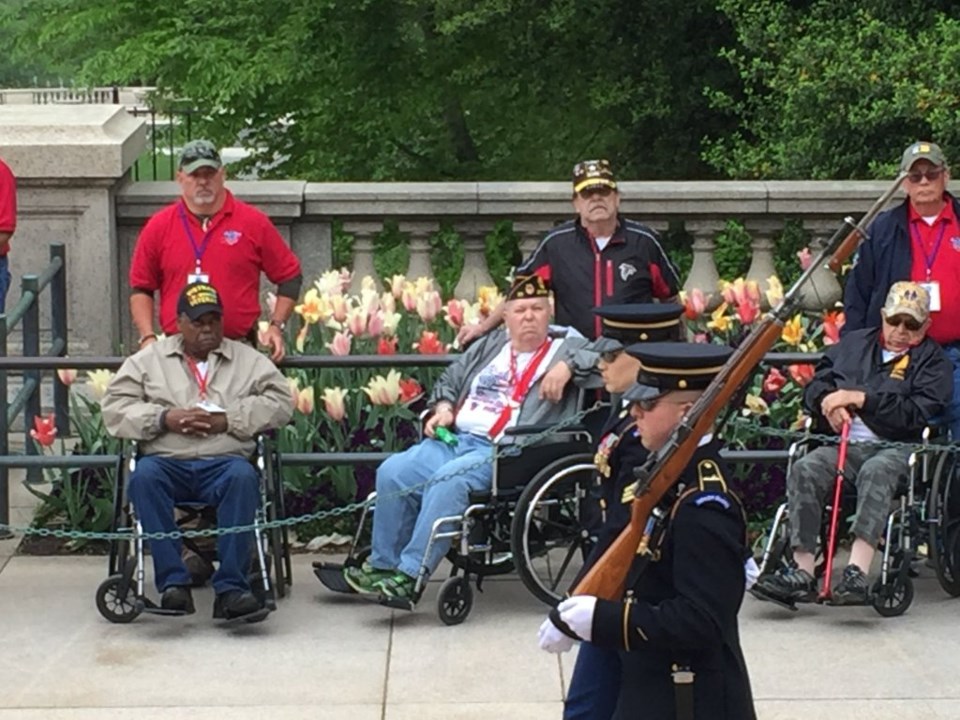 Honor Flight Veterans visit memorials
When the veterans reach the memorial for their branch of service, this is when it becomes silent again. Sometimes it may be to find a fellow soldier's name on a wall or to honor a loved one that was lost. Often this is the opportunity where the veteran has a moment to reflect on matters significant to him or her. This is sometimes a place where they can gather some closure or get resolution to an issue or trigger that they have been battling for so many years.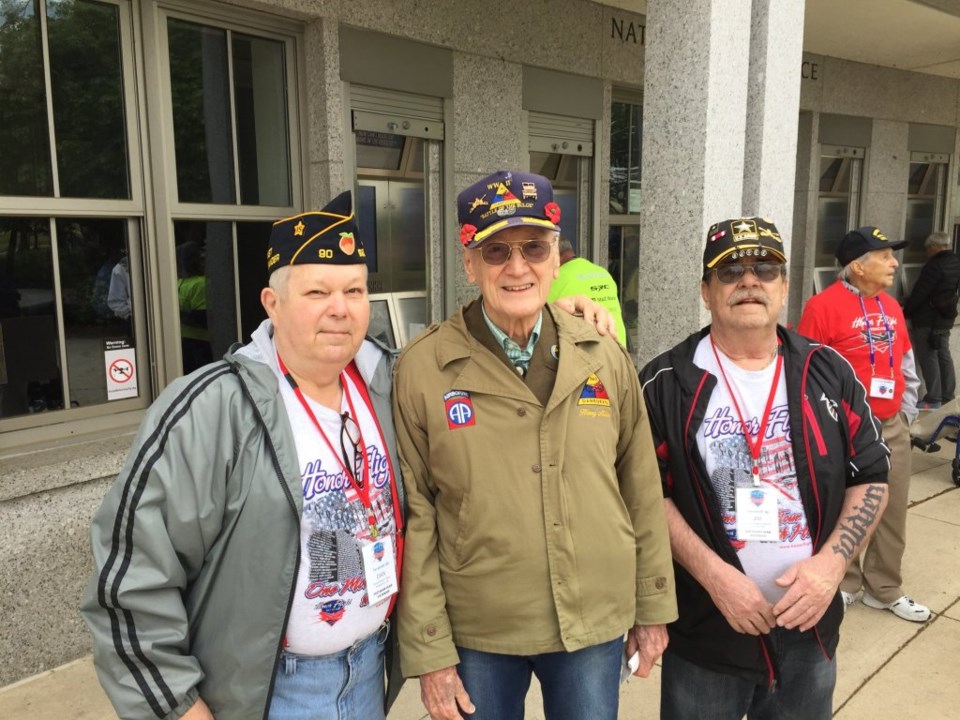 Don ended by saying, "at the beginning of the Honor Flight, the veterans are strangers, but by the time they arrive back home on Sunday, they are lifelong friends. Someone they can connect with and talk to." The Honor Flight is so much more than just a trip to Washington D.C. It is an opportunity to heal and a real chance to be recognized for their service.
Each bus is equipped with volunteer medical staff
Every bus carrying veterans to D.C. is equipped with a full medical staff consisting of a doctor and one or two nurses. The medical staff will see that the veteran is well taken care of. They will help with the management of their prescriptions and diet, to any emergency situations that may arise.
The guardians or escorts are also along to assist the veterans. They make sure that the veterans are comfortable during the trip. Even though the trip is free for veterans the guardians volunteer their time and pay their expenses for the trip which is around $500. The remaining costs are paid through Honor Flight from private donations and sponsors. (Please note: the payment may vary from what is stated in this article depending on location and time of flight.) Guardians are responsible for pushing veterans in wheelchairs and seeing that the veterans are guided along the trip with a "buddy" to look out for them.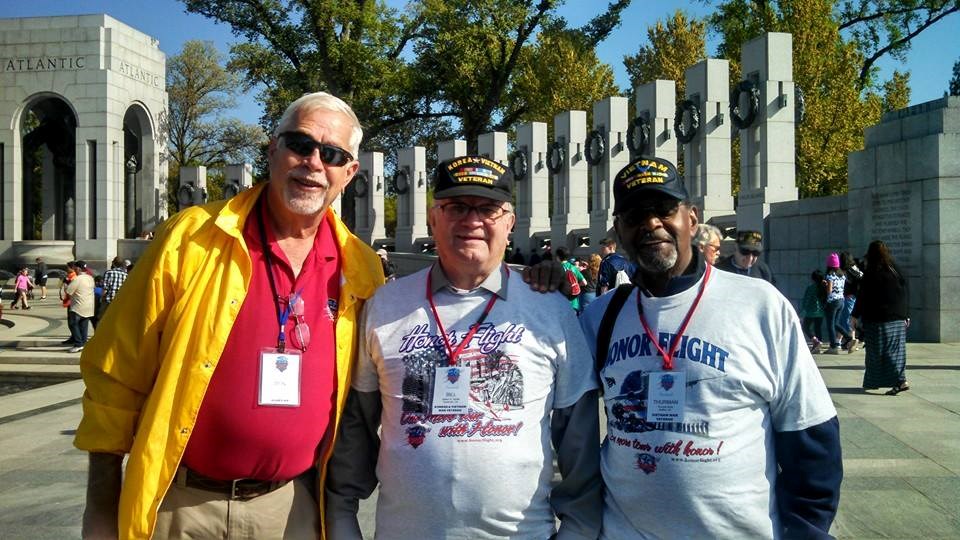 Learn more about Honor Flight trip
If you are a veteran interested in attending an Honor Flight, or if you are interested in being an escort for a veteran, please call 912-367-9020 or visit HonorFlightSavannah.org. Donations and financial contributions are always welcome and accepted.
Grice Connect salutes all veterans and Thank you for your service!