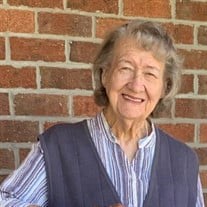 Brooklet, Georgia
Ms. Rosie Wiseman Rader, age 89, died on Thursday June 9, 2022, at the Candler County Hospital. At the time of her death she was comforted by her son Mike and his wife Freda who together held her hands and rubbed her head as they told her how much her family loved her as she peacefully passed without pain, into the arms of Jesus. She was born in Deerfield, Virginia and graduated from Wilson Memorial High School in 1951. Following high school, she married and moved to Waynesboro, Virginia where she raised her two children and worked various production jobs. Rosie later began working with The District Home as a CNA, where she was known for her love and compassion. She retired following many years of dedicated service.
Rosie was a member of Wayside Baptist Church in Crimora, Virginia for many years. She moved to Brooklet in 2018, to be near her son Michael and his family. She had attended Trinity Baptist Church in Nevils.
The best part of her life was being a grandmother and great grandmother, especially the time spent with her daily playmate and sunshine of her day, her great granddaughter, Gracie Rose.
She was preceded in death by her husband, Hunter Rader; two sisters and three brothers.
Surviving are two sons and daughters-in-law, Mike and Freda Davis of Brooklet and Bobby and June Davis of Crimora, VA; four grandchildren, Ashley Davis of Brooklet, Sarah Davis of Odenton, MD, Angel Brown of Waynesboro, VA and Robert Davis, Jr. of Waynesboro, VA; three great grandchildren, Gracie Rose Davis of Brooklet, Katlyn Brown of Waynesboro, VA and Damien Brown of Waynesboro, VA and two sisters, Dot Borell of Salem, VA and Lucy Gates of Port Orange, FL.
The family will receive visitors on Tuesday, June 14, 2022, from 10:00am until 11:00am at Trinity Baptist Church in Nevils.
Funeral services will follow the visitation at 11:00am at Trinity Baptist Church with Rev. Joe Eason officiating.
Interment will follow in the church cemetery.
Pallbearers will be Eddie Smith, Robb Kicklighter, Joshua Dent, Danny Carver, Steve Smith and Chris Smith.
Honorary Pallbearer will be her grandson, R.J. Davis, Jr.
The family requests that memorial contributions be made to Trinity Baptist Church, 1172 Nevils-Denmark Road, Nevils, Ga. 31321.
Friends may sign the online register book at www.joineranderson.com.
Joiner-Anderson Funeral Home & Crematory of Statesboro is in charge of the arrangements.