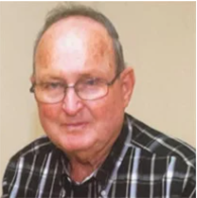 Mr. Marvin Edison Lariscy, 88, of Rocky Ford, GA, passed away on January 4, 2023 at the Charlie Norwood VA Medical Center in Augusta, GA.

He was a member of the Little Horse Creek Baptist Church and has served his country in the U.S. Army during the Korean War.
He was retired from Union Bag and had worked for many years as a carpenter. He enjoyed fishing, being outdoors, reading scripture upon waking and in the evening, but most of all spending time doting over his grandchildren and great-grandchildren.

He was preceded in death by his parents, Harold and Annie Lee Waters Lariscy, brothers and sisters-in-law, William H., Sr. and Joyce Lariscy and James and Bernice Lariscy; sister, Thelma Bowen; brothers-in-law, Jake Bird and Walter Prevatt; and a great-grandchild, James Kirby Smith, Jr.

He is survived by his wife, Miriam Elizabeth Howard Lariscy; daughter and son-in-law, Tina M. and Nicky R. Johnson, all of Rocky Ford; sisters, Mary Bird of Augusta, Beatrice Lariscy of Statesboro, and Dorothy Prevatt of Rocky Ford, four grandchildren and their spouses, Raymond and Hollie Johnson of Sylvania, Stephen Johnson of Langley, SC, Nicholas and Christina Johnson of Sylvania, GA, and Kristina and Kirby Smith of Rocky Ford; great-grandchildren, Ryleigh Brackin, Emorie Johnson, Oliver Johnson, all of Sylvania, and Stryder Smith of Rocky Ford, and and several nieces and nephews.

Visitation will be held on Friday, January 6, 2022 at 5:00pm to 7:00pm at the Joiner Anderson Funeral Home Screven Chapel.

Services will be held on Saturday, January 7, 2022 at 3:00pm at the Screven Chapel of Joiner Anderson Screven Chapel with Rev. Jim Cheyne officiating.
Interment will follow at the Little Horse Creek Baptist Church.

Pallbearers will be Bill Lariscy, Michael Lariscy, Edwin Bird, Trey Lariscy, Dana Waters, and Randy Edenfield.

Honorary pallbearers will be Gary Edenfield, Dan Tuten, Gill Stewart, Fredrick Sheffield, Robert Waters, Bennie Eubanks, Jerry Jenkins, Dennis Casto.

In lieu of flowers the family asks that memorial contributions be sent to the American Stroke or American Heart Association at www.stroke.org or www.heart.org

Friends may sign the online guest book at www.joineranderson.com
Joiner Anderson Funeral Home Screven Chapel is in charge of all arrangements.
To send flowers or a memorial gift to the family of Mr. Marvin Edison Lariscy please visit our Sympathy Store.