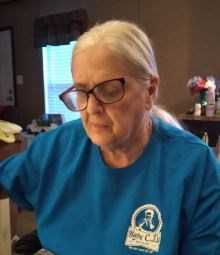 Joyce Myrick Blalock, age 85, passed away on June 21, 2022, while under the compassionate care of Ogeechee Area Hospice. Joyce was born in Georgiana, Alabama but moved to Statesboro at an early age. She was a Christian and of the Baptist Faith.
Joyce loved working in her flowers and in garden. Cooking for others was a favorite pastime and she was known for the delicious meals she prepared. Joyce retired from Bulloch County Board of Education after more than 25 years of service in Special Education.
She is preceded in death by her grandparents, James and Elizabeth Wilder and a sister, Jan Reeves.
Joyce is survived by her loving husband, Joe Blalock; her son, Shawn Blalock of Statesboro; her grandchildren, A.J. Blalock and Shawna Blalock; and many friends.
A Memorial Service will be held on Wednesday, June 22, 2022, at 3:00 PM in the Chapel of Deal Funeral Directors with Elder Jake Futch officiating.
Arrangements entrusted to Deal Funeral Directors