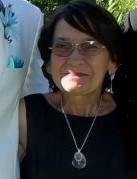 Cheryl Ballard Burke passed away at East Georgia Regional Medical Center on June 23, 2022 after an extended illness. Cheryl was born on March 6, 1948. After graduating from West Jefferson High School in Ohio, Cheryl served a stint in the U. S. Army stationed in Virginia before moving to Savannah, Georgia. Eventually, she left Savannah to make Statesboro her home.
Cheryl loved to bake and for a time worked in the bakery for Piggly Wiggly, creating beautiful wedding cakes and wonderful cookies. In her later years, she enjoyed puzzles, crocheting and word searches. Her grandchildren would agree the thing she enjoyed most was making them help her pick up pecans! Those that knew her, remember her as one of the most stubborn women to ever live but also one of the most caring!
Cheryl is survived by her daughter, April Harrison (James) of Statesboro; her grandchildren, Brandon Gilmore (Shianne) of Statesboro, Tiffany Arney of Elizabethton, Tennessee, Daniel Gilmore (Elizabeth) of Guyton; and her great grandchildren, Sloane, Elora, Salem, Violet and Archer.
A private Memorial Service is planned for a later date.