Village Builders will be hosting a series of Family Fun Resource Days in the upcoming months where the entire family can come connect with local organizations to learn more about family resources and services within the community.
The Village Builders have partnered with the Statesboro Youth Council, Restoring the Breach Inc., The Statesboro Youth Commission, and other local youth programs to bring these events to Bulloch County.
At Family Fun Resource Days, families can enjoy a day filled with exciting activities for the whole family. From educational programs to health and wellness initiatives, they can discover valuable resources that can benefit the family unit.
"Putting the resources at the front door of the communities that need it most helps families have access with confidence and a supported connection to their community," said Dr. LaSara Mitchell, City of Statesboro Youth Program Coordinator and Director of the Statesboro Village Builder Program. "We are framing and building up our community one village at a time. Families can look to receive healthcare resources such as on-site free health appointments and medical assessments by medical teams. Families will be able to have mental health, immunization, and dental resources."
Kids can also enjoy face painting, bounce houses, arts and crafts, and more.
"We will have a game station where youth can play cards, checkers, and chess with Chief Broadhead," Mitchell continued. "Arts and crafts will be available for youth to color and paint with so much more. And hopefully a community game of kickball! We are just looking to have loads of fun!"
There will also be free food, clothes, books, diapers & baby supplies, dental and health screenings, vaccinations, mental health support, door prizes, and so much more.
"Our local chapter of Phi Rho Beta Sigma Fraternity Inc. is teaming up to provide grilled chicken dinners for free," Mitchell added. "There is no such thing as someone else's children; as a community they are ours! We are building up our community one village at a time. The event is free, so first come first served. Get there early!"
Upcoming Family Fun Resource Days are:
October 14th (**LOCATION CHANGED TO: Boys and Girls Club of Bulloch County** 10am-3pm)
January 20th (Village 3; Location TBA)
February 24th (Village 5; Location TBA)
March 23rd (Whitesville Community Park from 10am-3pm)
May 4th (Madison Meadows Community Building from 10am-3pm)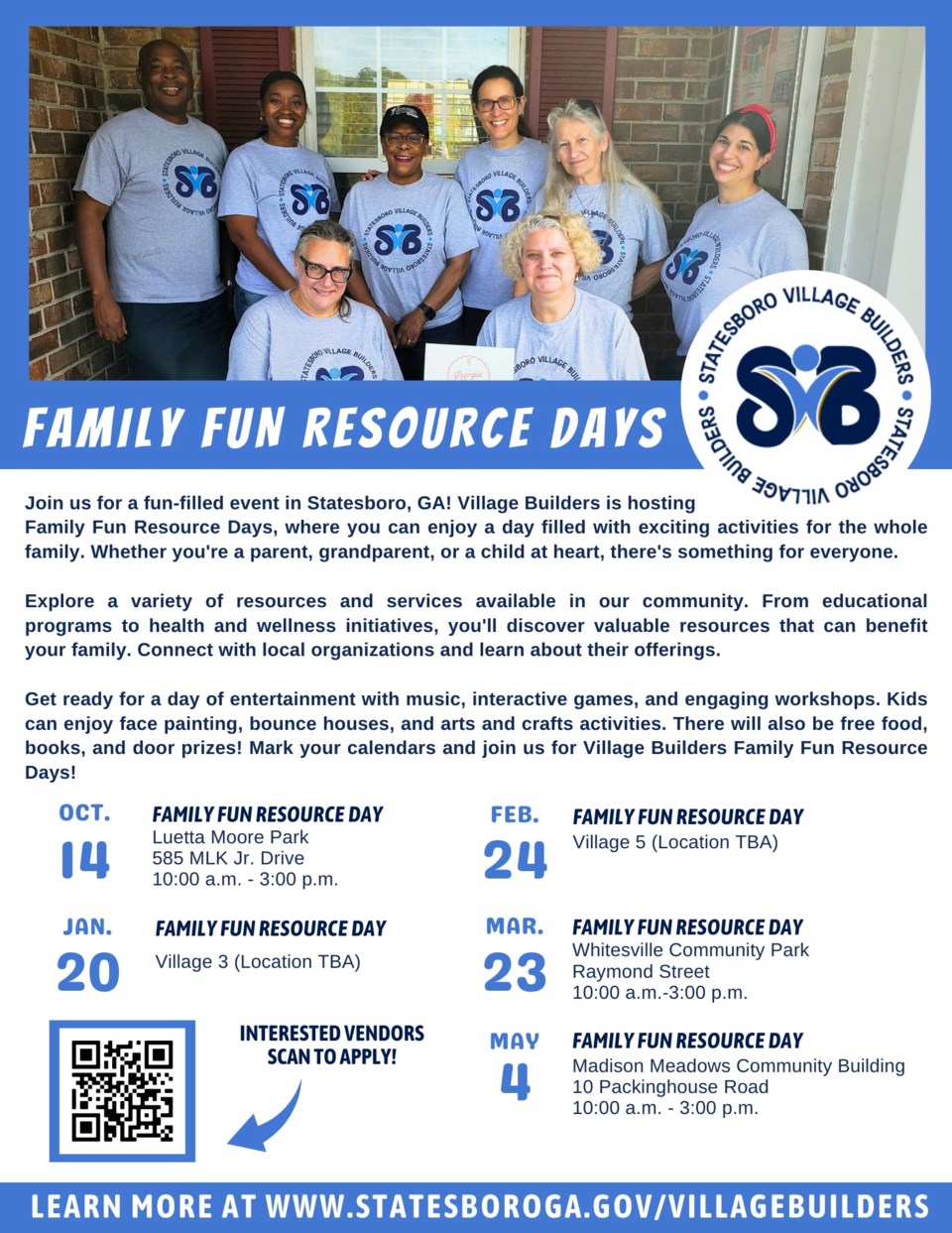 Mark your calendars for October 14th, 2023, as the first Family Fun Resource Day will be at Luetta Moore Park from 10am-3pm.
To learn more about Statesboro Village Builders, visit www.statesboroga.gov/villagebuilders.