Earlier this week, political candidates from local, state, and national races took part in a public forum in Statesboro.
The event was held at the Averitt Center for the Arts Emma Kelly Theater downtown and was hosted by the Statesboro-Bulloch Chamber of Commerce. Local law firm Broucek & Colson sponsored the forum.
Grice Connect Live Streamed the forum in entirety. You can watch below:
WTOC bureau chief & long-time Bulloch County resident Dal Cannady served as moderator for the event.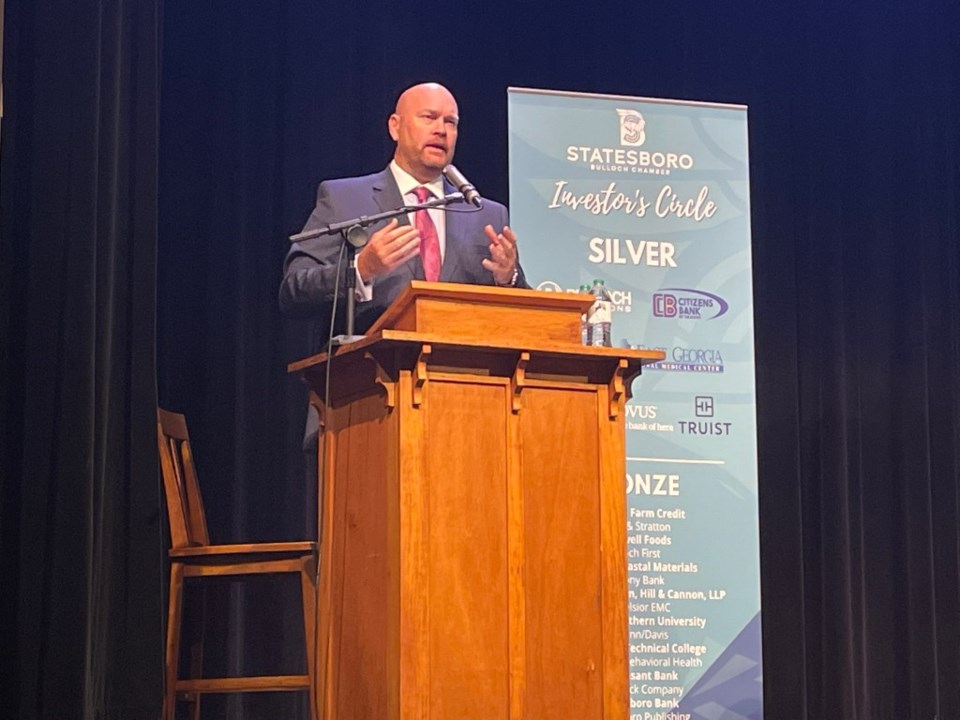 While most of the panels represented contested races set to appear on local ballots in the upcoming primary election, the first round of candidates face no opposition. State Senator Billy Hickman, State Representative Jon Burns, and State Representative-Elect Lehman Franklin will appear on the ballot alone for their respective positions.
Board of Commissioners, District 1-B
Preston Tutt faces off against incumbent Anthony Simmons in the race for Bulloch County Board of Commissioners District 1-B seat.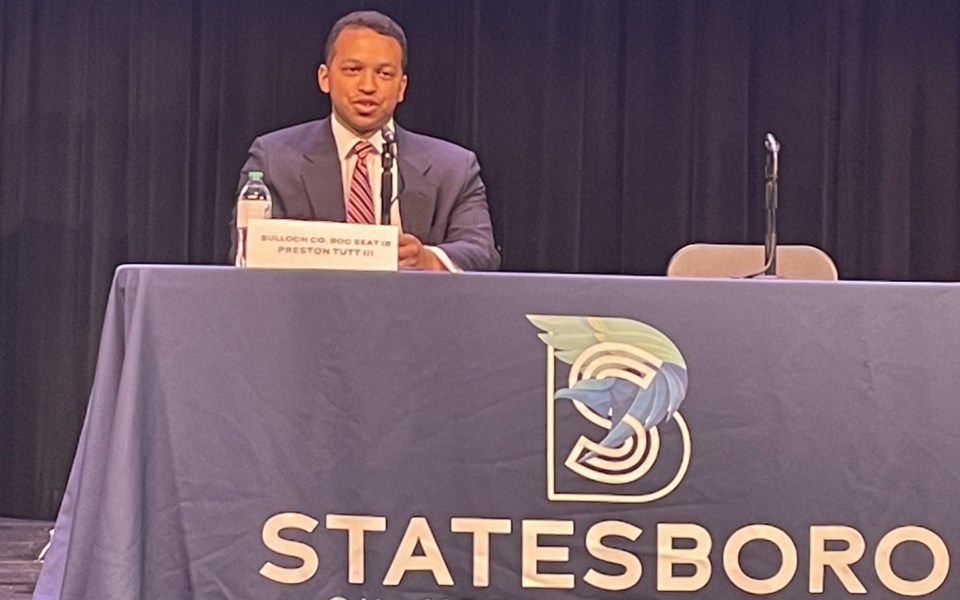 Tutt said he plans to be a voice for members of his district and "see about getting more done for the people who feel like they've been forgotten about." Referencing the economic growth he witnessed in his hometown of Harlem, GA, Tutt said he envisions a bright economic future for Bulloch County that includes attracting larger corporations and creating more jobs.
Simmons was not present at the event.
Board of Commissioners, District 2-B
Running to fill the District 2-B seat being vacated by retiring Commissioner Walter Gibson, four candidates took the stage to discuss their plans for representing Bulloch citizens: Travis Chance, Toby Conner, Jake Hallman, and Jennifer Mock.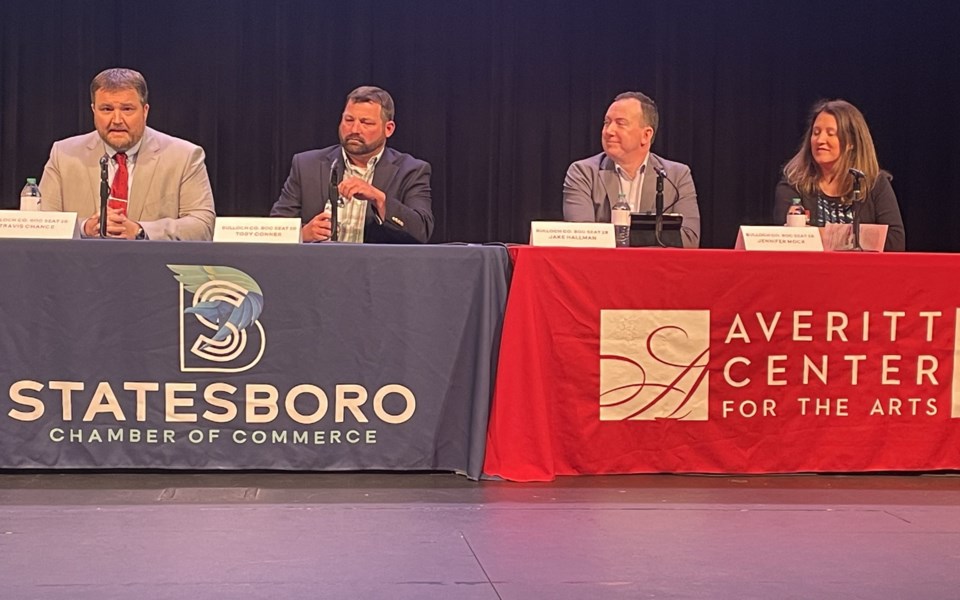 Citing recent "astronomical growth" throughout the County, Conner said he believes that current infrastructure is "not up to par by any standards." He blamed low wages and substandard benefit options for the high turnover among County employees.
Hallman spoke of the need for a more robust Internet infrastructure. "A whole bunch of us discovered we like working from home," he said. "If we've got top-notch Internet, we can pull in remote workers from anywhere in the country to live here."
Road maintenance topped Mock's list of proposed improvements. "Roads are critical," she said. "They provide the way for patrons to get to all of our businesses... the average citizen does not want to be traveling down a road, hit a pot hole, and have to go into a repair shop."
Chance expressed a desire to provide more incentives to bring additional fire, EMS, and public safety personnel to Bulloch County. He also encouraged the public to continue supporting T-SPLOST, a special tax that provides much of the funding available for local road improvements.
All four candidates spoke of a need to review the County's current zoning plans, some even suggesting the need for a complete overhaul. Mock cited multiple recent rezoning requests that were approved, but with many similar conditions. "If we could go back... and update the zoning ordinances, then we may be able to streamline that process and manage expectations."
Board of Education, District 4
Three candidates for the Bulloch County Board of Education District 4 seat will appear on ballots this year: Donna Clifton, Kathy Sherrod, and incumbent April Newkirk. Neither Clifton nor Sherrod were present at the forum.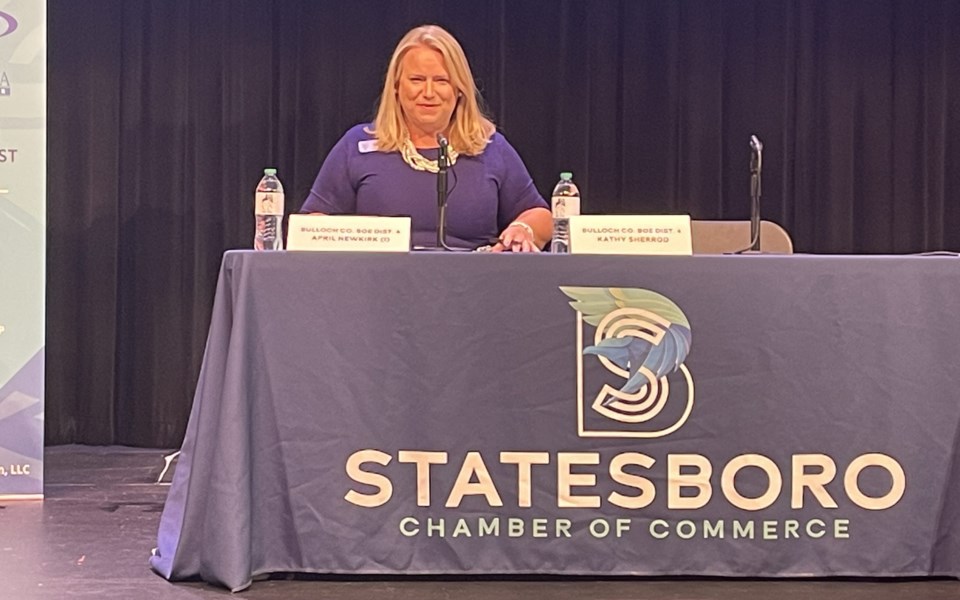 Newkirk touted much success in her role on the Board of Education over the last three years and is seeking reelection to continue that work of "meeting the needs of our kids."
When asked whether the County's Career Technical & Agricultural Education (CTAE) pathways allow for equitable access, Newkirk had this to say: "We do have some great... options, but we really need to continue to build on those. Anything that prepares our children for their future is a plus or our community but, again, we can do better on that." She referenced recent work by neighboring school systems to bring in heavy equipment and brick mason pathways to prepare students for work in those fields. Newkirk also expressed the need for higher salaries for CTAE educators.
Newkirk named politicians as one of the biggest threats to public education. "We've got to do better. We say we're invested in education, but show me. We aren't putting forth the time or the effort to really build our children or support our teachers."
Board of Education, District 5
Political newcomer Shontelle Childress is running against incumbent Glennera Martin for the Bulloch County Board of Education District 5 seat. Martin did not attend the forum.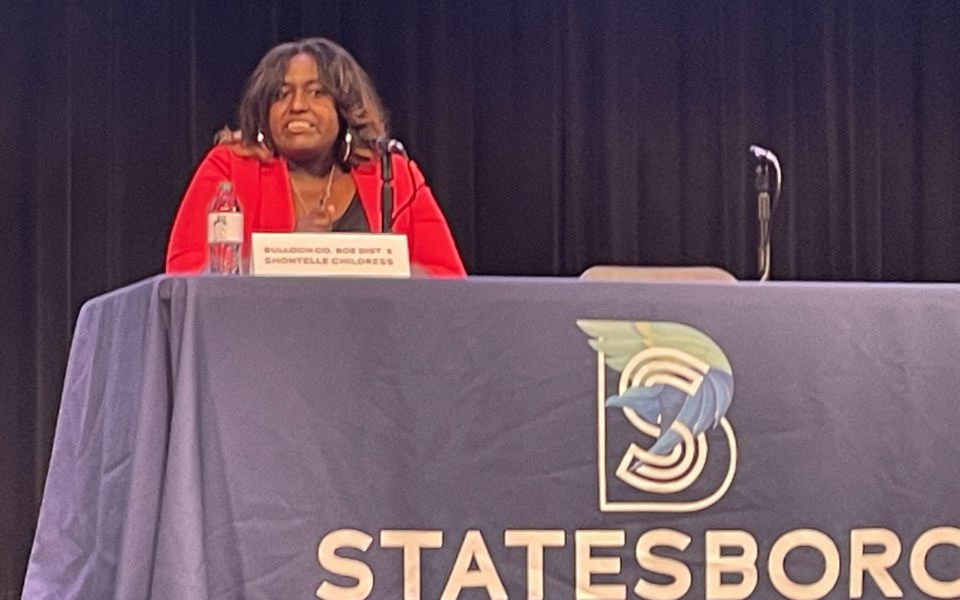 "I chose to run for Board of Education because I am a mother first," Childress said. "I've been a concerned parent... and the way that things were run during the pandemic really had me concerned."
Childress said that she would support an externship opportunity for the school system's work-based learning (WBL) professionals to gain additional insight into the demands of the workforce. "Our goal should be to get our kids... ready to join the workforce - whether they go to college first... or go right into a career." She also threw support behind the need for increased social services for local K-12 students, especially those who are experiencing anxiety or enduring difficult home lives in the midst of the COVID-19 pandemic.
Board of Education, District 6
Mary Boyer will face incumbent Jay Cook in the race for the District 6 seat on the Bulloch County Board of Education. Cook did not attend the forum.
Boyer believes that the school system plays a critical role in influencing higher literacy rates amongst young students. "One thing I can tell you we need to do as a district, as a community, is remind parents that reading is not just looking at a page," she said. "It's learning to look at pictures and describe them. Children need access to books but they also need ways to be creative."
She also called for conducting research into the potential efficacy of creating a college and career academy in Bulloch County. "This is a large decision," Boyer said. "We need to research it further and work collaboratively with our workforce and education communities. We need to put in that work before we can say 'yes'."
State Court Judge
Bulloch County State Court Judge Joseph Cushner faces opposition from Michael Classens in the upcoming election.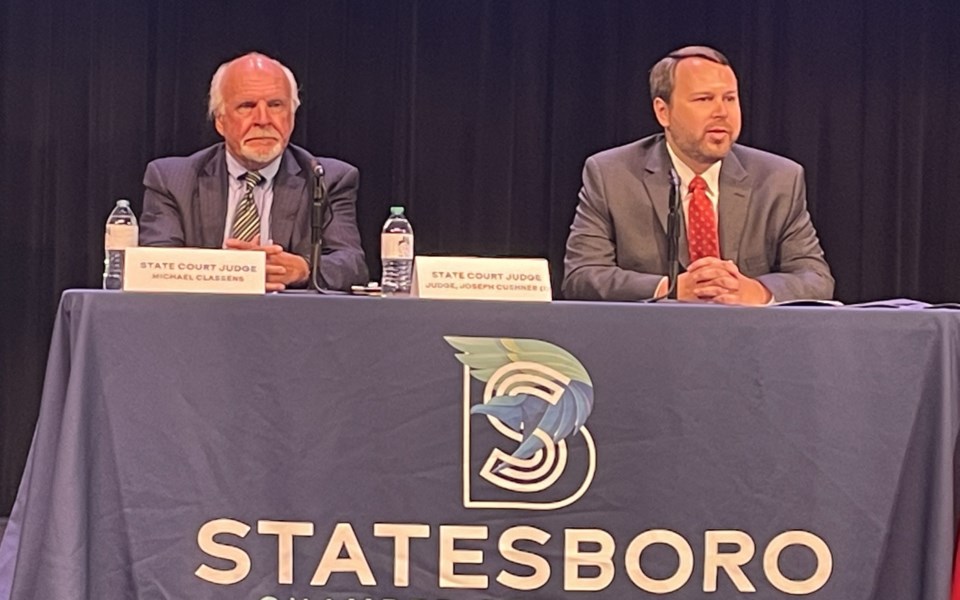 In the first round of questions, both candidates were asked how the State Court can ensure that those who plea under the First Offenders Act will follow through with requirements and take advantage of a provision that allows having their record expunged to remove barriers from future employment.
Classens said that while expungement is no longer an option in Georgia, there are options that the Court can offer to offenders, such as conditional discharge. "There is a law that provides, for certain crimes... a person who has [had] no previous trouble with the law, can be given a sentence to perform and you can withhold adjudication. If they serve the sentence, the case will be... discharged."
As an alternative to using the First Offenders Act, Cushner referenced OCGA 42-8-102b, which allows a judge to use his or her discretion in determining whether or not an offender is likely to get into trouble again. "If you want to give that person another shot, you can place that person on probation without them actually having a conviction. If they successfully complete that sentence, that case is then dismissed." He said this option allows him to hold people accountable for their actions without ruining their future employment opportunities.
When asked what businesses can do in order to avoid being sued for civil damages, both candidates agreed that the best practice is to act with dignity and respect. "People who are treated that way," Cushner said, "are much more amenable to resolving problems without having to get the legal system involved."
State & Federal Races
State Representative, District 158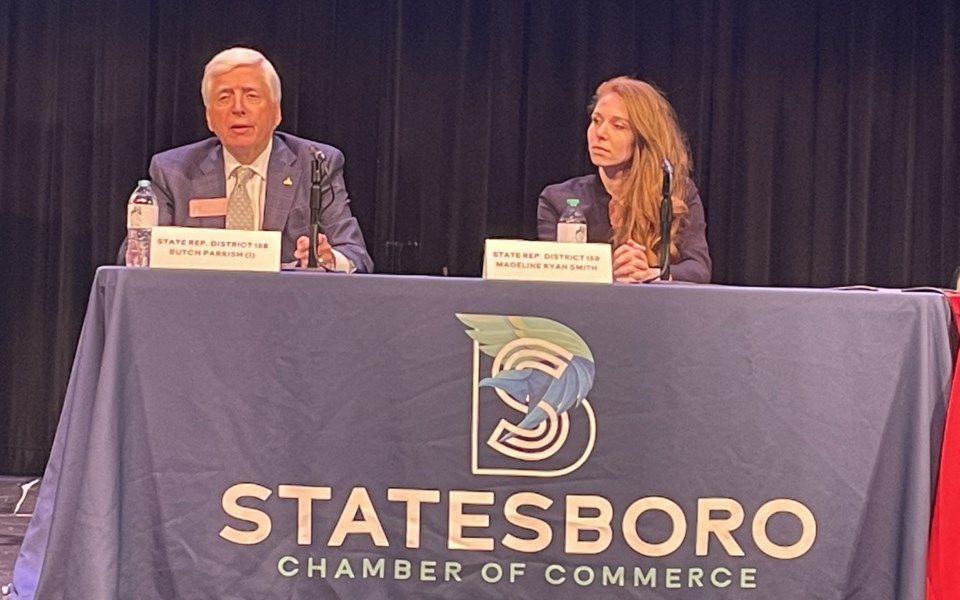 Secretary of State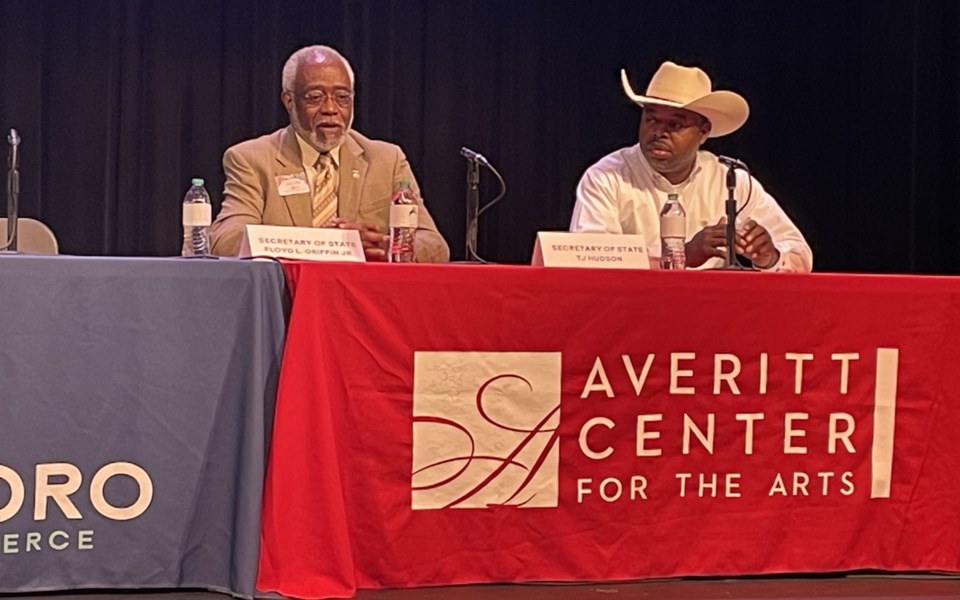 Lieutenant Governor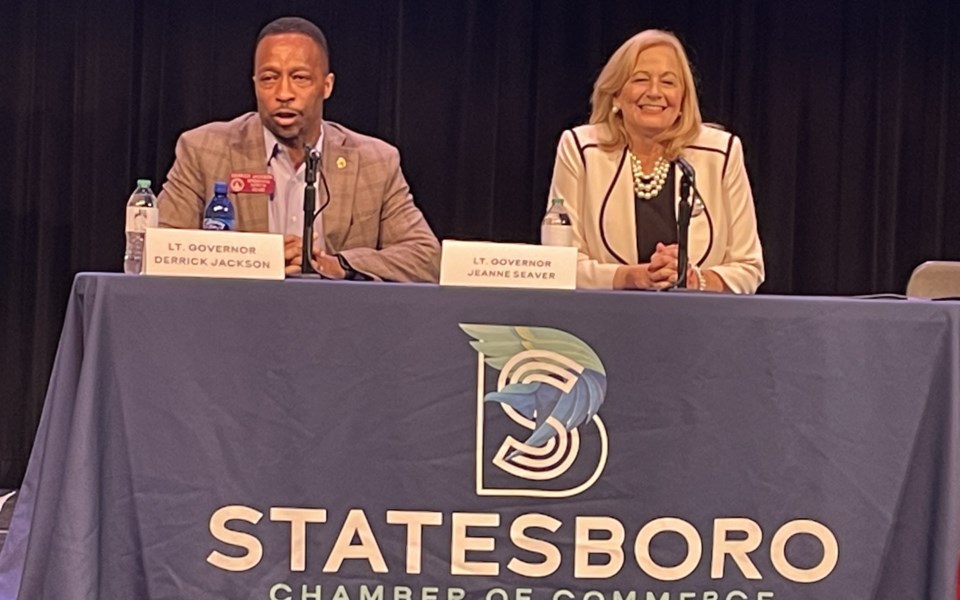 Agriculture Commissioner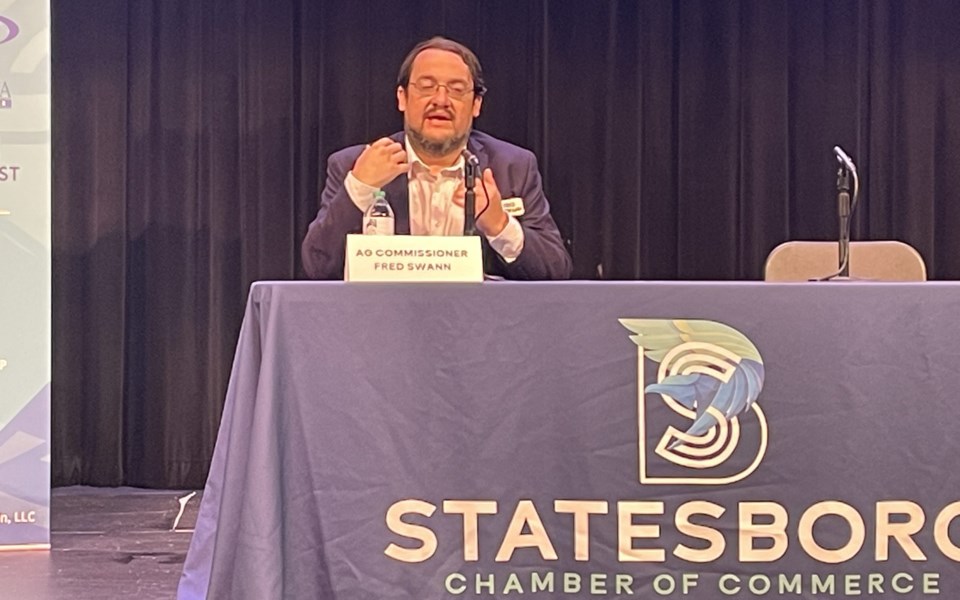 United States Senate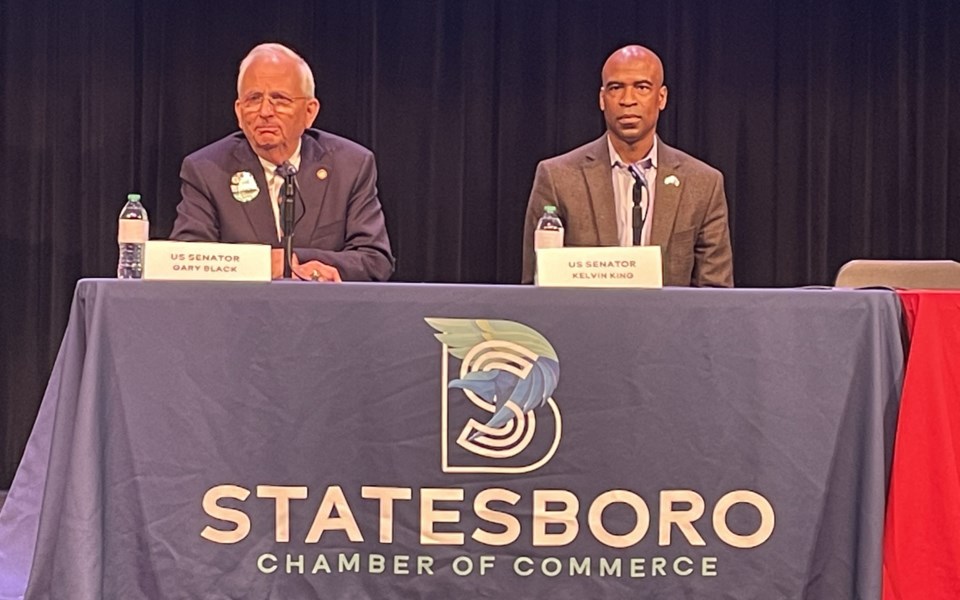 US House of Representatives, Georgia 12th District