Early Branch, SC, native Sharmequa Franklin, goes by many titles: wife, mom, Chief Learning Officer at AgSouth, and, most recently, entrepreneur. The Artsy Girl, Franklin's creative business, debuted in 2020. It began with earrings and has grown exponentially since then.
"I started the Artsy Girl at the peak of the pandemic at one of the most stressful times in my life," she shared.
A beloved hobby and a conversation with Franklin's husband, Pride, sparked what would become her small business.
"The first thing he said was 'I'm going to buy you a Cricut.' I started making earrings on my Cricut. I was messing around on YouTube one day and I said I think I'm going to step my game up a little bit; I'm going to try polymer clay; I'm going to try resin; I'm going to try all these different things," Franklin said of the early beginnings of her business.
A DIY video about making resin earrings was enough for Franklin to want to devote her craft time to becoming better and better. A friend saw her creations and urged her to start a website and turn her hobby into a business.
An 'artsy' past makes a colorful future
Franklin's grandfather used to draw, and Franklin has fond memories of the two drawing Charlie Brown and Snoopy together when she was just four years old.
"As he got older, he started having problems holding the pencil steady," she said. "He would shake when he would draw, so he would say to me, 'Okay, baby, I'm going to tell you what to draw and I'll start it out and you finish it."
They branched out to drawing houses and communities, which led Franklin to enter and win many art contests as a child.
Franklin already knew what her brand colors would be since her favorite color is hot pink. So hot pink and black, the colors of her wedding party, were natural choices. However, the business name was still in question.
"When I started thinking about the name for the business, I really wanted to incorporate my grandfather, because I would not have been an artist if it wasn't for him," Franklin said.
Reflecting on the fact that, as a boy mom, she doesn't get much of a chance to be girly, Franklin asked her family what they thought of 'The Artsy Girl' as a name for her small business. Franklin's son, 10-year-old William, gave his immediate stamp of approval, telling his mama, "Yeah Mommy, I can see you being The Artsy Girl."
And the girly, sparkly dream was born!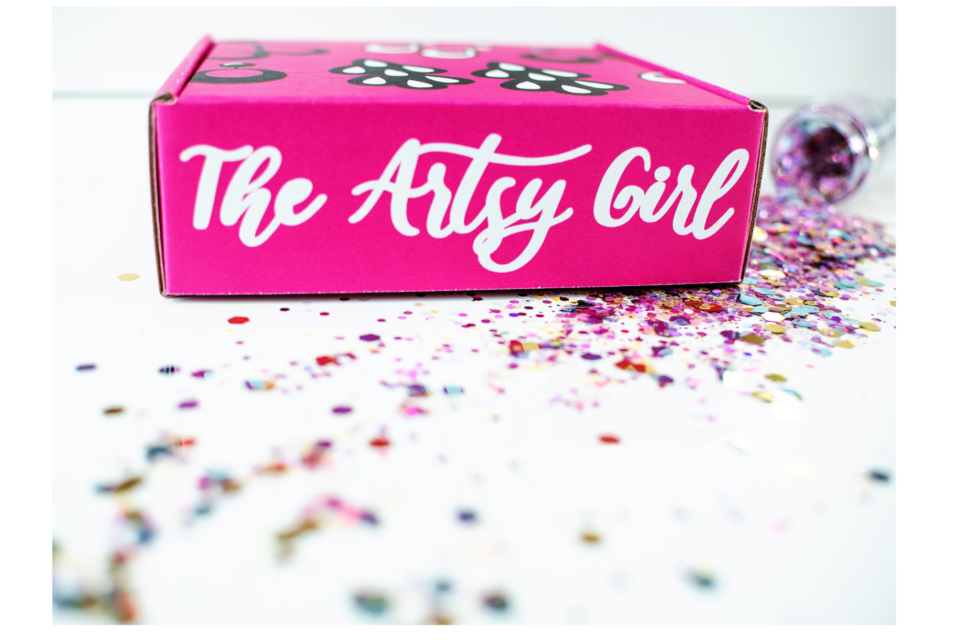 From the Shar Shed to LA
With her newfound business direction, Franklin's craft supplies soon overcrowded her home, prompting her husband to suggest another alternative. After many discussions, they decided to purchase a custom-made "she shed" for her backyard where Franklin could work her creative magic.
"I started in June of 2020 finishing out the Shar Shed with the help of my family and friends," Franklin shared. "I didn't want to open up the online store until I had the shed done. It took a while; it was almost like building a house again."
Three and a half years later, The Artsy Girl has blossomed and continues to thrive. Being featured in upscale boutiques like Cheeky Bliss was only the beginning, as it turns out.
On October 1, Franklin participated in Mahogany Moment, an event hosted by Hallmark Mahogany to bring talented African American women together to showcase their creative talents. Located at the Georgia Freight Depot in Atlanta, this networking opportunity brought The Artsy Girl to a whole new level and allowed Franklin to expand what had previously been a predominantly local clientele.
"They had vendors from all different areas - a lot of them were from Atlanta," she said. "But they were all black women-owned businesses, and they all were businesses that they created. It was incredible."
Most recently, The Artsy Girl has been chosen to be a part of the 2023 Buy From a Black Woman Holiday Market, presented by H&M. This event will take place in Los Angeles, CA, and Franklin will be accompanied by her husband and young son.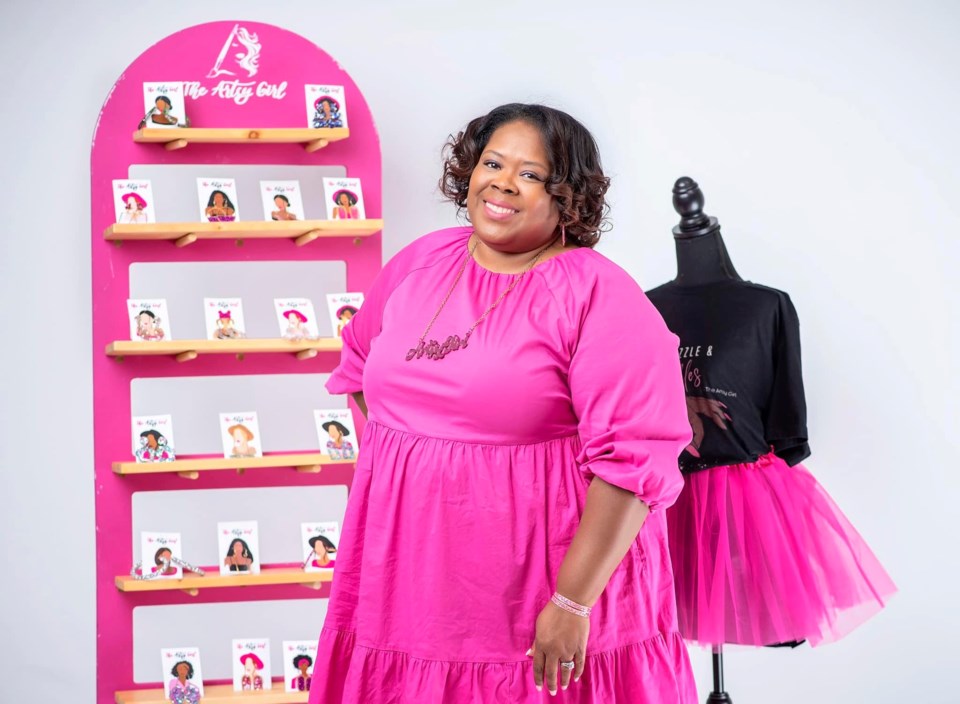 Balancing it all
Regardless of whatever prestigious event Franklin engages in, she prioritizes her life so that family comes first. She takes a mindful approach to each facet of her life, reserving her all for her family, her job, and her small business.
"I'm a list-maker; I make a lot of lists!" Franklin said. "But the most important thing to me is my husband and my son. I try to make sure that they come first, and everything else is second to me, even The Artsy Girl. When I'm at AgSouth, I'm at AgSouth. I have a true separation between the two. I give 110% when I'm there, and when I'm off, I'm off."
Franklin has found a workflow that maximizes her time by designating different days for different tasks and accepting help from her village when she needs it. Another part of her work-life balance includes limiting her commitments as she realizes she can't be at every event.
"You have to give yourself some grace and you have to set expectations," she said. "I'm trying to grow this business, but I also have a career -- a career that I really love."
Franklin is not just about selling items. Beyond her jewelry creations, she is providing what she calls "sparkle energy," through which she gives good vibes, validation, and encouragement.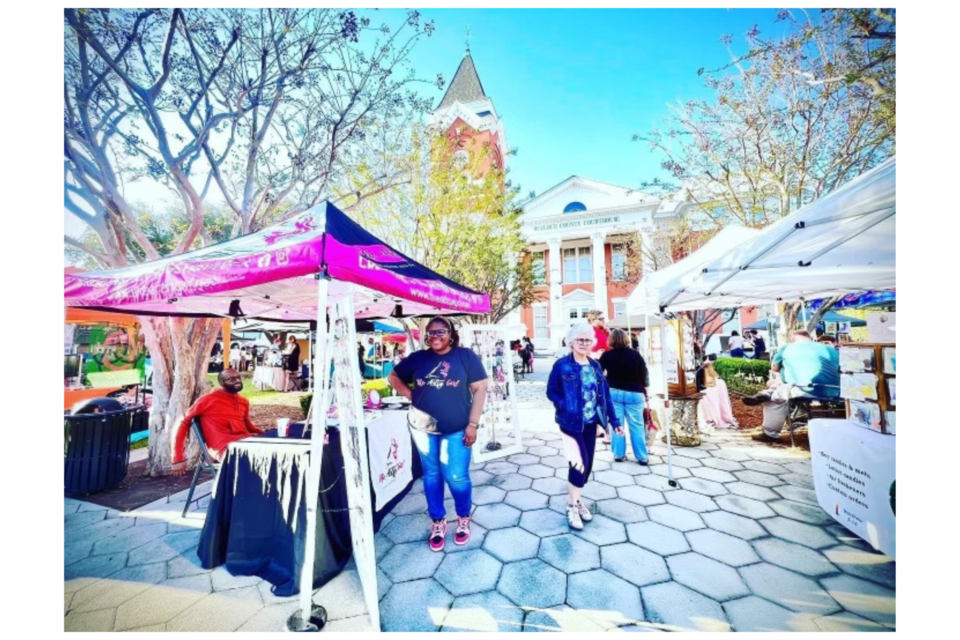 "I want to be somebody in the community where I'm not just 'the earring girl,'" she said. "I want to be the person where they say, 'I met Sharmequa, and she is such a nice person,' or 'I met Sharmequa, and through her business I feel more confident about who I am; I feel more confident to express myself through jewelry.' I want to show my son that I can create something from scratch and it becomes something. I want him to see that hard work and perseverance."
Franklin's long-term goals include writing a book and continuing to spread happiness in myriad forms, whether it be a unique pair of earrings, an encouraging word, or a smile.
"If I never do anything else, I was able to create a business from nothing, and whatever it becomes, it becomes. I just don't want to lose myself in doing it," she shared.
The Artsy Girl will be hosting a Pink Sparkle Friday Party on "Pink Friday," November 17th, at 7:00 PM at the new Sugar Magnolia Coffee House located at 100 Brampton Avenue, Suite 1-I in Statesboro. There will be a custom earring bar, a DJ, swag bags, and cocktails with a sparkle, of course!
For more information about The Artsy Girl or to RSVP for the Sparkle Party, please visit theartsygirlshop.com.