Jon Ossoff and Donald Trump, Jr. coming to Bulloch County has made us ground zero in the Georgia U.S. Senate runoff election Saturday, 12/19.
President Donald Trump's son Donald Trump, Jr. will be traveling to Cromley Farm in the Brooklet area of Bulloch County to hold a rally from 10 to 11 AM. Tickets are required to attend this event. You can register for tickets here.
Saturday afternoon, U.S. Senate candidate Jon Ossoff will be hosting a meet and greet in downtown Statesboro from 4 to 5:30 PM. NO TICKET or pre registration is required to attend this event.
Indication of the High Stakes of this Election
This level of grassroots campaigning by U.S. Senate candidates and high profile surregots is an indication of the high stakes this runoff election presents.
The political stakes have never been higher in the United States than they are now. With President Elect Joe Biden being sworn in on January 20th, the Democrats will control the U.S. House and the Executive Branch. Control of the U.S. Senate comes down to two January 5 runoff U.S. Senate races in Georgia.
Republican Incumbent U.S. Senator David Perdue is challenged by Democrat Jon Ossoff and Republican incumbent U.S. Senator Kelly Loeffler is challenged by Democrats Raphael Warnock.
Bulloch Trump, Jr. Event Information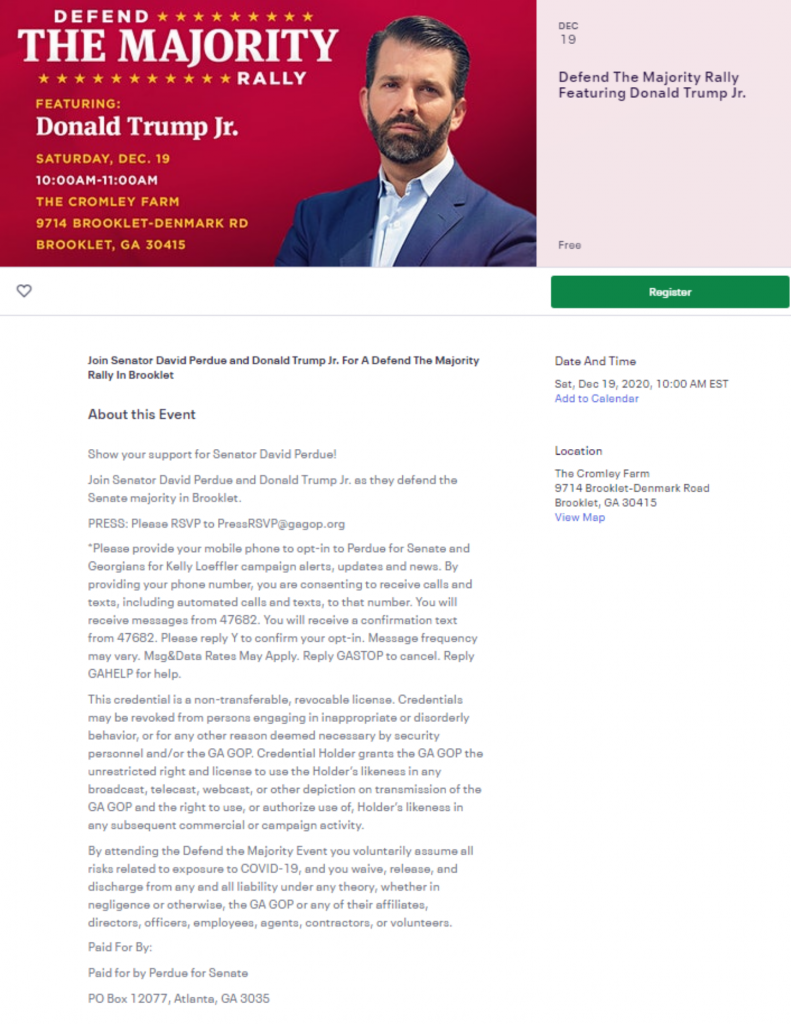 Ossoff Statesboro Event Information