12:00 PM Update: Hwy. 301 is back open. Firefighters will remain on the scene for a whiile continuining to extenguish the blaze. They have the fire surpressed to a point they can use tankers to supply the water which allows them to reopen the road.
11:00 AM update - Statesboro CAFE unit has arrived on the scene. They have the capacity of helping refresh the firefighters with cool drinks and large capacity to refill their air tanks.
9:45 AM update - Statesboro FIre Department has responded to a request for additional firefighters and equipment including a tower truck. The fire continues to be contained to one area of the building. However, it is a large pile of trash that is proving to be difficult to extinguish.
Around 9:00 am on Thursday, May 25, 2023 the Bulloch County Sheriff's Officers temporarily closed Hwy. 301 just north of I-16 to allow firefighters to battle a fire at All Green Services located at 4795 Hwy. 301 South. GADOT and Bulloch County Sheriff Officers are detouring traffic at I-16 and 301 South and Hwy. 46 and 301.
Hwy. 301 is completely closed - both north and south lanes just north of I-16.
The road is closed to allow water supply lines to be run from hydrants on the east side of Hwy. 301. Please avoid this area and find an alternative route.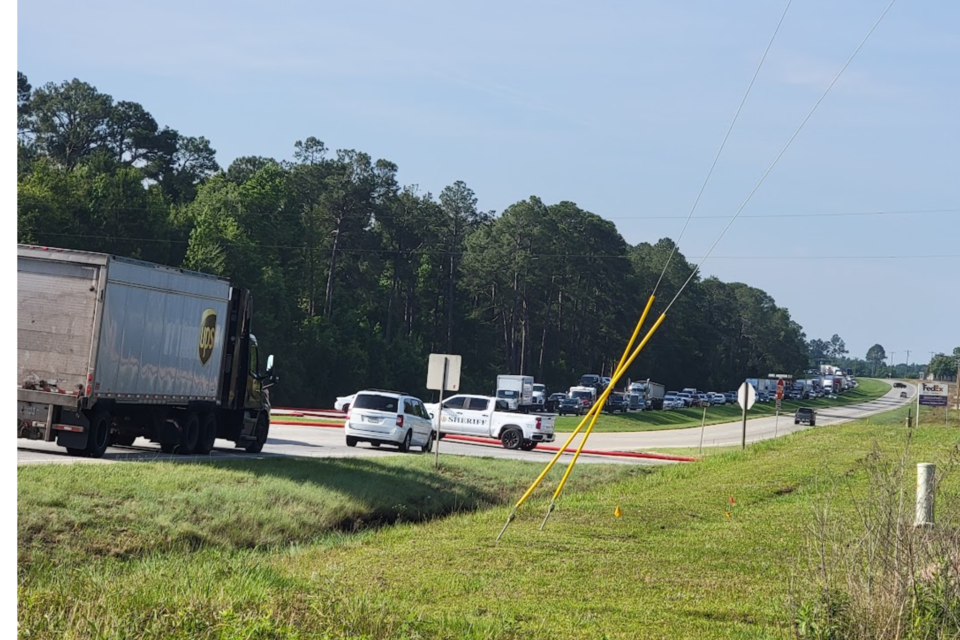 Bulloch County and Statesboro Fire departments initially responded on Thursday, May 25, 2023 a little before 9:00 am at Allgreen Services. When the first units arrived on the scene they found a large, out of control fire in a trash transfer station. They requested additional fire engines and personnel to the scene. Fire command requested Bulloch County Sheriff's Deputies to the scene to close Hwy. 301 south to allow for water supply to the fire.
The City of Statesboro ran water out Hwy. 301 to supply the Bruce Yawn Industrial Park. In doing this, they placed fire hydrants alone the east side of Hwy. 301. When there is a major fire on the west side of the road, they are required to close the road to run fire hoses across the road to supply the fire engines.
The fire is contained to a trash transfer building.
There are no reports of injuries.
Grice Connect is on the scene and will provide updates.