Four acres, thirty seven thousand strawberry plants, and a lot of hard work later has brought Bill Renz and Joe Franklin's vision of the future for Franklin Farms to life. They wanted a place where people could come and pick fruit, enjoy the atmosphere, connect with the community, and connect with where their food comes from. Their first u-pick strawberry season is now underway, and Bill is excited to offer more for the community and see the growth of the farm with more types of fruits being grown.
They opened earlier than expected with the strawberry harvest ready for pickin'! This is Franklin's first endeavor growing strawberries, and it has been very successful so far. Located right off HWY 301 South, the farm stand sells Franklin's citrus during the winter season along with other local produce and goods. Local honey, J.R. Jams, and fresh eggs are just a few of the local goods offered.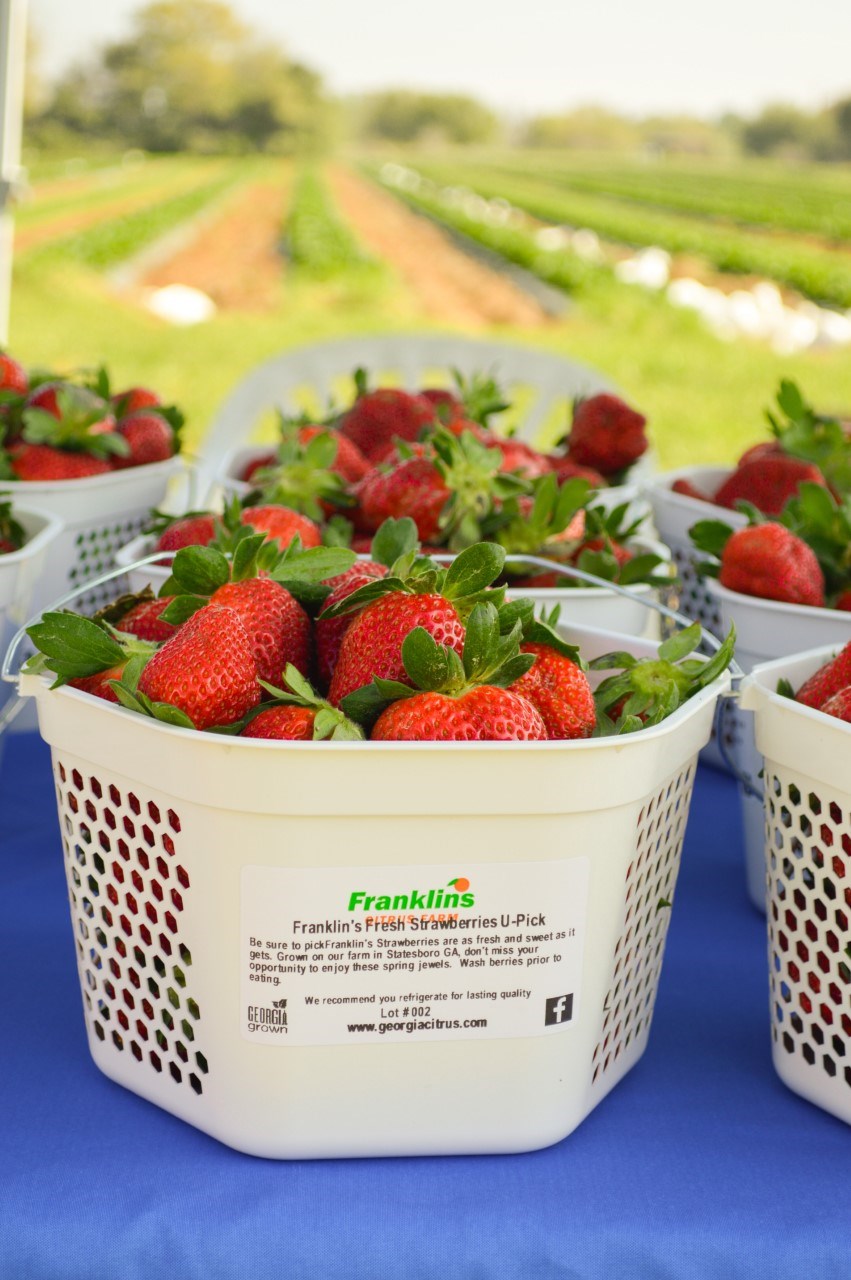 Franklin Farms began in 2010 when Joe Franklin, a retired owner of the famous Franklin's Restaurant, began Franklin Citrus Farms after he was inspired to try his hand at growing Satsumas following a trip to Florida. He started with around 200 trees, which has grown to over 11,000 trees, including other fruits such as Meyer lemons, Georgia Kisses, grapefruits, and many other citrus varieties.
Farm manager and owner, Bill Renz, sees to the day to day life managing the farm. From working in the fields to managing the wholesale of citrus, he juggles it all. Currently in the works, they have 478 blueberry bushes, 400 blackberries plants, 360 citrus trees, tomatoes, and a flower patch for the future of the u-pick farm.
Bill says, "As we expand, I want to make sure we incorporate entertainment for the kids, but I want it to stay about the farm. The community has been great to us, and I feel like they were ready for something like this. People are looking for a way to connect to the community, and newcomers want some type of connection to the agriculture, and this feels like a great place to do that."
Normally, strawberry season is quite short-running, anywhere from 6-10 weeks depending on rain and temperatures. Bill was working towards farming full time, and the u-pick was his idea.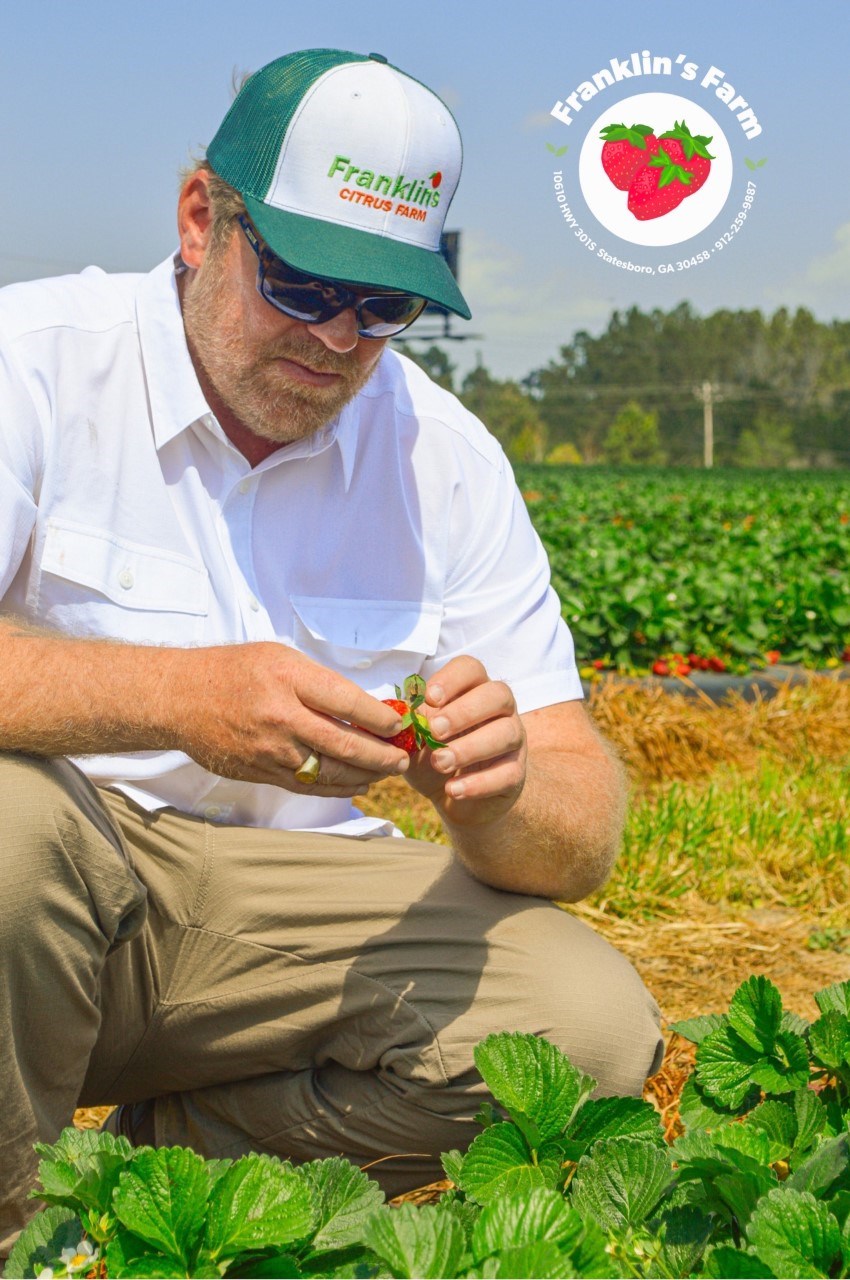 "Joe loved the idea of the direct to table produce and community. He really enjoys it," Bill shared.
In preparing for the u-pick farm, Bill studied different types of u-pick models to find just the right fit. He liked the idea of people being able to walk around the field free and have their own space so not to feel too crowded.
"The opening has been super encouraging, I couldn't have asked for it to go any better," he said.
In addition to the u-pick, a bouncy house will be set up every weekend for the kids. They also have pre-picked (we-pick) baskets available at the farm stand. You will also be able to purchase the strawberries through the Statesboro Farmers Market online, and if you happen to be in Savannah on Saturdays at the Forsyth Farmer's Market, you can buy them there as well. Bill's gotten wonderful feedback from folks coming in from nearby counties who have never been to a u-pick farm, too.
"That's what it's all about, and also that they feel welcome to this community," he said. "It's a homerun when you get these type of connections."
Franklin's has lots in store for the coming weeks including:
Berries in the Boro this Saturday, March 18, from 9am-6pm and Sunday, March 19, from 11am-6pm
Spring Break in the Strawberry Patch from April 1-9
Strawberry Day for Southern on April 15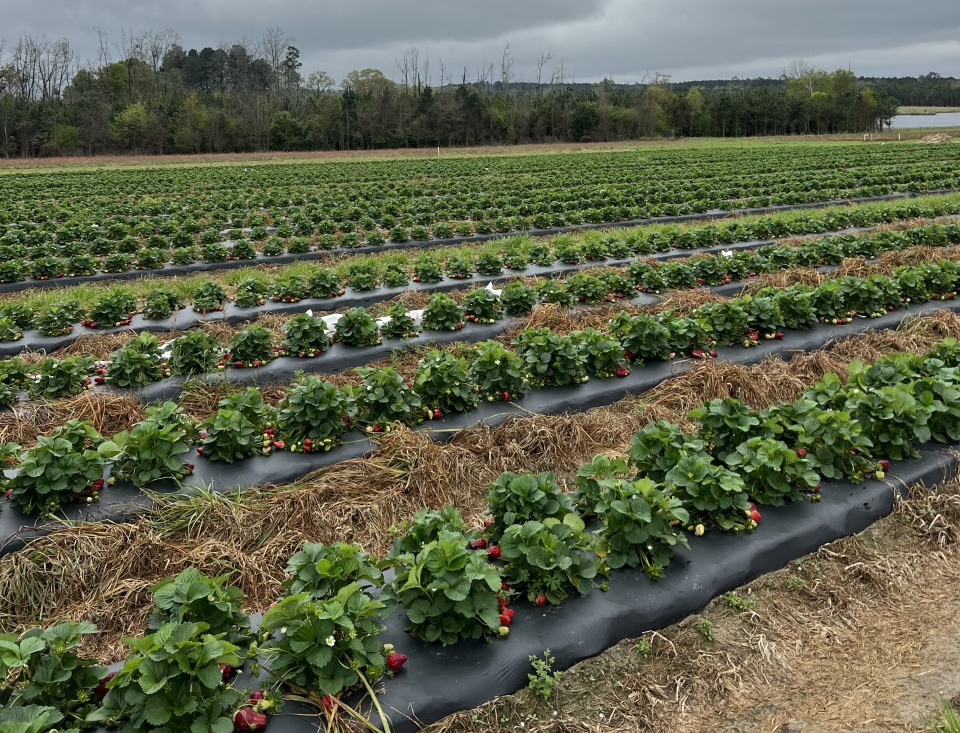 Franklin's Farm Stand is located at 10610 HWY 301 S and is open Monday-Saturday from 9am to 6pm and Sunday 11-6. U-pick baskets are available in kid-sized for $5, a 1/2 gallon bucket for $8, or a gallon bucket for $15. We-Pick baskets are also available in 1/2 gallon for $10 and 1 gallon for $18. Also available are strawberry shortcake, strawberry freezes, and other local goods. There is no cost for admission or bounce houses. For more information, follow Franklin Farms on Facebook. You can also visit their website or email them.