Ted Wynn, Director of Bulloch County Public Safety confirmed Thursday afternoon that First Presbyterian Church Statesboro (FPC) located at 1215 Fair Road is providing a warming shelter for Statesboro and Bulloch County residents. The shelter is scheduled to open at 6PM on Friday, December 23, 2022.
The purpose of the shelter according to Wynn is "to provide displaced area residents with a short-term, supervised, safe, secure, and warm area in which to shelter from predicted Extreme Low Temperatures and Dangerous Wind Chills."
Shelter Schedule
Friday
12/23/22
6:00 PM - 10:15 PM
Registration open
Saturday
12/24/22
6:15 AM - 9:30 AM
Registration open
Saturday
12/24/22
Christmas Eve Service 5:00 PM
6:00 PM - 10:15 PM
Registration open
Sunday
12/25/22
Weather Dependent
TBD
Monday
12/26/22
Weather Dependent
TBD
Anyone who needs a warm place can go to the shelter and register on arrival. There is NO CHARGE for this warming shelter. It is free and open to anyone who needs a warm place.
If you have questions regarding the shelter you can call Bulloch County Public Safety's non-emergency number at 912-489-5615.
FBP released this statement with the announcement on Thursday:
"The Session and Staff of First Presbyterian are humbled by the already abundant outpouring of support for this community cause.

From the ways our congregation has stepped up to volunteer to community partners to first responders to county officials - we will truly be honoring the discipleship call of Christmas in housing our neighbors.

We can't imagine a more apt way to welcome the birth of our Savior who was born unhoused to parents in need of a warm and welcome space than by opening our church doors to our neighbors.

May all praise be to God in Christ Jesus. Alleluia! Amen."
FPC invites the community to attend worship on Christmas Eve (5pm in the Fellowship Hall) to welcome our guests with warmth and hospitality.
Why open a warming shelter
The concern and reason for opening the warming shelter is the extremely cold lows, combined with dangerous wind chills beginning on Friday. That combined with high temperatures forecast to be near freezing on Saturday and not much above freezing on Sunday make this a very dangerous situation for citizens with no warm place to go.
Wynn thanked Lee Eckles, Deputy Director of Bulloch County Public Safety for his work with Bulloch VOAD, FPC and local agencies to coordinate the opening of the emergency shelter.
NWS Thursday Forecast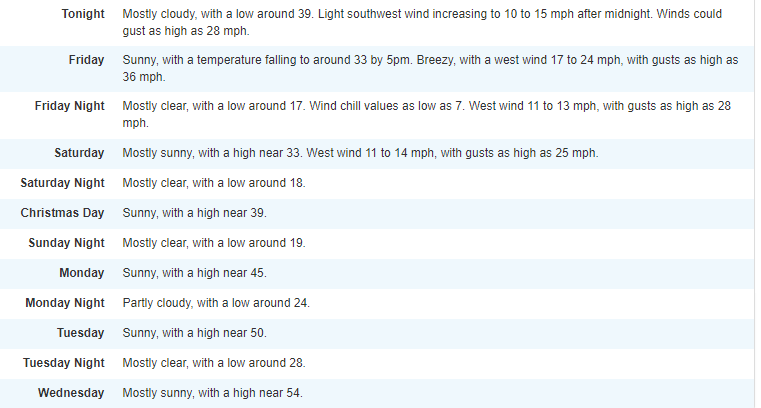 NWS Real Time Weather Forecast
NWS EXTREME COLD WEATHER TIPS