One of the greatest needs in our community is low cost dental options. There are many people who simply cannot afford to go to a dentist for cleanings or more severe dental care. Hearts and Hands Clinic operates a no cost dental clinic year-round but is limited with the number of patients they can see. This past year they assisted 279 patients with dental care.
Local dentist Dr. Richard Marz, owner of Premier Dental Wellness, understands the large need for dental care. Several years ago he partnered with others in our community to give one day of free dental care. This will be the fourth year he has led this effort.
"I have been touched by the generosity of this community in so many ways. My patients and our friends and neighbors are so supportive and giving to me and my practice that I wanted to do something as a "gift" to our community. This "gift" allows me to give back as small way of saying thanks", said Dr. Richard Marz.
This year Dr. Marz has partnered with East Georgia Oral Surgery, Hearts and Hands Clinic and Ogeechee Technical College Dental Assisting program in order to provide as much help to as many people as possible.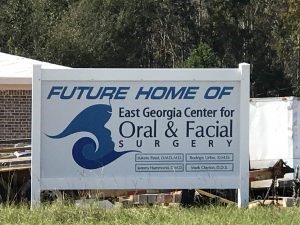 "A Gift of Dentistry" will be this Friday, December 7th at Premier Dental Wellness, 1130 Brampton Avenue beside McAlisters Deli. Anyone 18 or older that truly needs dental help is eligible for care.
There will be no charge for treatment and it will consist of one cleaning, one filling or one extraction. It will be first come, first served. Dr. Marz encourages people needing care to arrive early as they are only are guaranteeing that they will only be able to serve the first 50 people in line.
Dr. Marz and his team of volunteers will begin triaging patients by 8:00 a.m. Those needing extractions will be referred to East Georgia Center for Oral and Facial Surgery.
Cleanings, fillings and x-rays will be completed in Dr. Marz's office. Premier Dental Wellness, East Georgia Oral Surgery, Hearts and Hands Clinic, OTC and others are volunteering their time and services to the community for free. This gift could easily exceed $10,000 in FREE dentistry to our community.
They ask that citizens help spread the word and again encourage citizens to arrive at Premier Dental Wellness no later than 8 AM on Friday, December 7th.
Dr. Marz is a member of the Statesboro Kiwanis Club, a member of the Bulloch County Animal Shelter Advisory Board and as a local pilot, fly's pets seeking new owners from kill shelters through Pilot's and Paws Flights.