At 2:00 PM today, in typical Waffle House style, the company opened their newest store in Statesboro at 30 Eddie Rushing Drive, off the bypass near Millhouse Steakhouse with little fanfare. They simply unlocked the door and put a sign in the window announcing they were open. Then they immediately got down to business serving their customers fast, affordable and tasty food that has become a trademark for the company. The restaurant has many upgrades, most of which will go unnoticed by the customers, including larger and more efficient storage, larger refrigeration systems and a larger grill. The store includes the new updated design elements and a fresher look the company rolled out a few years ago.
Whats New
Now for you Waffle House faithful super fans, you will immediately notice eight new signature Waffle House waffle irons that cook the Waffle House logo on each waffle. Fans will also enjoy larger and wider booths. The iconic photo menu is the same as all the other stores and so is the pricing. The food is just as delicious and nothing can beat the Waffle House atmosphere that is driven by their enthusiastic team of employees and of course the customers. The customer diversity brings as much intrigue to the dining experience as does the food. Second to their great food is their employees that keep folks coming back. They make even strangers feel at home each time they walk in the door.
GSU Grads Make Up Management Team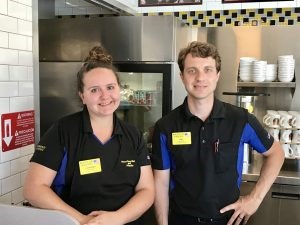 The newest store is managed locally by Courtney Welty and divisionally by Eric Johnson. Both Courtney and Eric are Georgia Southern graduates. Georgia Southern brought them to Statesboro and in a roundabout way to Waffle House.
Eric graduated with a construction management degree from Georgia Southern in 2010. That was in the height of the recession and construction jobs were scarce. "I came out to my car one day on campus and there was a flyer promoting management training jobs at Waffle House. I responded and was hired", said Eric Johnson, Waffle House Division Manager. "I thought this would be a great bridge job and never imagined it would become a career. I began training in Statesboro and ended up managing one of the Statesboro stores."
Fast forward eight years and Eric is now a Division Manager overseeing stores in several markets including the three in Statesboro.
Courtney was actually hired by Eric in 2010 as a sales person (server) while she was in college. After graduation from GSU she entered the management-training program and has been managing the South Main location for several years. "I began working third shift as a salesperson at Waffle House. It was a great job for a college student allowing me to work and go to school", said Courtney Welty, Waffle House Unit Manager. "By the time I graduated I had been working for a few years and saw the potential in the restaurant. So I entered the management training program and now I am opening Statesboro's newest Waffle House."
See inside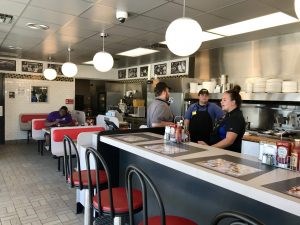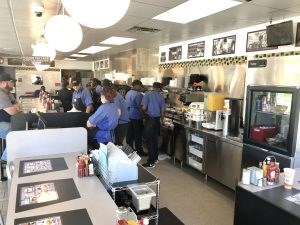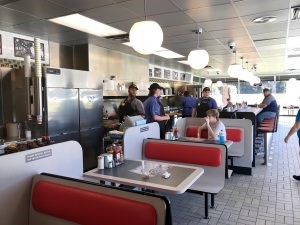 Waffle House entered the Statesboro market in 1993 building two restaurants simultaneously. The South main location opened a few weeks before the Northside Drive store.