The UGA College of Agricultural and Environmental Sciences (CAES) Alumni Association recognized Brooklet farmer David Cromley as an outstanding college alumni at the 66th CAES Alumni Association Awards banquet held at the University of Georgia Tate Center Grand Hall. Cromley was one of four to receive the Young Alumni Achievement award.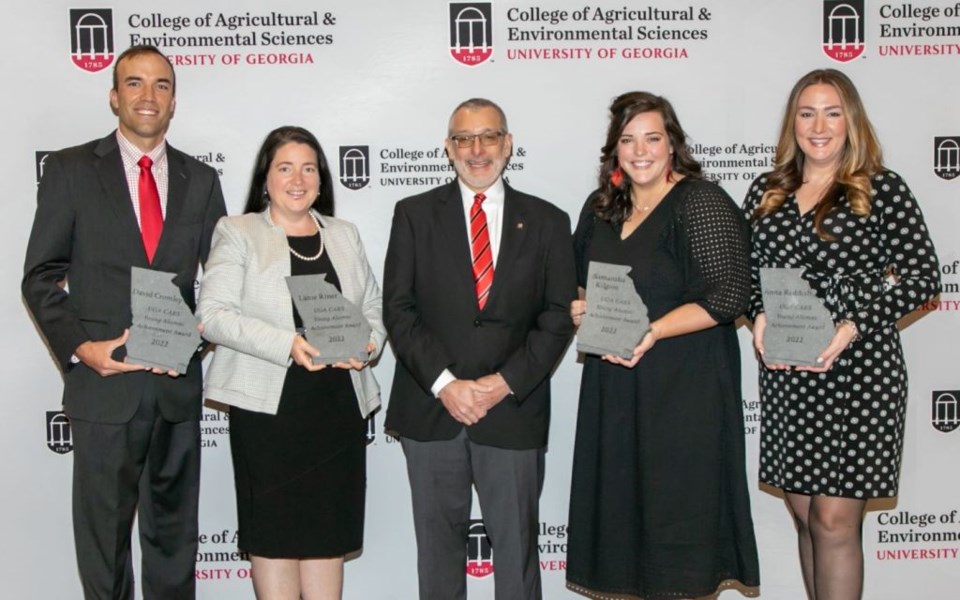 The CAES Alumni Association Young Alumni Achievement Award recognizes alumni under 41 who have achieved excellence in their chosen field and/or in their community.
David Cromley, a 2009 UGA graduate with a bachelor's degree in animal science, is a partner with his father Chap Cromley, uncle Hal Cromley and cousin Colby Cromley at Nellwood Farms in Brooklet, Georgia, managing the production, health and marketing of crops and livestock. In addition to implementing several impactful farm improvements, Cromley is actively involved in hosting farm tours and farm days for local elementary schools, promoting agriculture to the next generation.
"This award definitely represents a team effort, and I'm blessed to have the support of my family, friends and fellow volunteers from our community, church and Farm Bureau," said David Cromley. "I would also be remiss to not mention the impact of Bulloch County greats who have gone on before us like Mr. Lannie Lee and Mr. Jimmy Blitch who have had a huge impact on my life and career."

In 2010, Cromley served as an intern for Georgia's Rural Caucus, which represents Georgia's rural communities and interests to the state legislature. In Bulloch County, Cromley is an active member of the Bulloch County Farm Bureau, Georgia Young Farmers Association, Southeast Bulloch FFA Advisory Board, Ogeechee Technical College Agricultural Advisory Board, Georgia Agribusiness Council and the CAES Alumni Association's East Georgia Chapter. He served on Georgia Farm Bureau's Young Farmers and Ranchers committee in 2014 and acted as chairman in 2015. He has remained an active member of the committee and now serves the board in Bulloch County as president.
"The 2022 CAES Awards Celebration was a stellar event. It is so impactful to be able to celebrate in person once again and this year's honorees were truly deserving of their accolades," said Sarah Cook, CAES Alumni Association board president and director of domestic trade at the Georgia Department of Agriculture.
"The importance of celebrating the best, brightest and most dedicated champions of our state's No. 1 industry cannot be understated," said Cook. "These honorees give of their time and talents for the betterment of our farmers, producers, agribusinesses and advocates. I was honored to be called upon to help acknowledge their commitment to our college, university and state."