The following is a recap of actions taken during Tuesday's regular meeting of the Statesboro Mayor and City Council. Stay connected with Grice Connect for in-depth coverage of the news that matters most to you.
Retiring SFD Battalion Chief honored
Before getting down to business, Mayor Jonathan McCollar paid tribute to Statesboro Fire Department's retiring Battalion Chief William Neal Lee.
Lee began working with SFD in July 1986. Throughout nearly four decades of service, Lee served in multiple positions before being promoted to Battalion Chief in 2014. His numerous accomplishments include serving as an adjunct professor at the Georgia Fire Academy and being named SFD's Firefighter of the Year in 1996.
"Chief Lee's desire and passion to help others within the Statesboro and Bulloch County communities is sincerely appreciated," McCollar said, "and we wish him the best as be begins a new chapter in his life."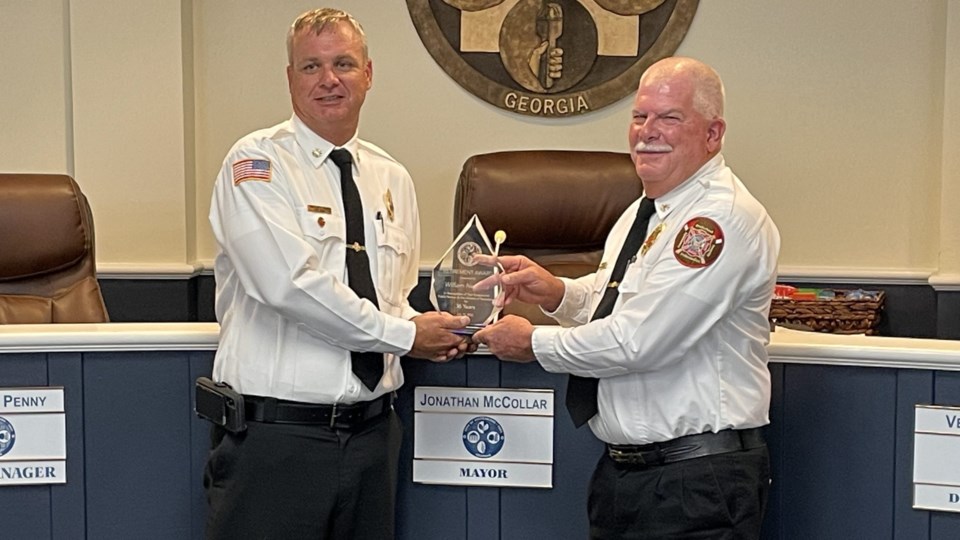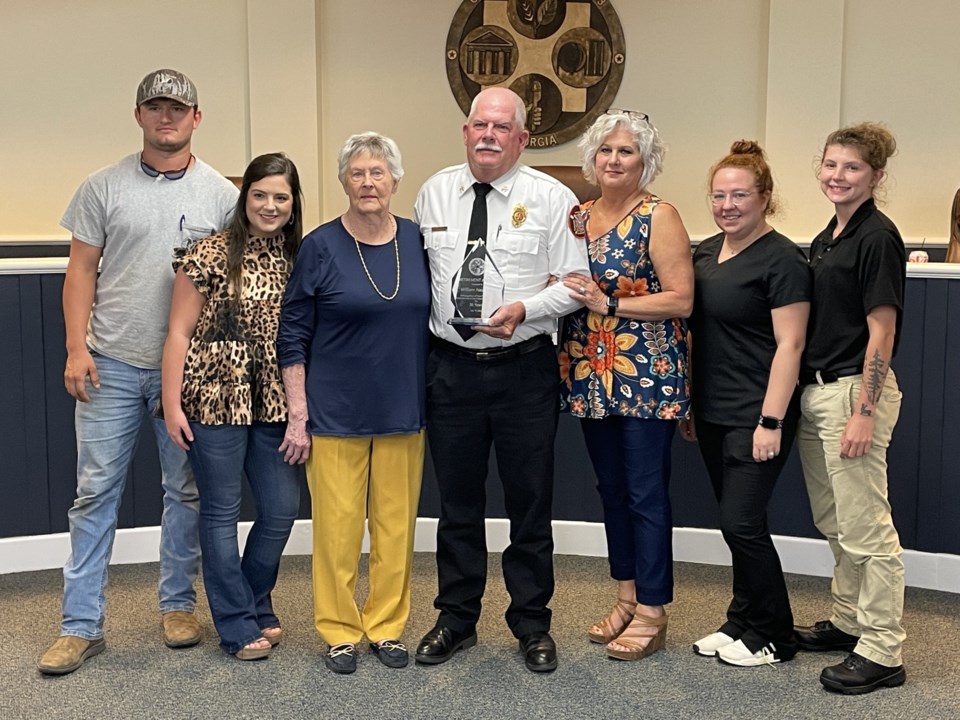 Consent Agenda
APPROVED: Consideration of grant of license for the package sale of distilled spirits, beer, and wine to FTJ Enterprises, Inc. DBA S'Boro Liquors located at 860 Buckhead Drive
New Business
APPROVED: Consideration of a motion to approve a contract with SAFEbuilt in the not-to-exceed amount of $100,000 for building inspection, plan review, and permitting services (Note: This motion passed by 3-1 vote with Councilman John Riggs casting the dissenting vote.)
APPROVED: Application RZ 22-06-01 by Edward W. Curl, Jr, requesting a Zoning Map Amendment from R4/HOC zoning districts to the HOC (Highway-Oriented Commercial) zoning district in order to establish a vehicle repair shop on 3.2 acres of property located at 30 Rucker Lane
NO ACTION TAKEN: Application RZ 22-06-02 by L&S Acquisitions, LLC, requesting a Zoning Map Amendment from the R10/R8 zoning districts to the PUD (Planned Unit Development) zoning district in order to develop a single-family detached subdivision on 34.48 acres at 1263 S&S Railroad Bed Road (Note: After much discussion surrounding the Planning & Zoning Commission's recommendations, Council decided to take no action on this application. This will allow the developer to continue working with City staff to meet all required standards before presenting the project for Council vote.)
APPROVED: Application CBD 22-06-03 by First Baptist Church of Statesboro requesting plan approval for a portion of the campus located at 108 North Main Street
APPROVED: Ordinance 2022-03, which amends Appendix A of the Statesboro Code of Ordinances to include definitions and standards relating to townhome development (Note: This serves as the first reading of the proposed ordinance. A required second reading will take place on August 2, after which a passing vote will enact the ordinance.)
APPROVED: Applications for alcohol licenses in accordance with the City of Statesboro alcohol ordinance Sec. 6-13 (a) for the following entities:
Bubba D's DBA Butts N Brews - 454 South Main Street
License type: Restaurant
Wings Over Statesboro, Inc. DBA Wild Wing Cafe - 52 Aspen Heights Drive
License type: Restaurant
Family Dollar Stores of Georgia, LLC DBA Family Dollar #30436 - 20 Veterans Plaza
License type: Package Sales - Beer and Wine only
APPROVED: Consideration of a motion to approve the Retail Development and Small Business Recruitment/Retention Proposal from Georgia Southern University
DEFERRED/TABLED: Motion to award a contract for branding and marketing services for the City of Statesboro to North Star in an amount not to exceed $79,000 plus expenses, which are not to exceed $5,000 (Note: Council voted unanimously to defer action on this contract until their regular meeting on September 20.)
APPROVED: Motion to approve the purchase of one complete set (cutters, spreaders, and ram) of TNT Battery Extraction tools in the amount of $29,390 from Victory Steel, LLC.
APPROVED: Motion to approve Change Order 3 with McLendon Enterprises, Inc., in the amount of $7,153.58 for the Blue Mile Streetscape Improvements Project