On Monday, January 17, 2022, the National Weather Service (NWS) in Charleston is forecasting snow for the end of the week in Statesboro. Of course, this can change as the week progresses.

Regardless, to even see the NWS forecasting snow is very rare. The last time we saw significant snowfall was in early January, 2018. Prior to that it had been years since we saw snowfall of any significance in the Boro.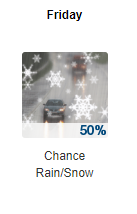 This means the odds are VERY SLIM that we may actually see snowfall. If it does snow, it will not hang around long as temperatures are forecast to rise above freezing during the day.
However, many of you who have reached out to Grice Connect today are holding hope this may be the case.
It will be very cold with lows in the 20's over the weekend. Even though it is Monday, you can start thinking about adjusting any outdoor plans you may have for the weekend.
We will continue to follow this cold front and update you as the forecast progresses if the snow forecast strengthens.
Below is a live feed of the NWS website.