The Statesboro Fire Department (SFD) honored nine of their own Friday evening by recognizing a string of recent promotions among their ranks.
Originally scheduled for June and postponed due to COVID-19, the ceremony featured firefighters -- decked out in their Class A uniforms -- being pinned with new insignia by close friends and family members.
According to SFD Chief Timothy Grams, the individuals honored on Friday have already assumed their new roles within the department. "You have a choice to make," Grams said to honorees before posing a question: "What type of leader do you want to be? One who develops more leaders for the organization or one who gains more followers?"
Grams said he is confident that all nine honorees will set a positive example for those under their leadership. "My heart is filled with pride," he said just before introducing the guests of honor.
Passing the torch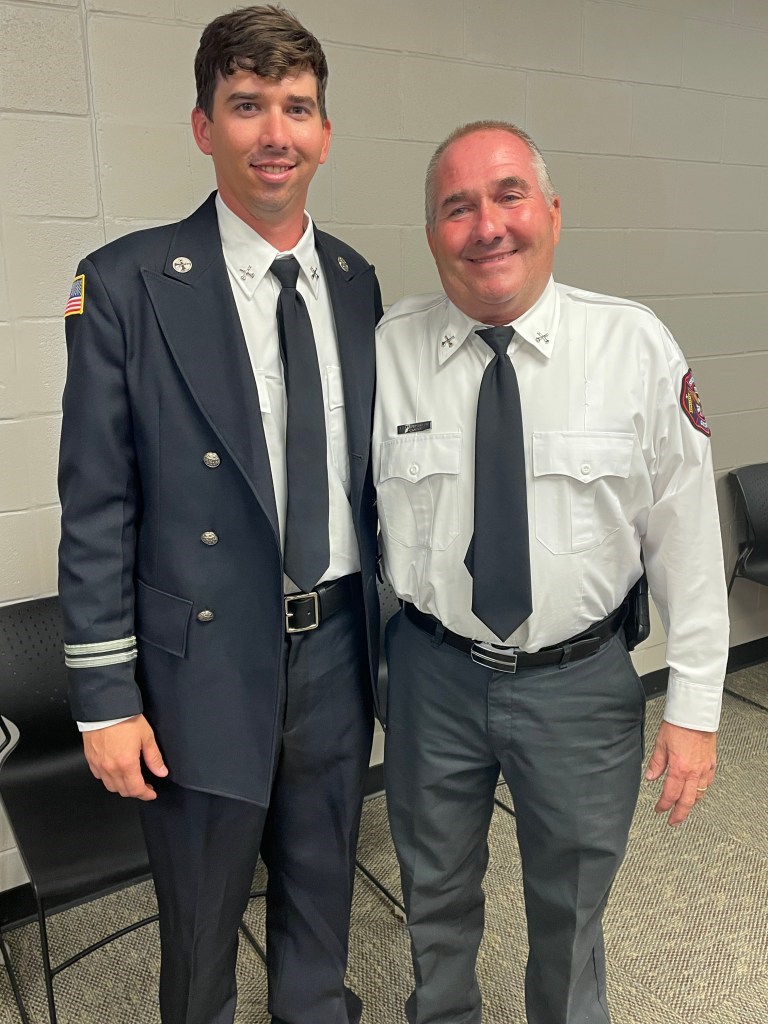 Newly-minted Captain Rabon Hutchinson was among the group of honorees. His wife, Ali, and their son, Ronin, had the honor of installing Hutchinson's new insignia. While Ronin's smile certainly captured the spotlight, his wasn't the only one.
Seated a few rows back in the audience, Hutchinson's father beamed with pride as his son was pinned with a familiar piece of hardware -- his retired Captain's badge.
Retired SFD Captain Ricky Hutchinson served with the department for forty years before retiring in 2018. Not quite ready to hang up his turnouts, the elder Hutchinson now serves as a volunteer firefighter with the Bulloch County Fire Department. "It's an honor to transfer my former badge to my son," he said. "I'm really proud of him. Really proud."
Full list of honorees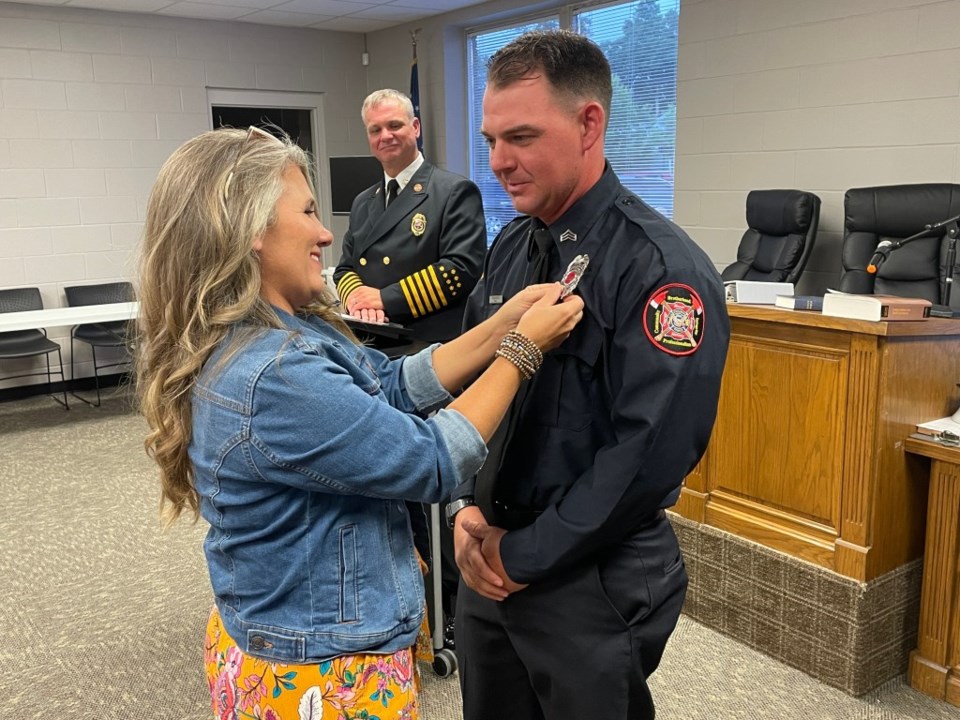 Fire Apparatus Operator (FAO)
Justin Eaton
Pinned by wife Johnna Eaton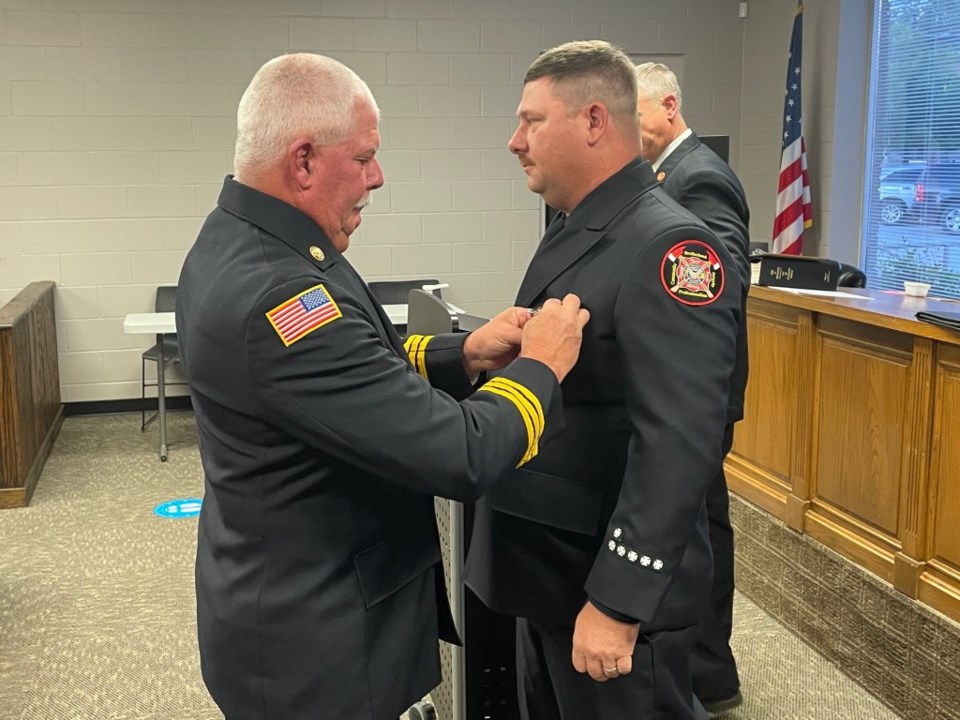 Fire Apparatus Operator (FAO)
Anthony LeFebvre
Pinned by Ret. Chief William Lee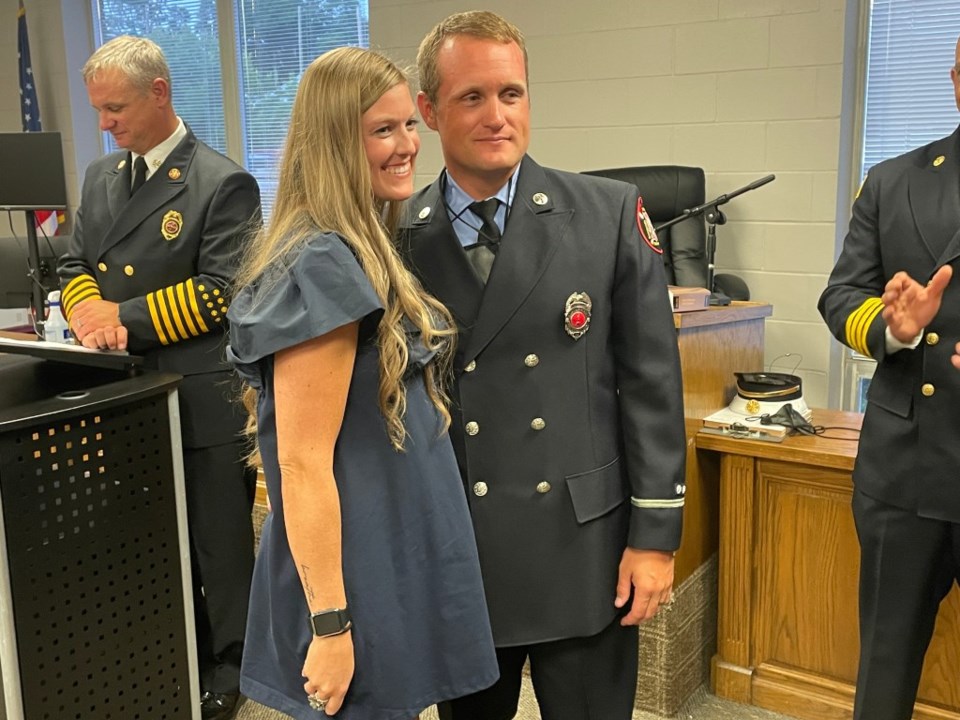 Lieutenant Eric Baxter
Pinned by wife Ally Baxter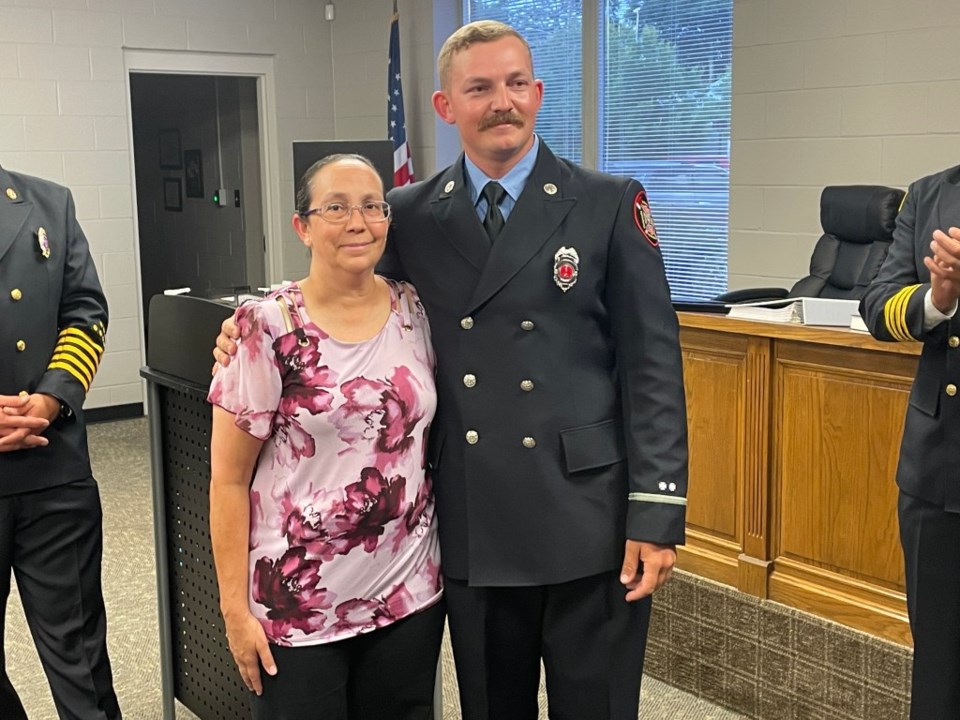 Lieutenant Vince Moore
Pinned by mom Judy Satterfield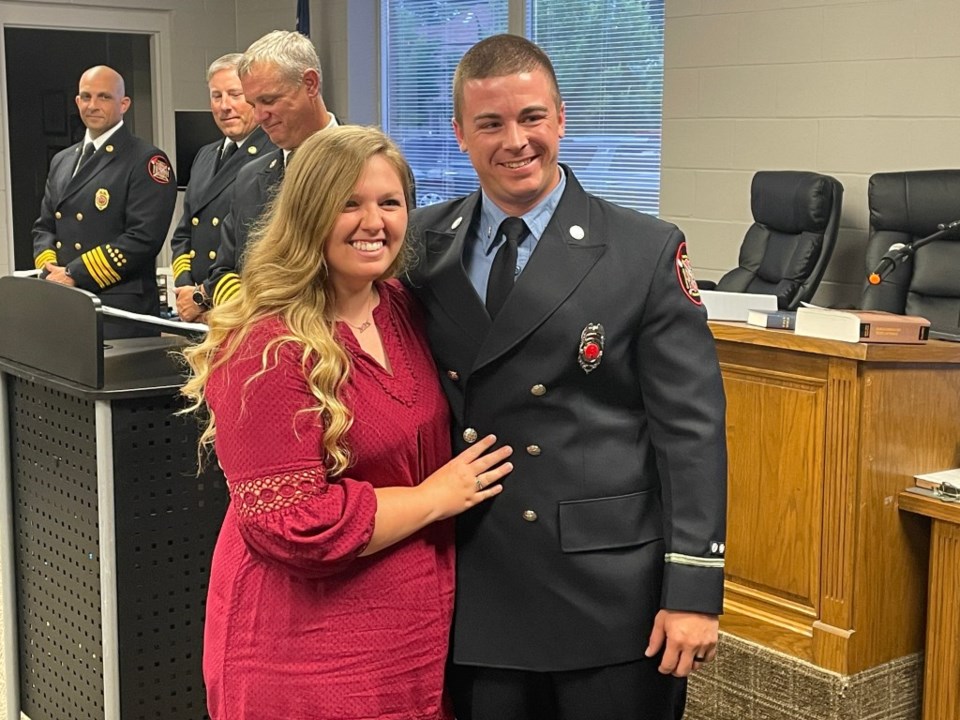 Lieutenant Spencer Rowe
Pinned by wife Caitlin Rowe
Captain Rabon Hutchinson
Pinned by wife Ali & son Ronin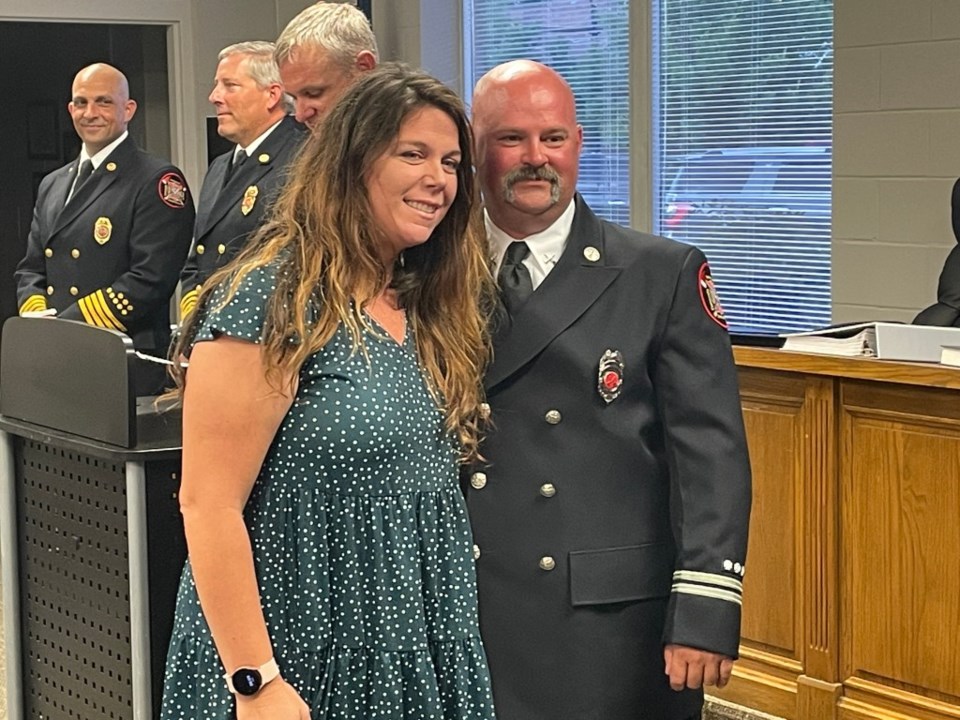 Captain Jon Patterson
Pinned by wife Tiffany Patterson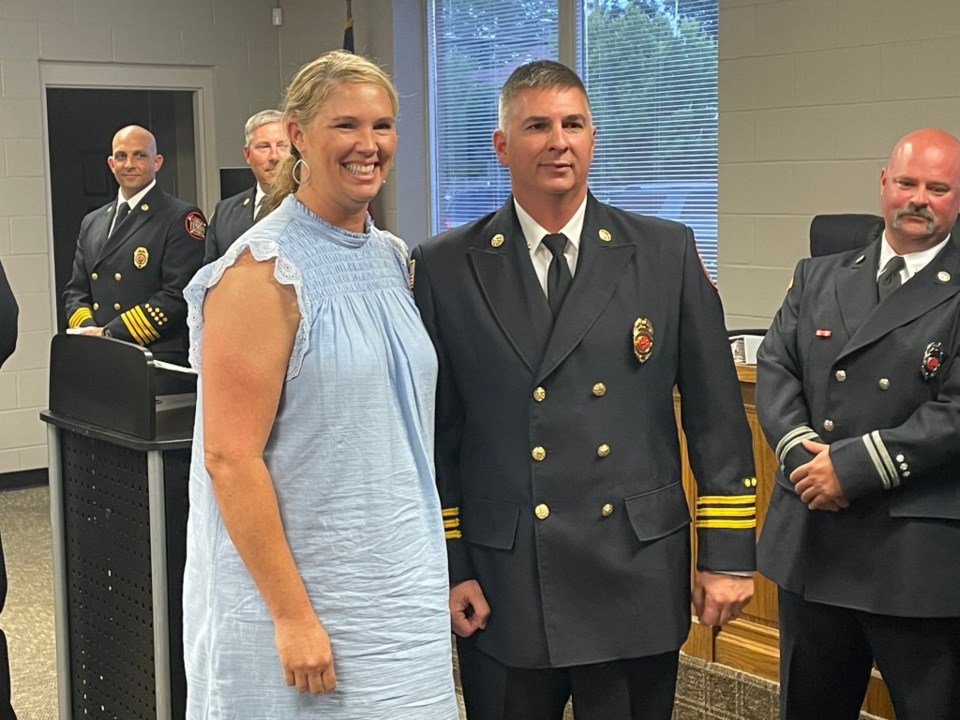 Battalion Chief Jon Priest
Pinned by wife Amy Priest
Although he was unable to attend the ceremony, Battalion Chief Lee Nessmith was also honored during Friday's ceremony.