Updated: 04/07/22 11:21 AM | Grice Connect has been flooded with request from Bulloch County Citizens who would like to help victims in Bryan County who have been devastated by Tuesday, April 5, 2022 tornado.
There are 29 homes that have been identified by GEMA as majorly impacted or destroyed. BRYAN COUNTY IS OVERWHELMED WITH FOOD, CLOTHING AND SUPPLIES. THEY ARE ASKING FOR THE BEST WAY TO HELP NOW IS TO PROVIDE FINANCIAL ASSISTANCE THROUGH AGENCIES BELOW. THIS WILL BE A LONG TERM RECOVERY EVENT FOR THESE FAMILIES.
The quickest and best way to help would be monetary donations to the United Way, Red Cross, Salvation Army, Georgia Baptist Disaster Relief or any other disaster agency responding.
Link to give through United Way:
To give, text "HelpToday" to 40403
Direct give form: https://app.mobilecause.com/form/AYK8LA?vid=r6s8t
Sign up to volunteer
Crisis Cleanup is a collaborative disaster work order management platform that improves coordination, reduces duplication of efforts, improves efficiency, and improves volunteers' experience. They have opened an incident for these tornadoes.
To access the incident, log in and click "Request Redeploy." If you do not have an account, register your organization at https://www.crisiscleanup.org/register.
CLEAN UP ASSISTANCE REQUEST FOR VICTIMS
They have opened a hotline for the public to request help: 912-209-9994. Anyone in Bryan or surrounding counties that need help cleaning up debris or tarping call this number.
Please share this number with the public. Social media assets and flyers available at: http://blog.crisiscleanup.org/2022/04/southeast-georgia-tornadoes.html
ASSISTANT AVAILABLE TO VICTIMS
Second Harvest: Mobile Food Unit on Tuesday, April 12th
Storehouse Salvage and Owens Supply Company: tarps, rope, 4 mil and 6 mil poly at no charge for residents of North Bryan.
Bryan County Elementary(250 Payne Rd) serving as shelter and food
Lanier Elementary(Hub for 1st Responders) will accept families if they are unable to get to Bryan County Elementary
We are working with Georgia VOAD and Bryan County United Way to get a determination for specific needs including material needs, financial needs and volunteer labor and equipment as they arise and will continue to update this story.
Disaster Agencies Responding
We have confirmed that the VOAD partner agencies American Red Cross, Bulloch County VOAD, Coastal Regional Disaster Response Committee (CEDRC), South Georgia Conference of The United Methodist Church disaster response (UMCOR) and Georgia Baptist Disaster Relief have all responded to the Bryan County tornado. There has been a large response from FEMA and GEMA as well. Along with power crews and public safety from across the state.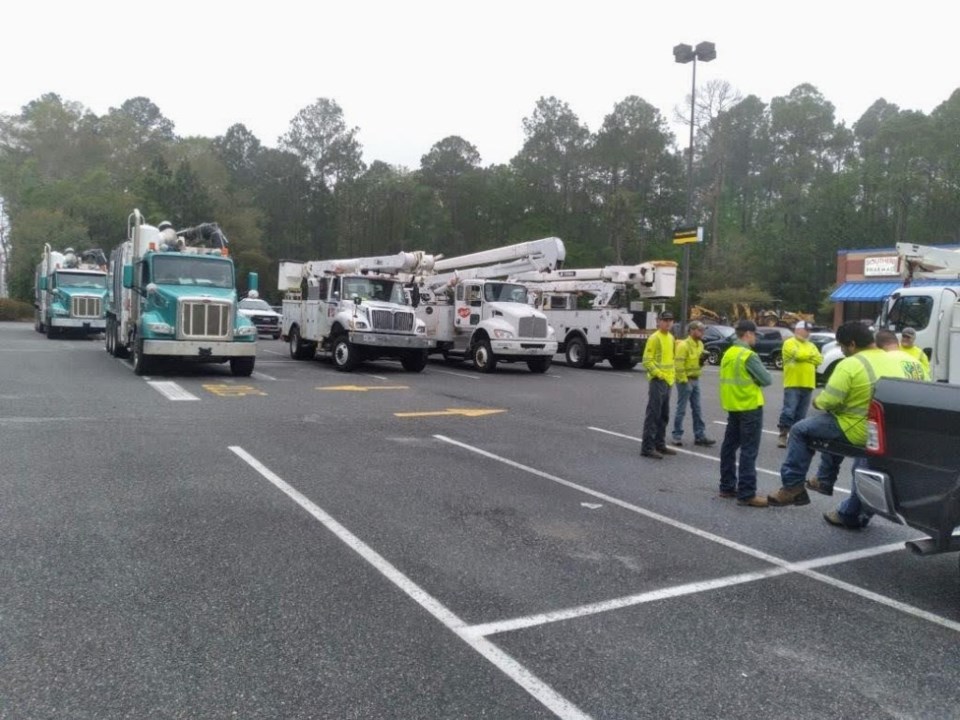 DO NOT SELF DEPLOY TO BRYAN COUNTY
Bulloch County VOAD representatives on the ground in Bryan County tell us that disaster team leaders are asking for citizens to not self deploy. They will communicate needs as they develop list. Their first priority is the safety of the residents and the community. They are working to get access into the areas with the heaviest damage and to make sure down power lines are safe.
Below are links to agencies who are helping manage donation request:
https://www.facebook.com/BryanCounty
https://www.facebook.com/uwcebryancounty
This is a developing story and we will update as new information becomes available.