On Tuesday, April 26, over a hundred participants donned women's heels and walked five laps around Georgia Southern University's Russell Union during Walk a Mile in Her Shoes. The event is sponsored by Georgia Southern's Sexual Assault Response Team (SART) to build awareness about sexual violence and encourage men to take a stand–by walking in high heels. Proceeds benefit the Teal House, the Statesboro region's sexual assault crisis center.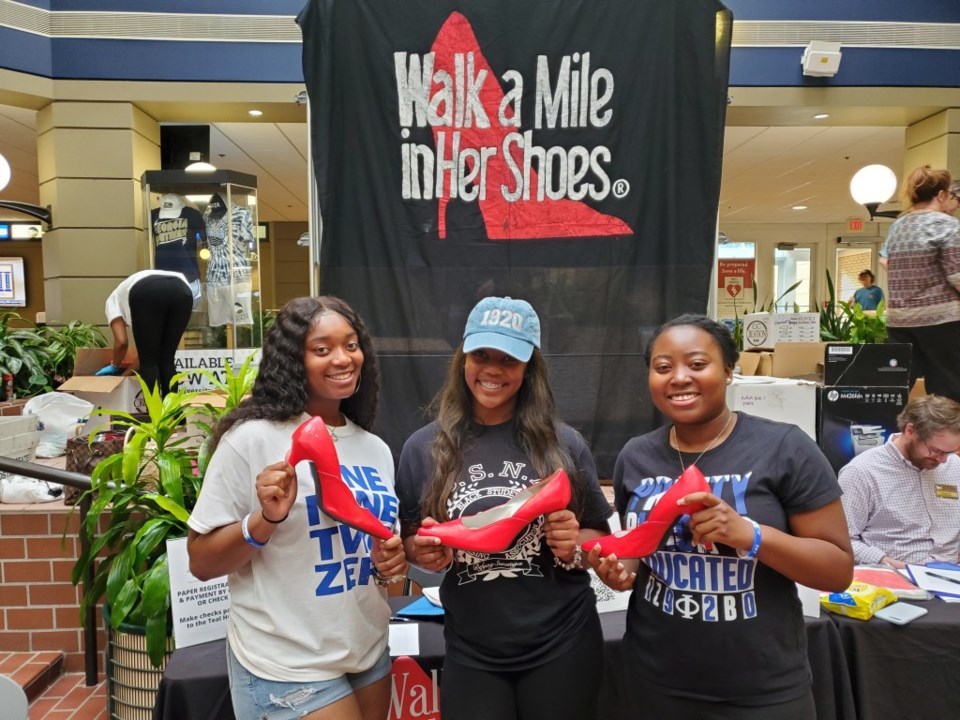 A Beloved Tradition
Walk a Mile in Her Shoes is an international men's march that seeks to end rape, sexual asssault and gender violence. SART brought the march to Georgia Southern in 2010, and it has become a beloved tradition on campus. University President Kyle Marero famously posed in a pair of red heels to support the event on his second day in office, April 2, 2019. Event organizer
Lauren Patterson, PsyD, CCTP, fondly remembers volunteering at the event when she was a student.
This year's participants included the men's soccer team, several fraternities, and University staff. Event registration was $10 for students, $20 for non-students, and participants received a t-shirt, goody bag, and the use of high-heels.
The record for funds raised was in 2019 with $7,000 raised for the Teal House. Organizers have faced the challenge of pandemic restrictions in 2020-21 and a delay due to a tornado warning this year. They are eager to see the event return to pre-pandemic proportions.
An Urgent Need
According to rainn.org, 13% of all University students experience rape or sexual assault through physical force, violence or incapacitation. Among undergraduate women, the number is 24.5%. For Georgia Southern, that percentage translates to 2,765 undergraduate women who have experienced rape or sexual assault.
People who have been sexually assaulted at any time in their life can call the Teal House for emotional support and crisis response. Their 24/7 crisis line is 1-866-489-2225.