Tattnall County contractor Sikes Brothers, Inc. was awarded a nearly $1.1 million contract to complete several street resurfacing projects throughout the City of Statesboro. The unanimous decision was reached during Tuesday's regular meeting of the Statesboro City Council.
According to a memo from City Manager Charles Penny, the work in the contract includes "asphalt resurfacing of approximately 5.18 miles of city streets, 19,705 square yards of asphalt milling, as well as permanent grassing, shoulder dressing, and the reinstallation of thermoplastic roadway striping."
Watch full meeting VIDEO here:
While Sikes Brothers submitted the lowest bid for the projects, all bids received by the City were in excess of the budgeted funds due to the rising cost of construction materials. After reducing the list of slated projects, the City worked with the contractor to negotiate an amount just under budget - $1,088,424.05 to be exact.
Resurfacing projects completed during the current fiscal year are primarily funded by money received through Local Maintenance & Improvement Grants (LMIG) through the Georgia Department of Transportation, with approximately $775,000 being allotted from 2018 Transportation Special Purpose Local Option Sales Tax (T-SPOLOST) funds.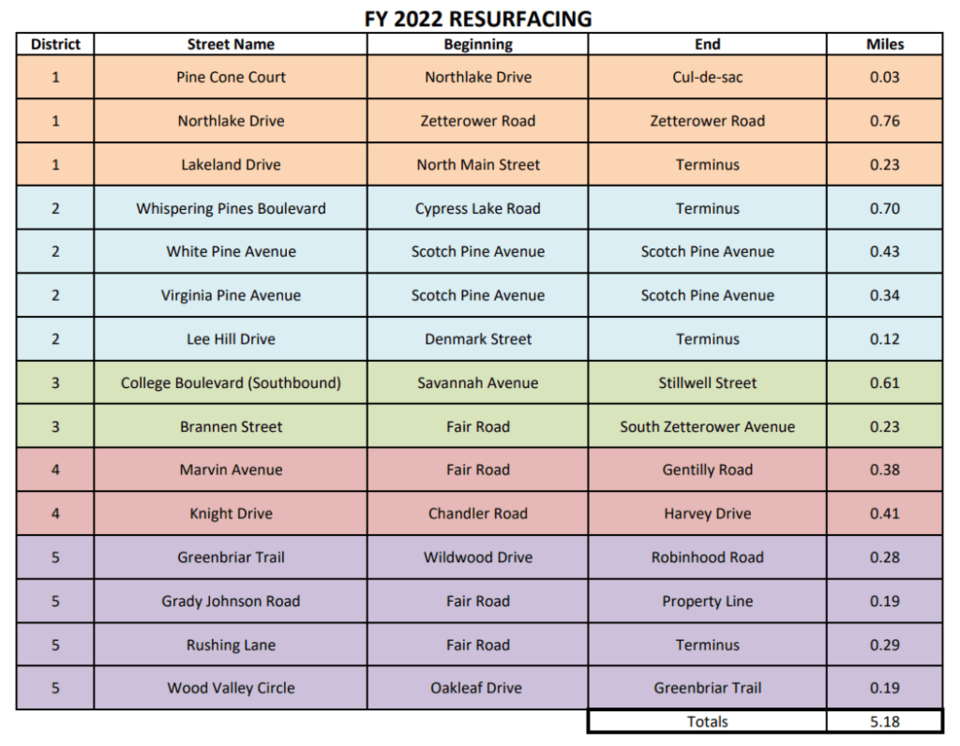 Council grants ordinance exception for Fernhill Farms, approves development agreement
By a vote of 4-1, City Council approved a resolution to modify an existing ordinance as it pertains to an application for assistance through the City's Residential Subdivision Incentive Program by L&S Acquisitions, LLC. Councilman Phil Boyum cast the sole dissenting vote.
Current policy, as adopted in late 2020, provides for a $10,000 per-lot incentive payment as long as established criteria are met -- including a one-year moratorium on renting out the newly-developed units. This unprecedented exception will allow for up to 20% of developed units to be immediately tenant-occupied.
According to the resolution, Mayor Jonathan McCollar and City Council members deem it necessary to provide this exception "in the best interests of the health, safety, and welfare" of local citizens. "In our community, almost 65%... tends to be tenant-occupied housing," Penny said. "What we really want to do is create more ownership opportunities in Statesboro. However... there is concern on the part of local developers that... they will build houses... and they aren't able to sell them."
In addition to waiving the rental prohibition, City Council voted to approve and enter into an agreement with L&S Acquisitions for the development of Fernhill Farms - an 80-lot subdivision on Lakeview Road. According to a memo from Assistant City Manager Jason Boyles, "Payment will be made for public infrastructure in an amount equivalent to $10,000 per lot but not to exceed actual cost of construction as competitively bid." Fernhill Farms is the fourth subdivision to receive assistance through the Program since its creation in 2001.
Boyum also voted "nay" on this action.
Six-year Capital Improvement Program amended to include improvements for municipal court complex
In June 2021, Mayor McCollar and City Council adopted a six-year Capital Improvement Program (CIP) which "accounts for the receipt and disbursement of funds to acquire major general fixed assets for the City."
On Tuesday, Boyles recommended amending the CIP to allow for $150,000 in improvements to the Brannen-Johnston Municipal Court Complex on West Grady St. In his memo to Penny, Boyles stated that the complex is "the most suitable facility for use as an emergency operations center" as proposed in the City's Emergency Operations Plan. Expenses for renovation include a generator and transfer switch, impact-rated windows and doors, facility modifications, and equipment.
"In addition to serving emergency use," the memo states, "these improvements will also benefit current courtroom and Central Services functions."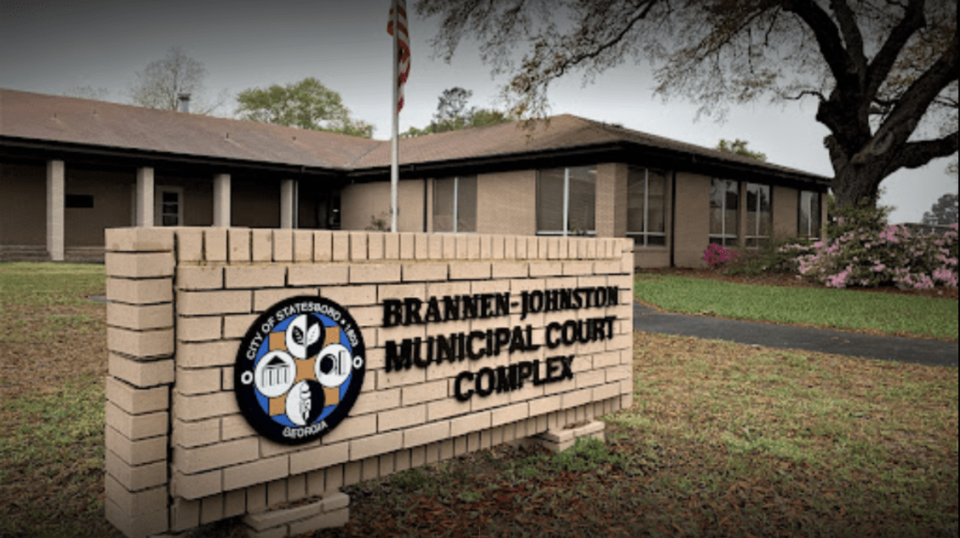 Other business from Tuesday's meeting
Approved an emergency by the Statesboro Fire Department for a natural gas HVAC system from Middle Georgia Mechanical Heating and Air to replace the current system at Station 1 in the amount of $41,250
Approved the first reading of Ordinance 2022-02, amending Chapter 2 of the Statesboro Code of Ordinances establishing the Greener Boro Commission
Approved a resolution amending the job position classification and compensation plan; updating the pay grade of the Communications Supervisor and reclassifying the Communications Officer to an Assistant Communications Supervisor in the Statesboro Police Department
Approved Change Order 2 with Y-Delta, Inc., in the amount of $33,714.79 for the Stillwell St. & Zetterower Ave. intersection improvements project
Approved a resolution to convey an approximately eight-feet-wide segment of City right-of-way along Tillman Rd. to Chapman Rentals, LLC / Gnat's Landing of Statesboro, LLC