Birthday's are special to Carolyn Ray, partially because her son Thor spoiled her in every way on each of her birthdays. No matter where in the world he was serving in the military, he made sure his mom's birthday was incredible. Last year he could not make it to Statesboro on her actual birthday but he sent her a beautiful bouquet of flowers and had Shogun deliver a meal to her home. A few weeks later, Thor, sister Tracey and other family members came to Statesboro for a large cook out to celebrate Carolyn's birthday. That was the last time she saw him alive.
On September 10th, Thor died in his sleep at the young age of 52. Morning the loss of Thor has been very difficult. To help with the grief, Carolyn joined a local grief share group sponsored by Crossroads Community Church and led by Crossroads member Daniele Mixon. GriefShare is a friendly, caring group of people who will walk alongside you through one of life's most difficult experiences.
Daniele explains that because of GriefShare you don't have to go through the grieving process alone. GriefShare seminars and support groups are led by Daniele and others in our community who understand what you are going through and want to help. Through the 13 week class which meets weekly, you'll gain access to valuable GriefShare resources to help you recover from your loss and look forward to rebuilding your life. The next 13 week class begins on August 5th at 6PM at Crossroads Community Church, 23923 US-80 East just past Lowes.
At the end of each 13 week class, Daniele and the leaders of the group come together and invite other people who have been through previous classes for dinner and a time to remember and celebrate the lives of their loved ones. A few weeks ago, at the final meeting for the last class, Carolyn gave her testimony to the group and shared the story about how difficult her 77th birthday was going to be since she didn't have Thor to spoil her this year. Carolyn's husband Lolan, a retired minister, died in 2011. It was his ministry that brought them to Statesboro. Her only child, Tracey, lives in Cincinnati, Ohio.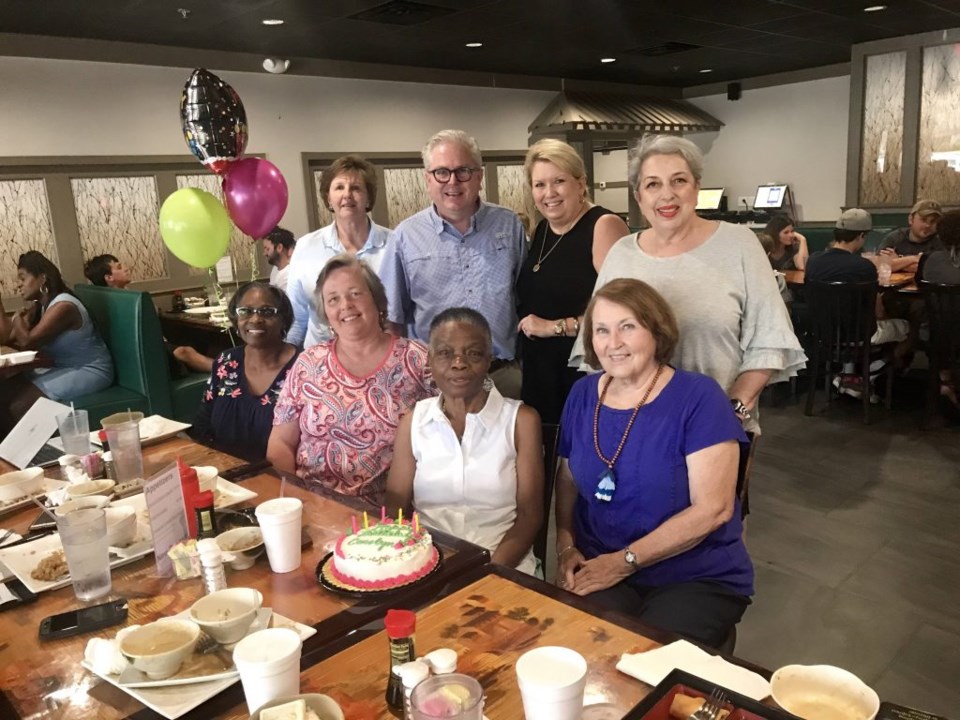 Knowing this was going to be an especially difficult day for Carolyn, Danielle reached out to members of the GriefShare group and pulled together a surprise birthday luncheon at ShoGun's today to celebrate Carolyn's 77th birthday.
It was a joyous and special time for Carolyn and the group as she reflected on Thor's life and the what the GriefShare group has meant to her. Carolyn received another special surprise from her daughter Tracey who traveled to Statesboro to be with her Mom today.
This simple gesture meant the world to Carolyn and it serves as a reminder that so many in our community are grieving and hurting because of the loss of a loved one or other hardships. Reaching out to them can mean so much.
Grice Connect sends out a "Grice Good" salute to Danielle Mixon, Pastor's Carey and Janet Swanson, the GriefShare team and Crossroads Community Church for stepping up and providing such a tremendous service to our community.
Call Daniele at (912) 536-8156 or send her an email at info@mycrcc.com for more information or to register for the next GriefShare class which begins on Monday, August 5th at 6pm.
The Grice Good salute is given to ordinary citizens like Danielle who perform extraordinary acts of kindness to others in our community. These Grice Good citizens make Bulloch County the special place that we call home.
#blessedtoliveinbulloch
#griceconnect
#gricegood