Santa Gus, the Georgia Southern University mascot dressed as Santa, entertained a large crowd of children and their parents at the holiday-decorated Eugene M. Bishop Alumni Center of GSU Tuesday evening, Nov. 29, walking around and waving to those waiting to see him and more.
Stephen Warner, Associate Director of Alumni Relations from the Armstrong campus of GSU in Savannah, came over to help coordinate the event. Warner said, "Over 150 have attended the event tonight, and it is our fourth year."
"It's a good way to combine the holidays with Georgia Southern. Everyone loves Gus. Put a Santa suit on him, and the kids love to come out and see him," Warner added. He basically said the kids love GUS no matter the season.
Warner said this is the first year Santa Guswill be going to Macon. Last year, he went to Statesboro, Atlanta, and Augusta for special holiday events. He will be going to Atlanta and Augusta again. See the end of the article for a link to the full schedule for Santa GUS visits across the state.
Santa Gus flew in to serve as Santa's Helper in Statesboro
For holiday photos, many children were able to sit on Santa Gus's lap or stand beside him during the night at the GSU Alumni Center. Adults were able to stand beside him as well.
Rynslee Ellison, 5, a student of Screven County Schools, said she was having fun and sat on Santa GUS' lap with a big smile on her face.
J.R. Doyle, Screven County High School Head Baseball and Head Softball Coach, and Lynn Doyle, a teacher at an elementary school in Screven County, brought their relative, Rynslee, to the event. They are both alumni of Georgia Southern University. 
Lynn said, "It has been our third or fourth year here."
Jayden Seamans, a young boy who attends Smiles, Giggles, and Hugs Daycare, was brought by his family with another child. 
He said he had fun and enjoyed coloring a picture of Santa Gus.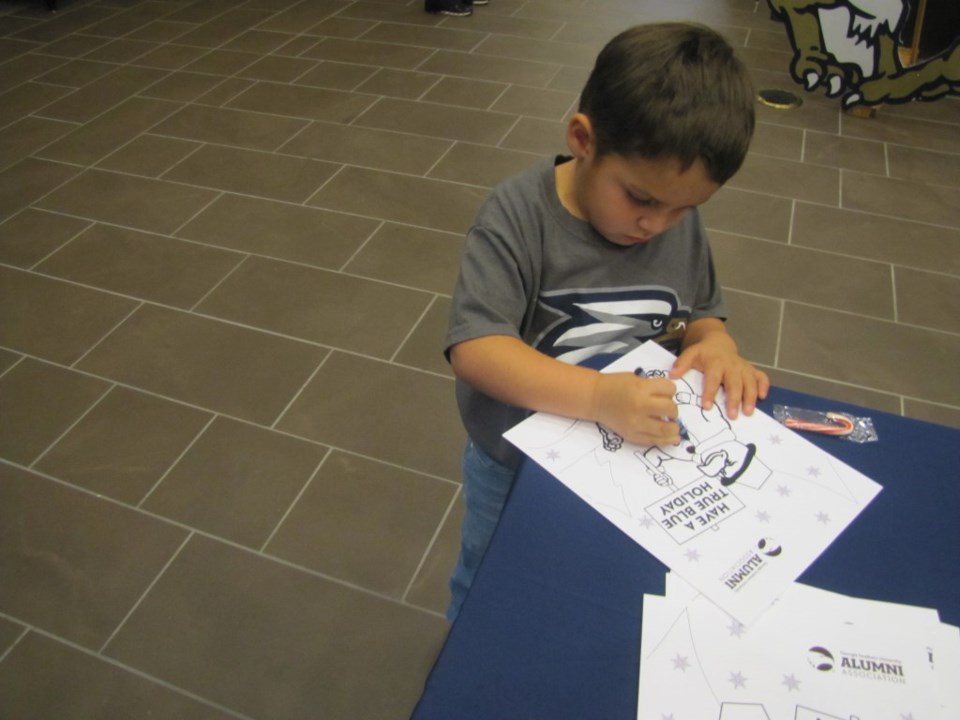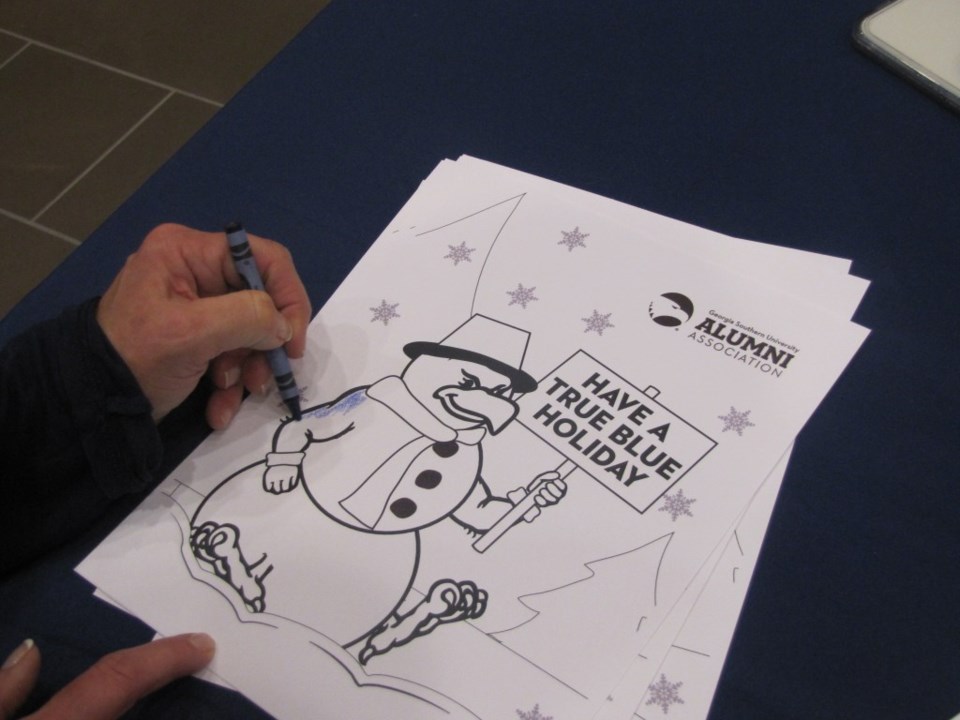 Santa Gus demonstrated signing for those in line
For the children at the front of the line, Santa Gus demonstrated how their parents would have to put their name on a marker board for one shot. The second shot by the photographer, using that photographed sign and face, could be sent to the right person via email. (Email addresses had been collected from the parents by the coordinator. Frank Fortune was the photographer.)
Santa Gus did not bore with his demonstration. Instead, he wrote his name with a picture of an eagle included within it. As they saw his special signature, some of the children in line smiled and laughed. This is very similar to how Walt Disney World characters have distinct signatures.
A line had formed even before the start of the event at 5 pm, so that is why Santa Gus entertained those in line for a while. He is, of course, used to large crowds at GSU sporting events.
After visiting with Santa Gus and getting their picture taken, children could color a picture of Santa Gus and get some cookies, candy canes, and brownies as well as bottled water.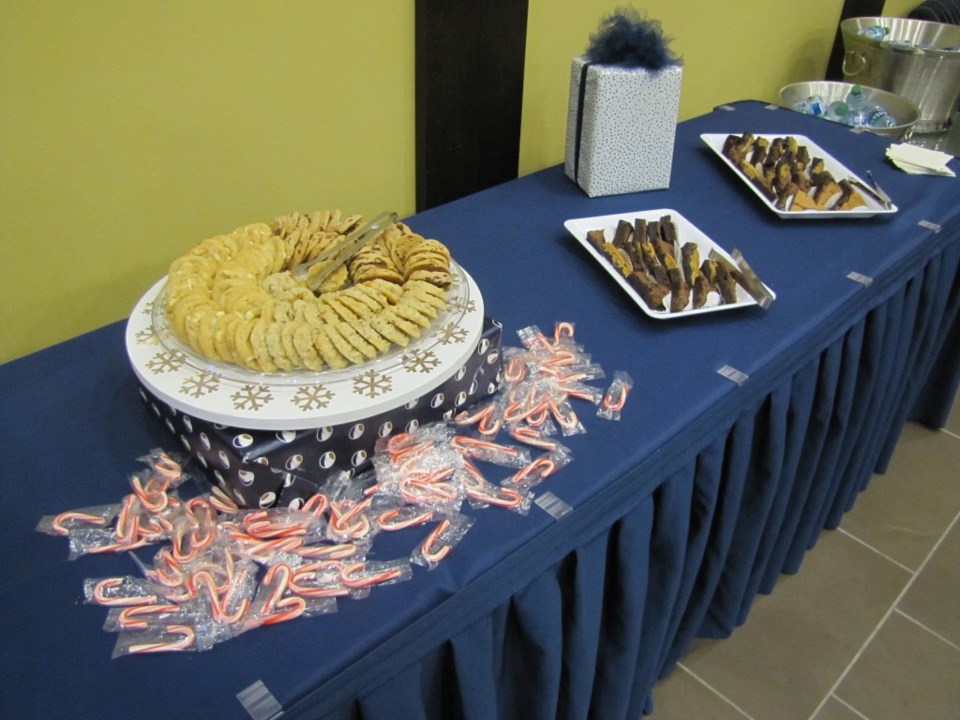 Santa Gus lent some helping wings
When Santa Gus first came in the alumni center, one of the employees said she was trying to figure out how to help him put his Santa hat on.
She meant the elastic band that helped keep the giant blue hat on his feathery head. Not missing a beat when she asked, "Now where can I put this?" Silly Santa Gus pantomimed pointing to the top of his head and shrugged.
The employee said, "Now, I know that!" Several around Statesboro's favorite eagle laughed, and Santa Gus chuckled.
Santa Gus events help with scholarships
Warner said proceeds from the $5-apiece visits and photos go to scholarships at GSU.
They were also having a dollar raffle for a GSU-themed wreath during the evening. Georgia Southern Alumna Christie Page of Christie's Creations made the wreath, which of course had plenty of blue in it.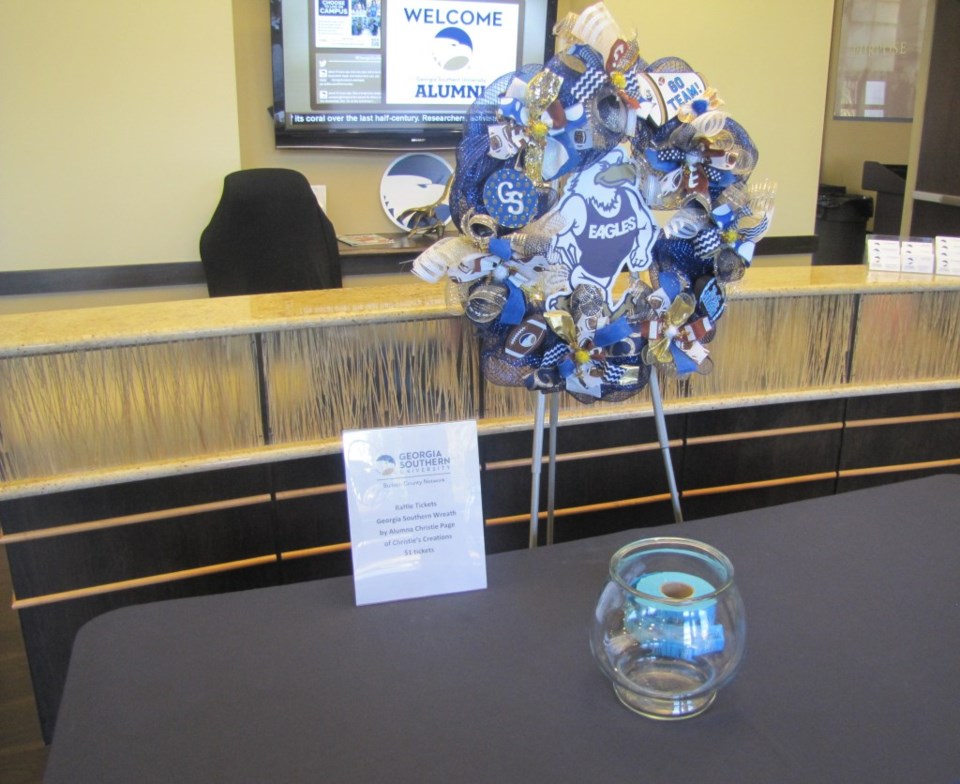 Santa Gus was decked out in GSU blue as was Alumni Center
Not only did Santa GUS and the raffled wreath have the GSU blue, but the Christmas trees, tables, and other decor used blue as well.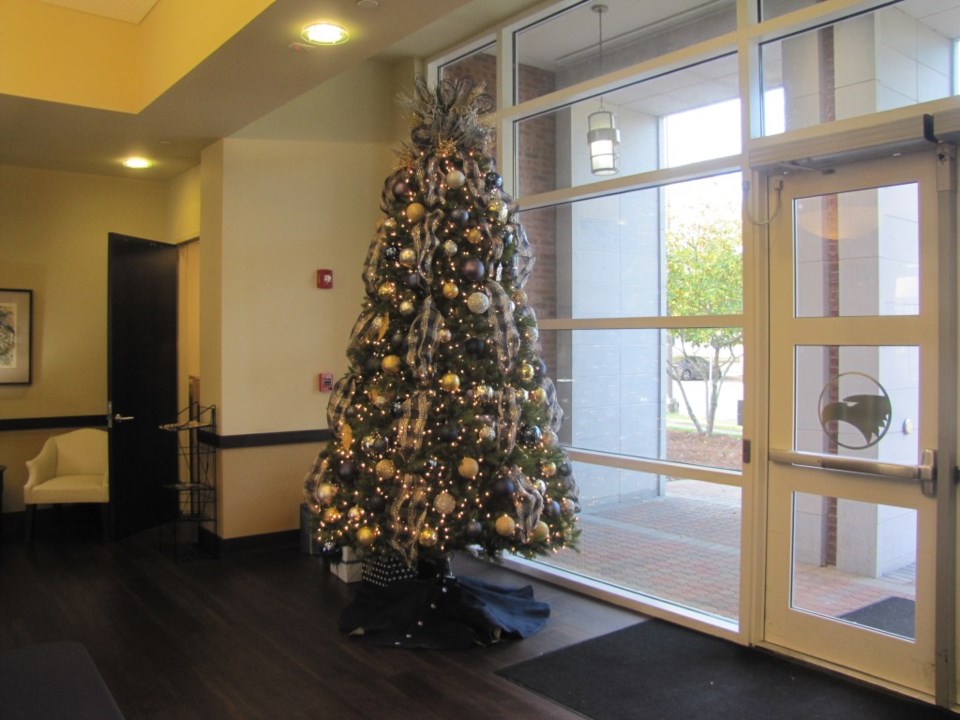 Santa Gus will stop across the state
Santa Gus will be making stops to visit with Eagle fans across Georgia through December 8, 2022. During the rest of his tour, he will be visiting families in Savannah, Atlanta, Macon, and Augusta.
His next stop will be Sunday, Dec. 4 at The West Venue (Creative Block Studios) on 1710 Defoor Ave. NW in Atlanta, GA from noon-3 pm.
There are closer stops in the region than Atlanta through Dec. 8, and those can be found here (online registration is strongly recommended): https://www.alumni.georgiasouthern.edu/s/1544/bp/interior.aspx?sid=1544&gid=2&pgid=555 .
For more information, you can contact the Coordinator of Alumni Relations, Macie Joyner, at 912-478-0406 or mjoyner@georgiasouthern.edu.